Aug. 13 - Aug. 14, 2021
Friday-Saturday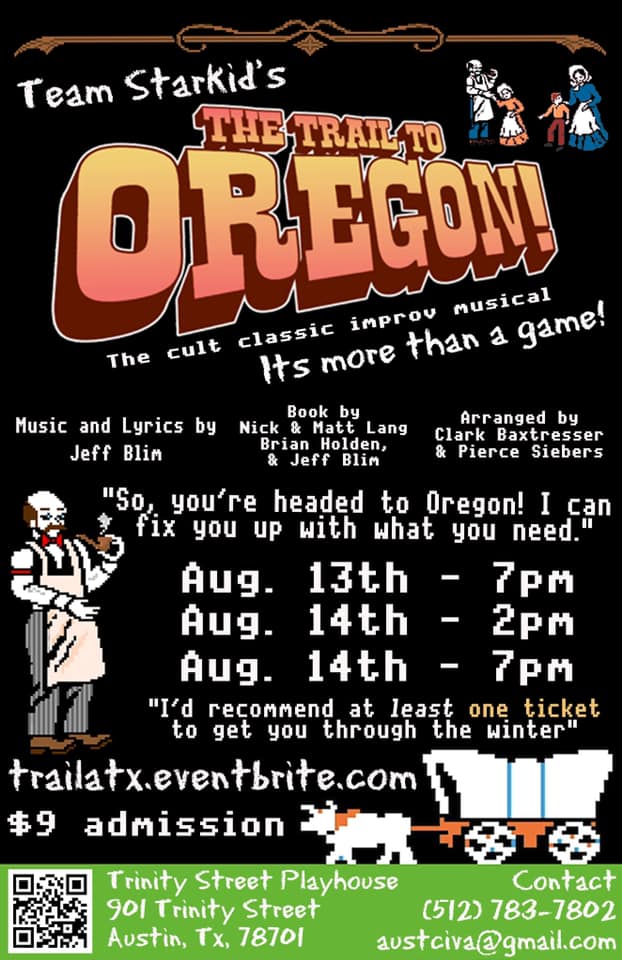 The Trail To Oregon is a raunchy, comedic musical about the misadventures of a dysfunctional nuclear family headed down the trail, after a tragic act of god sends them to a new life in Oregon. Based loosely on the classic 90's video game and written by the team that brought you A Very Potter Musical and The Guy Who Didn't Like Musicals, it's an improv filled rollercoaster ride of chaos and hilarity, that may teach you a bit about family along the way.
---
The Trail to Oregon
by Team Starkid
Team Starkid
Friday-Saturday,
August 13 - August 14, 2021
Trinity Street Players
Black Box Theatre, 4th floor, First Baptist Church
901 Trinity Street
Austin, TX, 78701
Friday, August 13, 2021 at 7 p.m.; Saturday, August 14, at 2 p.m. and 7 p.m.
Trinity Street Players' blackbox, 4th floor of First Austin, 710 Trinity Street
Ticket $9, available via Eventbrite (click HERE)
Routine temperature checks will be conducted upon your arrival to the venue, and masks must be worn inside the theater space. The show will run for two acts, with one 10 minute intermission. Recommended PG13 for crude language.
Contact: austciva@gmail.com.
Tel: 512-783-7802