Aug. 12 - Aug. 28, 2021
Fridays-Sundays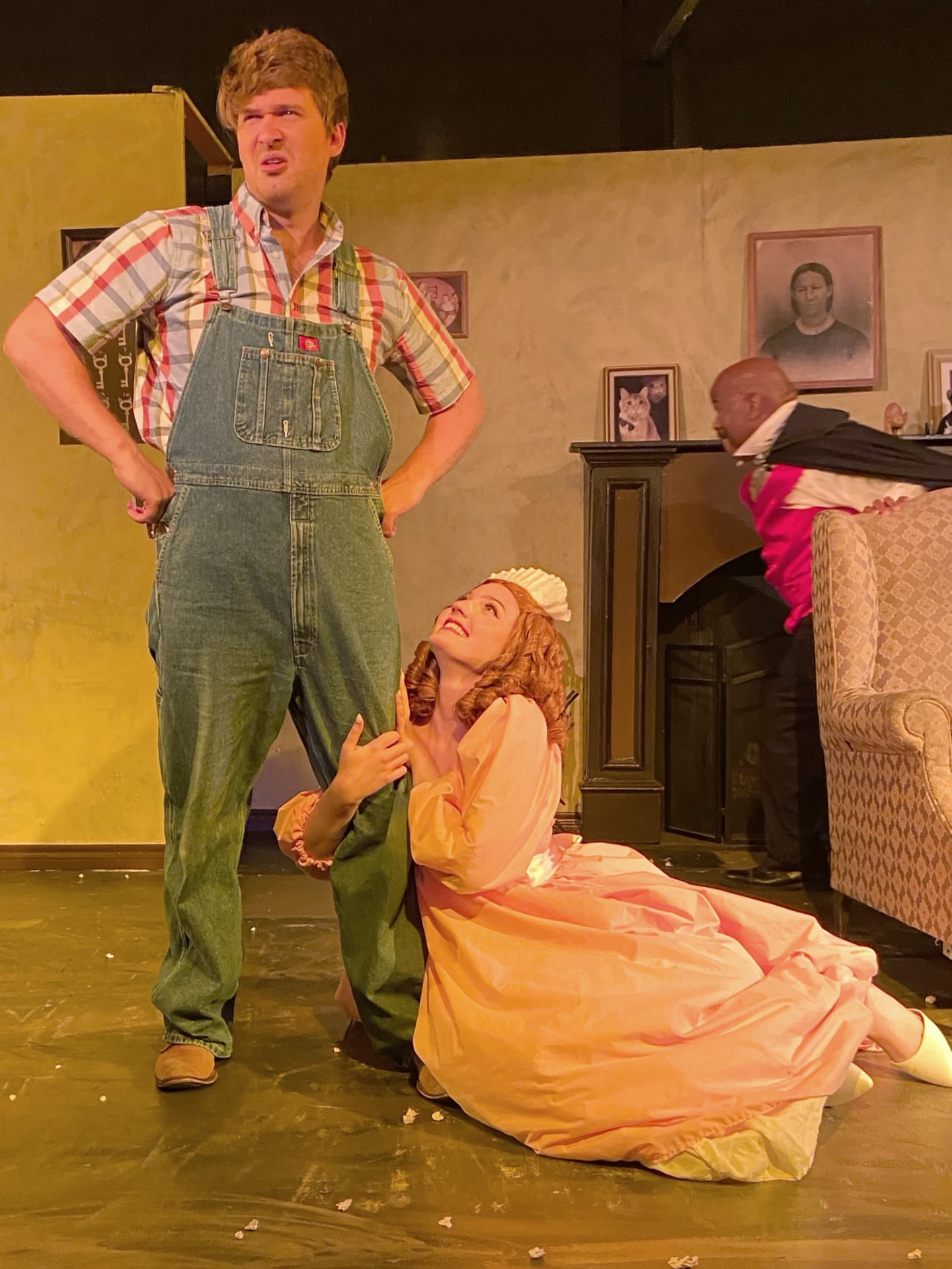 On a dark and stormy night Purity Dean, a working girl with a secret, seeks shelter from the storm in a Vermont inn. She's been forced to give up her canning factory job as she can no longer endure black hearted Mortimer Frothingham's attention…

Come ready to boo, cheer, and throw popcorn during this hilarious melodrama.
Click for feature by Robert Borden for the Bryan Eagle, August 19, 2021
Pure as the Driven Snow*
Written by Paul Loomis
Directed by Jennifer Hargis
Underwritten by Alan Bryant

*Produced by special arrangement with Samuel French, Inc., a division of Concord Theatricals

CAST:
Mrs. Logan - Robin Sutton
Jonathan Logan - Gary Thomas
Mrs. Hewlitt/Nellie - Fashun Smith
Alison Hewlitt - Hannah Beckley White
Leander Longfellow - Zack Effin Brattin
Purity Dean - Camilla Busselberg
Mortimer Frothingham - Harold Presley
Imogene Pickens - Kassandra Maduzia
Jed/Eric - Branden Francis
Faith - Kelley Robbins
Letty - Lilly Sutton
Piano Guy - Mark Bendiksen
Vaudevillians
Tim Scott
Hailey Mallett
Kelley Robbins
John W Baldwin
---
Pure as the Driven Snow
by Paul Loomis
StageCenter Community Theatre
Fridays-Sundays,
August 12 - August 28, 2021
August 12 - 28, 2021 at 7:30 pm
2 pm matinee on August 22
Performances are at 7:30 pm.
Doors open 30 minutes before showtime.
You can choose to purchase your tickets online.

To expedite your show admission, be sure to print your ticket. Skip the Box Office, get your ticket scanned, and find your seat. There is a small processing charge, but this is the option that StageCenter highly recommends to guarantee your ticket!
Our evening performances begin promptly at 7:30 pm and matinees start at 2 pm.
The theatre lobby opens 30 minutes before the performance. We ask our patrons to arrive at least fifteen minutes before curtain goes up. If we sell out and you have not arrived by 5 minutes before the show starts, your ticket will be resold. Because it can ruin the experience for others, patrons will not be seated after
7:40pm for evening performances and 2:10 for matinees.
In the event that we sell out, we can add your name to a wait list if you come in person to our box office. After 7:25, if we have any empty seats, we will start selling tickets for them. We cannot guarantee your party will be seated together.
While we no longer require them, StageCenter Theatre encourages all patrons to
​wear face masks when coming to view our productions.

Please do not attend if you are feeling sick.
Click Here to Purchase Tickets Online
Please do not attend if you are feeling sick.