Apr. 09 - Apr. 25, 2021
Fridays-Sundays
Real life scientist Henrietta Leavitt became one of the most prominent voices in the field of astronomy in the early 1900's. Her work was the basis of our ability to measure the distance between stars.
Award-winning playwright Lauren Gunderson explores a woman's place in society during a time of immense scientific discoveries that changed the way we understand both the heavens and earth.
Silent Sky is a startling, entertaining true story...a lively, funny, accessible play alive with interesting ideas; an intellectual epic told on an intimate scale. Bottom line? Heavenly.
Directed by
Jeffrey Brown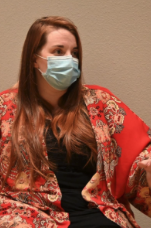 Jessica Sturm will appear as "Williamina Fleming." Jessica teaches theater at Tivy High School, and has been part of the Playhouse 2000 family since her time as a schoolgirl in the P2K Academy. She's appeared numerous times on our stages in shows like Southern Fried Funeral, Crazy For You, Hamlet and As You Like It, and Directed our productions of Weekend Comedy and King Lear among others. Jessica will be the director for this Summer's Shakespeare In The Park production of Two Gentlemen of Verona, to be played in Louise Hays Park the first Friday and Saturday in June.
Heather Cunningham will portray "Annie Cannon," the leader of the women working in the Astronomy Lab at Harvard in the early 1900's. Heather, of course, grew up in Kerrville, and is a former Executive Director of Playhouse 2000. Now teaching theater at Peterson Middle School, she regularly provides choreography for musicals both here at at The Point Theatre and is a frequent Stage Manager, including for our National-Award-Winning production of The Pretty Trap. On Stage, you may have seen Heather as "Lizzie" in The Rainmaker, or in one of her multiple appearances in Shakespeare In the Park productions.
Marcus Goodyear tackles the only male role in the show, that of "Peter Shaw," assistant to the head astronomer at the Harvard Observatory whose feeling for Henrietta play a large part in the proceedings. Marcus most recently appeared on-stage in last Christmas's Gift of the Magi, and you may also have seen him in Beth Henley's Impossible Marriage, among others. By day, Marcus works for a local foundation, and every Monday night you'll find him supervising a group of budding roboticists as coach of the nationally recognized "Fellowship of the Robot," part the Kerrville Robotics Alliance, of which his is president.
The role of "Margaret Leavitt" will be played by Amy Goodyear, a familiar face to P2K audiences. Amy has earned multiple acting awards while traveling with P2K's One-Act-Play Festival entries, and has also enjoyed success directing for our stages, including two smash-hit plays by Agatha Christie: And Then There Were None, and Witness For The Prosecution. She'll continue that string when she takes the reins for Murder On The Orient Express coming to the Cailloux Theater this summer.
Tasha Remschel will appear in the role of "Henrietta Leavitt" - the real-life scientist whose story we're telling, and whose work changed the field of astronomy forever. Tasha has impressed local audiences with portrayals including "Catherine" in These Shining Lives at The Point Theatre, "Connie" in The Effect for Yellow Lab Productions, and here at P2K, as "Rachel" in The Outsider, "Ermengarde" in The Matchmaker, and "Marie" in the David Ives adaptation of Mark Twain's Is He Dead?
Thanks to Paul Stafford for these pics taken during auditions!
---
Silent Sky
by Lauren Gunderson
Playhouse 2000
Fridays-Sundays,
April 09 - April 25, 2021
VK Garage Theatre
at Cailloux Cultural Center
305 Washington Street
Kerrville, TX, 78028
April 9 – 25, 2021 – Fridays and Saturdays at 7:30 p.m. and Sundays April 18 and 25 at 2:30 p.m. in the VK Garage Theater.