Apr. 07 - Apr. 10
Thursday-Sunday
BRIGHT STAR is presented by Round Rock Fine Arts Academy!
Inspired by a real event, with a Tony-nominated score by Steve Martin and Edie Brickell, BRIGHT STAR tells a sweeping tale of love and redemption set against the rich backdrop of the American South in the 1920s and '40s.
As we unravel the story of Alice Murphy, a literary editor who takes us on her journey of self-discovery, we are propelled by an ensemble of actors and musicians in a tapestry of emotion and gorgeous, haunting melodies . . . on "an uplifting theatrical journey . . . refreshingly genuine . . . daringly hopeful."
Seniors Abigail Bensman, Riyan Khandker, Zach Moser, Cassie Chapman, Sydney Swain, Sam Davis, Joshua Simons, and junior Alyssa Hurtado lead the cast of thirty-six immensely talented students.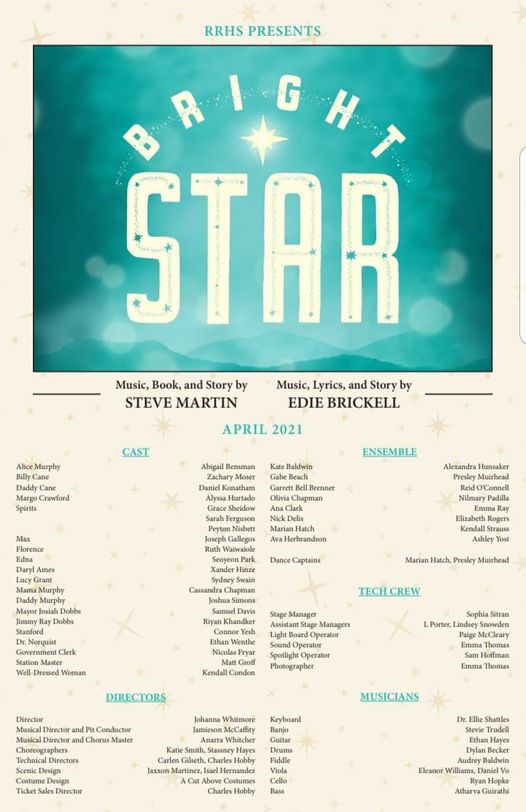 ---
Bright Star
by Steve Martin, Eddie Brickell
Round Rock HS Fine Arts Academy
Thursday-Sunday,
April 07 - April 10, 2021
It plays April 7-10 at the Round Rock outdoor amphitheatre at Centennial Plaza, at 7:00 pm.
Ticket information coming soon. (March 31, 2021)