Mar. 25 - Mar. 28, 2021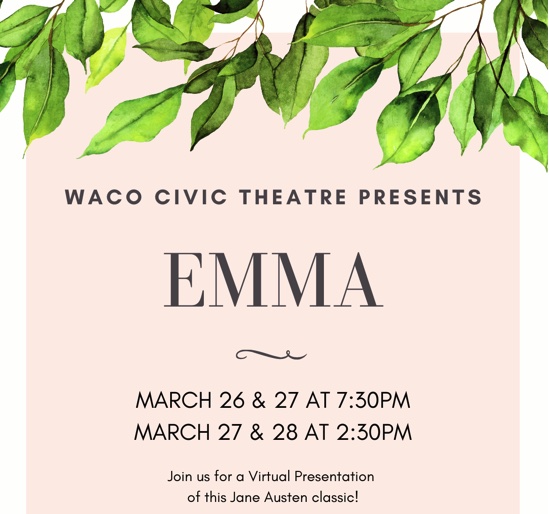 Emma is a beautiful, high-spirited, intelligent, and 'slightly' spoiled young woman from the landed gentry. She is twenty when the story opens. Her mother died when she was young. She has been mistress of the house (Hartfield) since her older sister got married. Although intelligent, she lacks the discipline to practise or study anything in depth. She is portrayed as compassionate to the poor, but at the same time has a strong sense of class status. Her affection for and patience towards her valetudinarian father are also noteworthy. While she is in many ways mature, Emma makes some serious mistakes, mainly due to her lack of experience and her conviction that she is always right. Although she has vowed she will never marry, she delights in making matches for others. She has a brief flirtation with Frank Churchill; however, she realises at the end of the novel that she loves Mr. Knightley.
Cast:
Emma—Rosalind Jackson Roe
Mr. Knightly—Ethan Trueman
Mr. Elton—Jason Sanchez
Harriet Smith—Victoria Brewer
Miss Bates—Janie Groth
Mr. Woodhouse—Piers Bateman
Frank Churchill—William Priest
Mrs. Weston—Karen Savage
Mr. Weston—Roger Houston
Mrs. Elton—Valerie Davis
Jane Fairfax—Julia Meek
Robert Martin— Rodrigo Gonzalez-Torres
Crew:
Stage Manager–Krystal Marshall
Lighting Design–Chaz Macklin
Cameras–Riley Lohr
Video–Melissa Lohr
---
Emma (adapted from Jane Austen)
by Not given
Waco Civic Theatre
March 25 - March 28, 2021
Streaming
via internet
Everywhere, TX, 78700
Livestreamed March 24-27, 2021.