Jan. 28 - Jan. 31
Thursday-Sunday
On a night that might have been like any other, a man finds himself on a journey of self-discovery, morphing through the myths of Ovid's Metamorphoses, one which will leave him asking: Who was I? How did I become who I am now?
A modern epic poem, Pim's Metamorphoses is a solo performance built specifically for digital viewing which simultaneously celebrates live storytelling while boldly embracing the new digital performance medium.
written and performed by Neil Redfield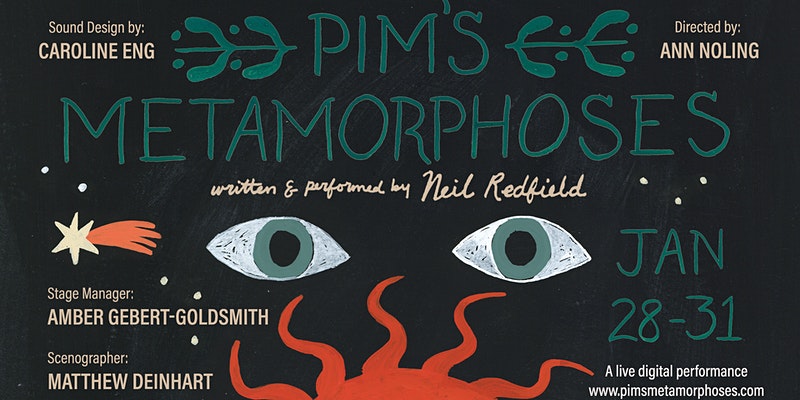 Directed by Ann Noling
Sound Design by Caroline Eng
Scenography by Matthew Deinhart
Stage Managed by Amber Gebert-Goldsmith
Graphic Design by Allie Yacina
For more information and to learn more about the team, check us out at www.pimsmetamorphoses.com
---
Pim's Metamorphoses
by Neil Redfield
Neil Redfield
Thursday-Sunday,
January 28 - January 31, 2021
Streaming
via internet
Everywhere, TX, 78700
Jan 28th - 31st, 2021
Thursday, January 28th - 8:00pm EST
Friday, January 29th - 8:00pm EST
Saturday, January 30th - 8:00pm EST
Sunday, January 31st - 3:00pm EST
Pay-what-you-will, with a suggested price of $12 per viewer.
Runtime of 70 minutes
Headphones are suggested for the best viewing experience. Viewers are encouraged to watch from separate devices.