Church Basement Ladies - A Second Helping
by Rialto Theatre
Jan. 22 - Feb. 07
Fridays-Sundays
They're serving it up again!
This time around, the year is 1969 and the world is a changing. As folks protest the Vietnam War and women are demanding equal pay for equal work, in their small rural Minnesota community, the ladies of the Lutheran church basement kitchen are dealing with changes of their own.
With their heartwarming humor and hilarious antics, Church Basement Ladies 2: A Second Helping! The show takes us from serving the High School students at the Luther League Banquet to a church sponsored Missionary Night and the rise and fall of a Vikings Super Bowl Sunday. From the elderly matriarch of the kitchen to the young mom-to-be, these women find strength in each other as they deal with the joys and upheavals from below the "House of God"!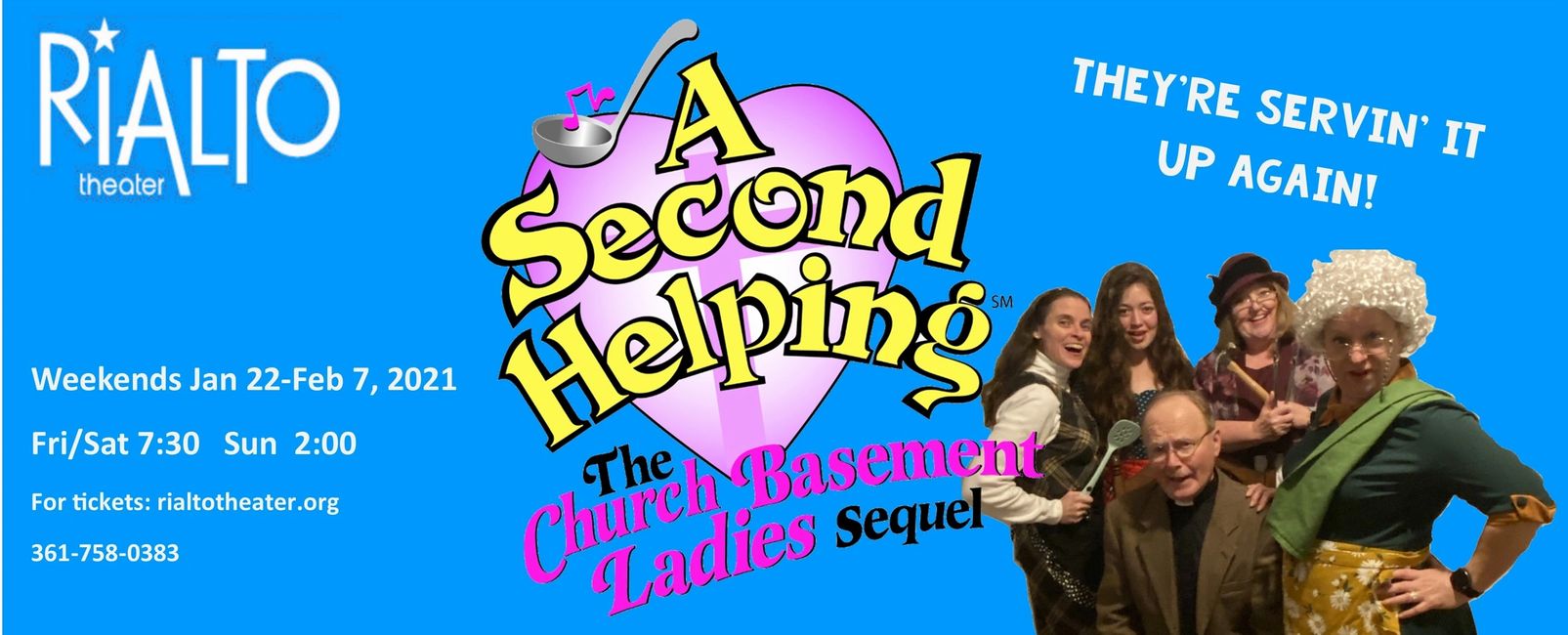 Written by Jim Stowell & Jessica Zuehlke with Music and Lyrics by Drew Jansen
Directed by: Russ B. Walker
Stage Management: Suzy Walker
Musical Director: Misty Kimbrough
Cast:
Vivian - Misty Kimbrough
Karin - Trinell Immekus
Mavis - Darlene Irwin
Beverly - Geneva Aubrey
Pastor Gunderson - Royce Harrell

---
Church Basement Ladies - A Second Helping
by Kim Stowell & Jessica Zuehlke with music and lyrics by Drew Jansen
Rialto Theatre
Fridays-Sundays,
January 22 - February 07, 2021
Rialto Theatre
327 S Commercial Street
PO Box 1665
Aransas Pass, TX, 78336
JAN 22-FEB 7, 2021
Fridays & Saturdays 7:30, Sundays 2:00
Ticket Prices:
Adult Reserved $20
Group rates available for 10+
No Refunds