Oct. 16 - Oct. 25, 2020
Fridays-Sundays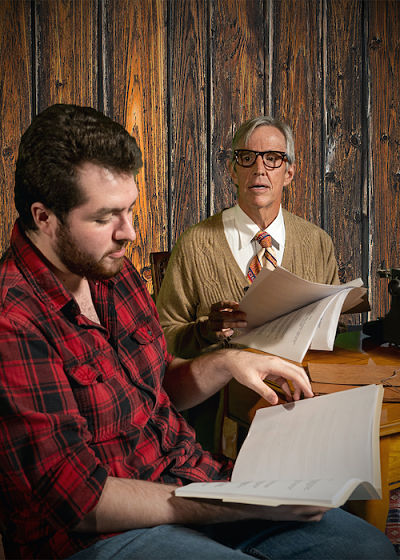 Comfortably ensconced in his charming Connecticut home, Sidney Bruhl, a successful writer of Broadway thrillers, is struggling to overcome a dry spell which has resulted in a string of failures and a shortage of funds. A possible break in his fortunes occurs when he receives a script from a student in the seminar he has been conducting at a nearby college—a thriller that Sidney recognizes immediately as a potential Broadway smash. Sidney's plan, devised with his wife's help, is to offer collaboration to the student for co-credit. Or is it? Holding the record for the longest-running comedy-thriller on Broadway, Deathtrap is filled with twists and turns in a series of thrilling events. It offers hilariously sudden shocks in such abundance that leaves audiences spellbound until the very last moment.
FTC is pleased to announce the cast for their fall production, playwright Ira Levin's smash hit mystery: Harlan Hill as Sidney Bruhl, Emery Dorman as Myra Bruhl, Richard Rogers as Clifford Anderson, Julie Staffel as Helga Ten Dorp, and Bill Sadd as Porter Milgrim.
Guest director Charlie Hukill will helm the production. Courtney LeFan will serve as stage manager. FTC Production Manager Addison Powers will serve as lighting designer. Guest artist Amber Nanni will serve as costume designer with Daniel Melton executing the scenic design.
Deathtrap playwright Ira Levin was a very successful author of novels and plays. Besides writing the popular stage comedy No Time For Sergeants, Levin also wrote several novels that were made into successful movies. These include A Kiss Before Dying, Rosemary's Baby, The Stepford Wives, and The Boys from Brazil. Deathtrap was adapted into a successful 1982 film starring Michael Cain and Christopher Reeve
---
Deathtrap
by Ira Levin
Fredericksburg Theater Company
Fridays-Sundays,
October 16 - October 25, 2020
Opens Friday, October 16, 2020, 7:30 p.m. at the Steve W. Shepherd Theater, 1668 Hwy 87 South, Fredericksburg, TX, 78624. Runs Fridays, and Saturdays at 7:30 p.m. and Sundays at 2:00. Admission is $29 for adults, $12 for children 17 and under. Tickets can be purchased by calling the box office at 888-669-7114 or online at fredericksburgtheater.org.