Sep. 27, 2020
Sunday
spayce boys is the tale of two queer, brown boys who embark on an Odyssey-esque adventure into outerspace to heal, discover their true selves, lean into community and so much more along the way. Iggy and Oñio have never spoken to each other at school but Oñio takes matters into his own hands when he sees how "small" and "squished" Iggy looks. After sneaking into Iggy's room late at night, Oñio convinces Iggy to follow him onto the roof where the greater Queer forces take control. Once in outer space, Oñio has an itinerary to stick to in order to ensure Iggy makes it out anew by the time the sun rises. But when unspoken tensions between the boys bubble up and mix with the cataclysmic atmosphere of the adventure, both boys find new parts of themselves and a renewed purpose in their life on earth.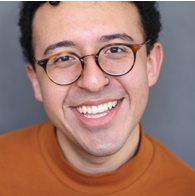 Mateo Hernandez (Playwright) (they/he/them/him) is a queer, Chicanx actor, writer, teaching artist based in Chicago, IL. spayce boys is their first full length play and they are so excited to continue its development. As a teaching artist they have worked with companies such as Goodman Theatre, Chicago Children's Theatre, and Creative Action. Mateo is a company member of FYI (For Youth Inquiry), a performance company making participatory experiences around reproductive justice for young people. They hold a BFA in Theatre Studies from The University of Texas at Austin.
---
spayce boys
by Matteo Hernandez
Teatro Vivo
Sunday,
September 27, 2020
Streaming
via internet
Everywhere, TX, 78700
Teatros Unidos is an emerging and growing collective of Teatros and BIPOC Theatre organizations that uplift and give voice to their historically silenced communities by producing plays, multicultural and multigenerational community programs.
The coronavirus pandemic has shed light on prevailing inequities in all facets of American life. Facing uncertainty and loss of earned income, Milagro reached out to Latinx theatres from across the country to come together to share their experiences and challenges and promote each other's work. Through this initiative, Teatros Unidos was born. The group includes 14 Latinx theatre ensembles who share resources, information, and creative work. Since May 2020, Teatros Unidos has been meeting bi-weekly and is committed to expanding the circle through and beyond the immediate aftermath of the pandemic. Although there are resources for individual Latinx artists to come together, this is the only National Teatro collaboration that exists. The group includes Baktun12 (Salinas, CA), Borderlands Theater (Tucson, AZ), Cara Mía Theatre Company (Dallas, TX), In The Margin Theatre (Sacramento, CA), Milagro (Portland, OR), Teatro Alebrijes (San Jose, CA), Teatro Bravo (Phoenix, AZ), Teatro Luna West (Los Angeles, CA), Teatro Nagual (Sacramento, CA), Teatro Visión (San Jose, CA), Teatro Vivo (Austin, TX), TuYo Theatre (San Diego, CA), and UrbanTheater Company (Chicago, IL).