Aug. 28 - Sep. 13, 2020
Fridays-Sundays
World famous opera singer Tito Mirelli has come to Cleveland to perform. But when he becomes incapacitated, it's up to meek and mild Max to come up with a last minute replacement. Soon everyone is in a panic and hilarity ensues.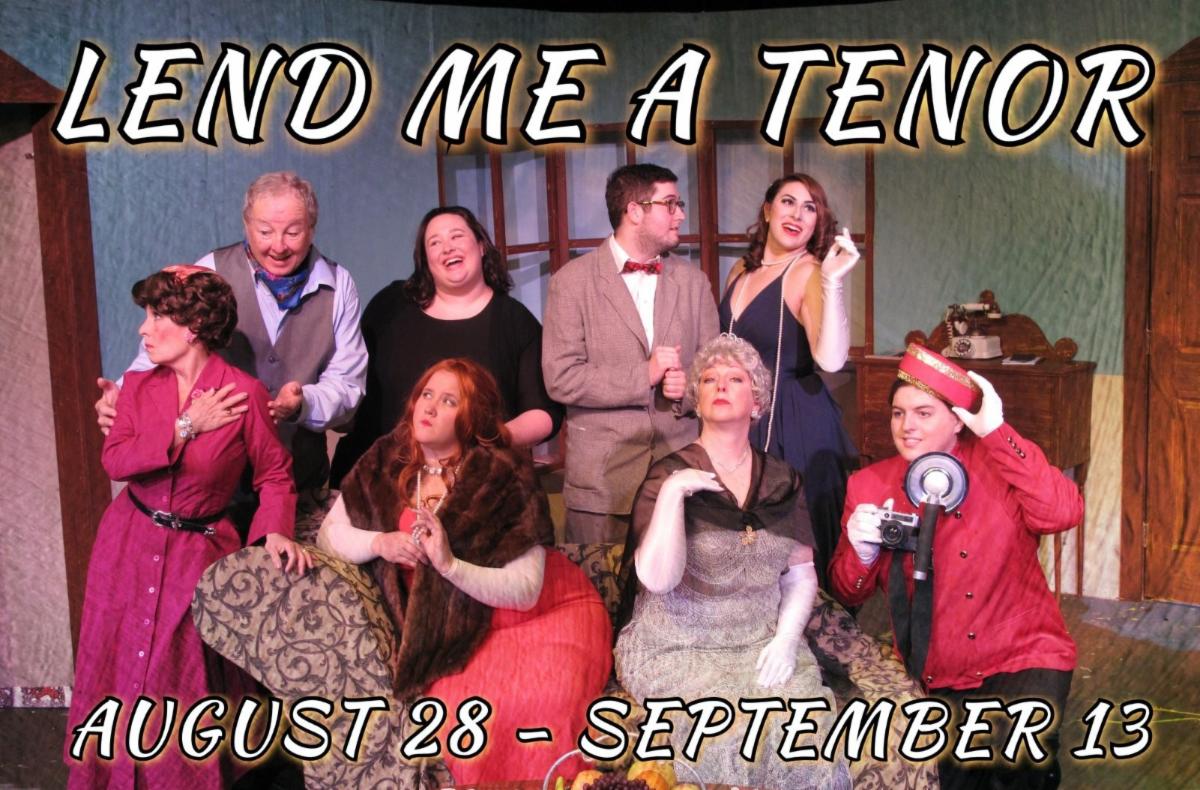 ---
Lend Me A Tenor
by Ken Ludwig
Circle Arts Theatre
Fridays-Sundays,
August 28 - September 13, 2020
August 28 - September 13, 2020, 8 p.m. Fridays and Saturdays, 2 p.m. Sundays
*Appropriate for ages 12 and up*

August 28th- Champagne Opening- Join us for finger foods and a meet and greet with the cast immediately following the performance.
August 29th- Benefit Night- This performance is a Benefit Performance for a local non-profit. Tickets are available by phone: 830-837-6172.
September 5th- Pay What You Can- This performance will have 30 tickets available at the door for patrons to purchase on a pay-what-you-can basis. All pre-purchases will be at regular price.
Tickets $20, available online HERE
Fridays and Saturdays at 8:00pm
Sunday Matinees at 2:00pm
TICKET INFORMATION
Adults, Seniors, Students, Military-$22
To order your tickets online click
HERE
For reservations call 830-837-6172
DUE TO COVID-19, please keep the following safety information in mind:
1)The seats available online are all skipping rows. There will be a 2 seat spacer between each party. Since group sizes vary, we will not pre-determine where the seat spacers are, but will add them as tickets are purchased. This means your seat may vary slightly to accommodate. We will contact you if this is the case. If you require seating other than what is available, please call the reservation line 830-837-6172.
2) Last minute changes to the seating may happen, thank you for your flexibility.
3) We ask that everyone follow the social distancing guidelines and keep a 6' distance between parties.
4) Everyone will be required to wear a mask while in the theatre.
5) We will be taking temperatures of everyone attending. Those with a fever will not be admitted.
6) We will have hand sanitizer and ask that everyone use it upon entrance to the theatre.
7) To minimize congestion, we will not open the lobby until we are ready to seat. This will be approximately 30 minutes before curtain.
8) We miss you and desperately want to hug everyone, but we ask that everyone stick to the newly adopted "elbow bumps" or "air hugs" for now.