Feb. 14 - Mar. 01, 2020
Fridays-Sundays
"It's alive!"
Mel Brooks jolted his classic movie comedy Young Frankenstein back to life with a load of high-wattage hilarious songs, turning it into a monster Broadway hit. Frederick Frankenstein, grandson of the infamous Victor Frankenstein, inherits his family's estate in Transylvania and sets out to bring honor to his family name by shocking his grandfather's legacy back to existence! Together with the help of a hunchbacked sidekick, Igor, a curvaceous lab assistant, Inga, and the frightfully eccentric housekeeper Frau Blucher, he just might succeed! This electrifying musical will have you in stitches with laughter and tapping your feet to such hits as "Puttin' on the Ritz," "The Transylvania Mania," and "He Vas My Boyfriend." It's a lightning storm of hilarity that is scientifically proven to be monstrously good entertainment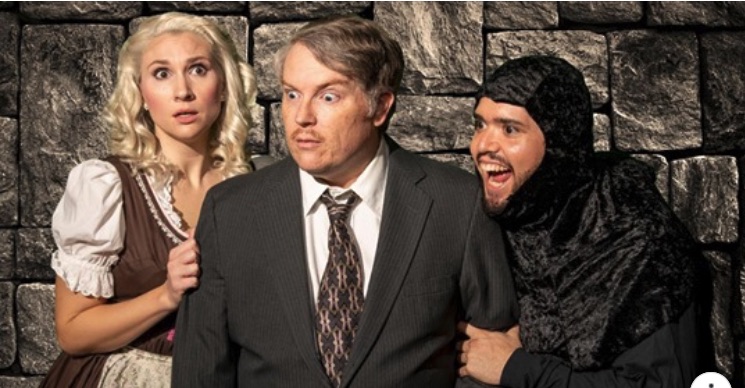 Mel Brooks jolted his classic movie comedy Young Frankenstein back to life with a load of high-wattage hilarious songs, turning it into a monster Broadway hit. Frederick Frankenstein, grandson of the infamous Victor Frankenstein, inherits his family's estate in Transylvania and sets out to bring honor to his family name by shocking his grandfather's legacy back to existence. Together with the help of a hunchbacked sidekick, Igor, a curvaceous lab assistant, Inga, and the frightfully eccentric housekeeper Frau Blucher, he just might succeed. The electrifying musical features songs such as "Puttin' on the Ritz," "The Transylvania Mania," and "He Vas My Boyfriend."
Cast in the production are Justin Elliott as Frederick, Heidi Melton as Elizabeth, Esteban Garza as Igor, Rhonda Behrends as Frau Blucher, Seth Smith as the Hermit, Barry Sikes as The Monster, Faith Kasukonis as Inga, Daniel Melton as Inspector Kemp, and Lucinda Harvey as Ziggy. Playing multiple roles in the ensemble are Addison Powers, Helena McFarland, Sherri Robinson, Holly Robinson, Prari Blair, Christy Brown, Trey Carlson, and Ben Houck.
Young Frankensteiin will be directed by Guest Director Michael Scudday with musical direction by Dawn Hahn and choreography by Heidi Melton. Daniel Milton will serve as scenic designer and Faith Castañeda will serve as lighting designer. The production will be stage managed by Courtney LeFan. Chasity Trajcheski will serve as the costume designer.
About the Fredericksburg Theater Company: The mission of the Fredericksburg Theater Company (FTC) is "to provide superior theatrical programs for regional participation which entertain, educate, enrich and inspire." Formed in 1997 by Jeryl Hoover, the theater has grown to an audience of over 13,000 annually. All performances are held at the Steve W. Shepherd Theater. FTC is a 501(c)3 non-profit organization. It has received statewide recognition from Texas Commission on the Arts, Texas Nonprofit Theatres, as well as grants from various arts endowment organizations. For the last three years (2016 – 2018) FTC has been recognized by BroadwayWorld.com as "The Bes
---
Young Frankenstein
by Mel Brooks and Thomas Meehan
Fredericksburg Theater Company
Fridays-Sundays,
February 14 - March 01, 2020
(Rated PG-13 - Adult $29/ 17 & under $12)
Tickets for Young Frankenstein go on sale to donors Monday, January 27th at 9:00 am. Tickets go on sale to the public Monday, February 3rd, at 9:00 am. Performances are February 14th through March 1st, Fridays and Saturdays at 7:30 pm, and Sundays at 2:00 pm.
Admission is $29 for adults, $12 for children 17 and under. Box office hours beginning February 14th are Monday through Friday, 9:00 am through 1:00 pm Tickets can be purchased online at www.fredericksburgtheater.org or by calling the box office at 888-669-7114.