Feb. 13 - Feb. 15, 2020
Thursday, Saturday
Bellini's The Capulets and the Montagues is the famous story of Romeo and Juliet, and one of the less-known treasures of the 19th Century Italian Opera. OPERA San Antonio presents an informal, non-staged, experimental concert version at Incarnate Word, Agarita will be led and conducted by Antony Walker, founder and director of the famous Washington (D.C.) Concert Opera.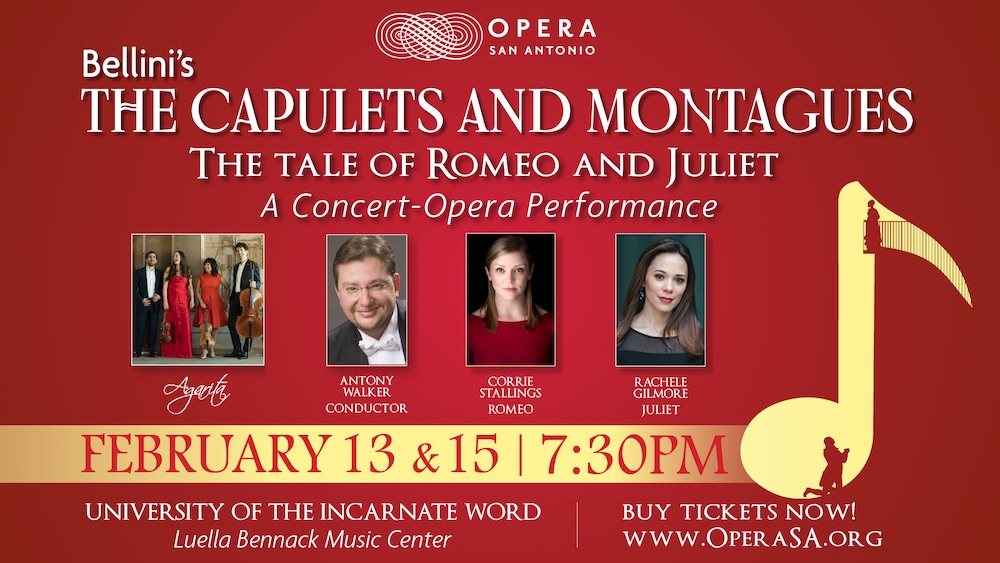 ---
The Capulets and the Montagues
by Bellini
Opera San Antonio
Thursday, Saturday,
February 13 - February 15, 2020
LUELLA BENNACK MUSIC CENTER - UNIVERSITY OF THE INCARNATE WORD
FEB 13, 2020, 7:30 PM and FEB 15, 2020, 7:30 PM
Tickets: $45
Please note this event is not at The Tobin Center, but at the Luella Bennack Music Center: Concert Hall on the UIW Campus. There are no reserved seats for this concert but will be open-seating.