Jan. 30 - Feb. 01, 2020
Thursday-Saturday
Clown Show Explores Gender Binary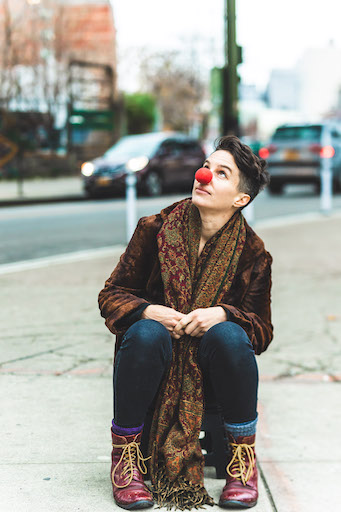 Come dive into the absurdity of gender with Transhumance at FronteraFest
Join NYC-based circus artist Ania Upstill for their new solo clown show Transhumance, a playful, heartfelt exploration of gender with its world premiere in Austin's FronteraFest. Transhumance follows one clown's magical journey across the landscape of gender in search of a place to call home. Along the way, Upstill's clown explores the absurdity of the gender binary and discovers a genderqueer identity – an identity that exists between male and female. As a genderqueer and queer performer, Upstill (they/them) is excited to explore what it means to be a trans* human through the playful, joyful medium of clowning. And as an UT alum, they are also excited to start the international tour of Transhumance in a familiar, friendly city. "I think of Austin as a very liberal, laid back city," says Upstill, "and I'm hoping that I will find an audience willing to go on this journey with me with open minds and a willingness to have fun".
Upstill started identifying as genderqueer and using they/them pronouns in 2018, inspired by increasing visibility and acceptance of gender minorities. "I started seeing more and more content about non-binary identities online, and it really made me think. I remember watching one particular video by this amazing activist named [name] and just starting to sob uncontrollably because I realized, 'oh, that's me too'. So I started the process of coming out to people that week, which included throwing myself a non-binary birthday party!".
As a theatre maker and clown, Upstill is passionate about LGBTQIA+ representation onstage, and realized that clown could be a wonderful form to explore a genderqueer identity in a joyful way. One reason to use clown is that as a form it emphasizes joy in failure. "I fail all the time, and it's great," says Upstill. "I would be lying if I didn't say that failure is hard to process, especially as a recovering perfectionist, but fundamentally failure allows mistakes to be acknowledged, and the allows us to grow from those mistakes." Since the conversation around alternative pronouns and gender minorities is so new, Upstill is aware that people are going to make mistakes, and they think that we need to learn how to be better at moving forward after a mistake is made. "I don't expect people to get my pronouns right immediately, and I'm fully aware that I make lots of mistakes myself with other peoples' pronouns. It's not easy to learn new uses of language, I totally get it, but I do think that it is the effort that counts. And accepting that you will fail and that failure is okay goes a long way towards being able to make progress and learn. Besides, in a clown sense at least, failure can be so fun!"
Another reason to use clown as a form is to allow buoyancy, joy and fun into the conversation around gender. "I think often we only hear about how difficult it is to be part of a gender minority, for instance having to explain your pronouns all the time. And yes, it is hard," says Upstill, "but it is also beautiful and exciting to be able to play with all the performative aspects of gender and find what feels right to you." The title of the show, Transhumance, actually means to move sheep – or other livestock – across ground to feed them well. For Upstill, this reflects how gender is both a limitless landscape and an intriguing place to explore. "Plus," they say, "I think we often overlook how a binary concept of gender isn't really fun for anyone, including people who identify as cisgender. I had a job where a male co-worker told me that he has been asked to remove his sparkly nailpolish, while female co-workers were allowed to paint their nails however they wanted. It's so silly and arbitrary that we police gender in this way, and I feel like my job will be complete if after every show just one person is inspired to perform their gender in a way that is bit more true to them and less constricted by what society tells us is right for 'men' and 'women'.
Butch Mermaid Productions will be bringing Transhumance to Austin in January 2020 for FronteraFest. The performances run January 30 to February 1st in The Long Fringe at Groundfloor Theatre launch an international tour from Austin to New Zealand and Australia.
*trans in this context is used the broader umbrella meaning 'through and across gender' which encompasses nonbinary, genderqueer, gendernonconforming and other gender minorities.
---
Transhumance
by Ania Upstill
FronteraFest
Thursday-Saturday,
January 30 - February 01, 2020
Ground Floor Theatre
979 Springdale Rd
Austin, TX, 78702
FronteraFest Long Fringe at Groundfloor Theatre
Produced by Butch Mermaid Productions
January 30th - February 1st 2020
Thurs. 1/30 @ 7:00 PM; Fri. 1/31 @ 9:15 PM; Sat. 2/1 @ 2:15 PM & Sat. 2/1 @ 7:45 PM


Performances at Ground Floor Theater.
Map