Dec. 13 - Dec. 22, 2019
Fridays-Sundays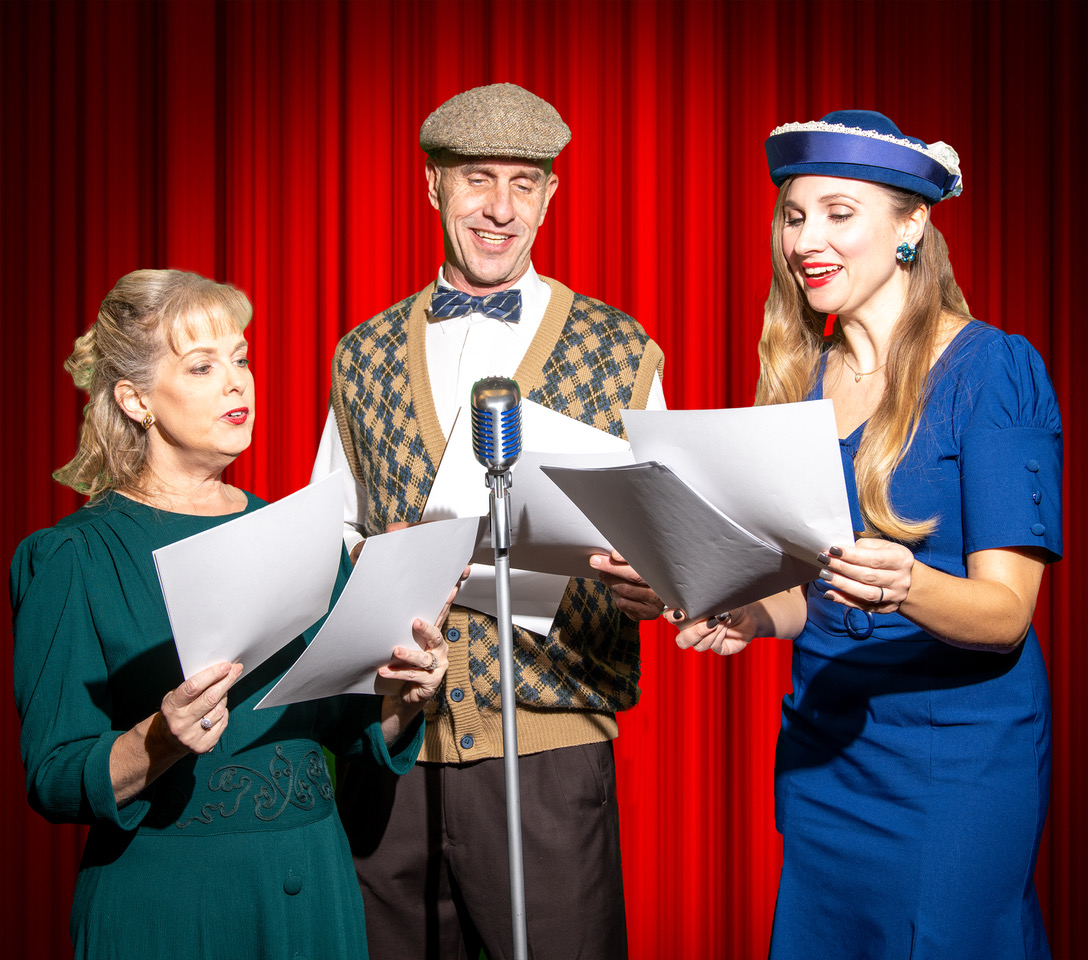 Charles Dickens' holiday classic comes to life as a live 1940s radio broadcast, complete with holiday tunes, vintage commercials for fruitcake (extra-fancy), the magic of live sound effects, and musical underscoring. A handful of actors bring dozens of characters to the stage, as the familiar story unfolds: Three ghosts take Ebenezer Scrooge on a thrilling journey to teach him the true meaning of Christmas. A Christmas Carol: A Live Radio Play is a charming take on a family favorite that was written and produced by the same team responsible for FTC's hit holiday production of 2016, It's A Wonderful Life: A Live Radio Play.
Cast in the production are Pierre Minjauw as Freddie Filmore, Justin Elliot as Jake Laurents, Heidi Melton as Sally Appleworth, Faith Kasukonis as Lana Sherwood, Daniel Melton as Harry "Jazzbo" Heywood, Amy Taylor as Trixie Devine, Barry Sikes as Willy Kurtz, Hailey Knudsen as Molly Sweet, and Jorja Hahn as Polly Sweet.
A Christmas Carol: A Live Radio Play is directed by FTC Executive Director Steve Reily. The show will be performed with a live orchestra, conducted by Marty Lenard, with musical direction is by September van Der Stoel and choreography is by Heidi Melton. FTC Technical Director Addison Powers will serve as scenic designer and FTC Shop Foremen Luke Cummings will serve as lighting designer. The production will be stage managed by Priscilla Castañeda and the team of Jolene Keefer and Nita Regester will design the costumes.
---
A Christmas Carol - a live radio play
by Kevin Connors, adapted from Joe Landry's play based on Charles Dickens
Fredericksburg Theater Company
Fridays-Sundays,
December 13 - December 22, 2019
(Rated G - Adult $29/ 17 & under $12)
Tickets for A Christmas Carol go on sale to donors Monday, November 25th at 9:00 am. Tickets go on sale to the public Monday, December 2nd, at 9:00 am. Performances are December 13th through the 22nd, Fridays and Saturdays at 7:30 pm, and Sundays at 2:00 pm.
Admission is $29 for adults, $12 for children 17 and under. Box office hours beginning November 25th are Monday through Friday, 9:00 am through 1:00 pm Tickets can be purchased online at www.fredericksburgtheater.org or by calling the box office at 888-669-7114.