Dec. 06 - Dec. 21, 2019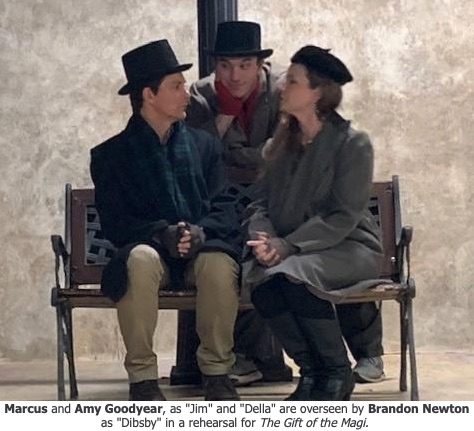 Amy and Marcus Goodyear, favorites of local audiences, are enjoying the chance to be seen in "The Gift of the Magi"beginning Friday in the VK Garage Theater.
"We fell in love with "Jim" and "Della" the first time we read the play," Amy says. "It's always hard to add another thing to the hectic holiday schedule, but we knew that we wanted to bring these two wonderful characters to life with Playhouse 2000."
"We started rehearsal in early November, and - even with a shorter than usual schedule - we've spent weeks getting every aspect of the play right for our audience," she adds. "We're sure that everyone who sees the show will leave with a renewed sense of the joy of giving that makes Christmas the very best time of the year."
This adaptation of the original short story, crafted by Actors' Theater of Louisville's Jon Jory, fills out to a charming ninety-minute play that is sure to be enjoyed by the whole family.
And, we're very excited that P2K founder Susan Neely Balentine joins the cast playing Della's sister, "Dot."
"It's been such a joy to re-capture the 'acting bug' in this play," Susan says. "It's been a long time since I've felt this comfortable on stage, and I'm so glad to be giving back to this company and my community, who have been some important to me."
The cast is filled out by Brandon Newton, recently seen as "George" in "Our Town," as Jim's friend, "Digsby"; and Amanda Radkiewicz, who takes on multiple roles including the blustery Russian "Madam Vodvaskaya."
---
The Gift of the Magi
by adapted by Chuck Winkler from the story by O. Henry
Playhouse 2000
December 06 - December 21, 2019
The Gift of the Magi opens this Friday, December 6 at 7:30 pm and continues on Fridays and Saturdays through December 21, with one Sunday Matinee at 2:30 pm on December 15.
General Admission tickets
are just $22, and any purchase of a Season Ticket Package for Playhouse 2000's Season 2020 earns a B.O.G.O coupon for the show