Oct. 11 - Oct. 27, 2019
Fridays-Sundays
A 19–year-old man awaits sentencing for the fatal stabbing of his father. It looks like an open-and-shut case- until one juror feels that there is a "reasonable doubt" - to the frustration of his eleven colleagues - thus preventing a quick verdict. During the heated deliberations, the hidden preconceptions and assumptions of the jurors are revealed. When faced with playing the hangman, each juror is forced to confront himself. Tempers get short, arguments grow heated, and the jurors become 12 Angry Men.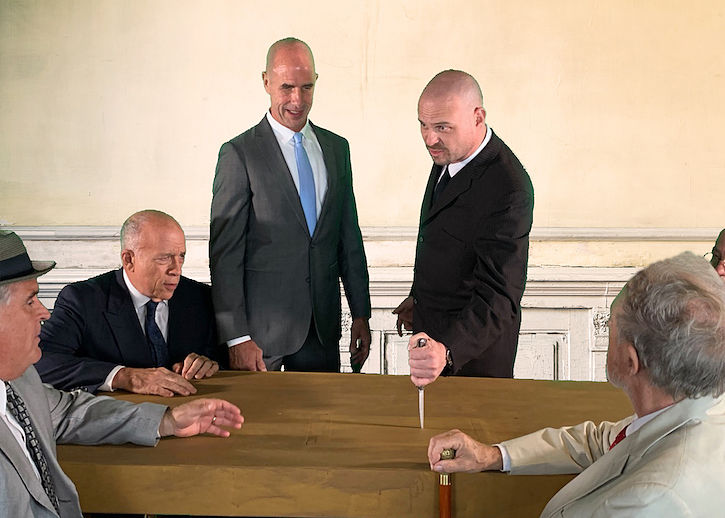 Cast in the FTC production are Joel Keefer as the Foreman, Paul Flett as Juror 2, Caleb Straus as Juror 3, Daniel Hofmann as Juror 4, Nicholas Baker as Juror 5, Esteban Garza as Juror 6, Ron Rickerhauser as Juror 7, J.D Cole as Juror 8, William Sadd as Juror 9, Bill Joseph as Juror 10, Robert Menking as Juror 11, Barry Sikes as Juror 12, and John Willome as the Guard.
The production is directed by FTC Technical Director Addison Powers and will be stage managed by Priscilla Castañeda. FTC Shop Foremen Luke Cummings will serve as scenic and lighting designer. The team of Jolene Keefer and Nita Regester will design the costumes.
---
Twelve Angry Men
by Reginald Rose
Fredericksburg Theater Company
Fridays-Sundays,
October 11 - October 27, 2019
October 11-27, 2019: Fridays and Saturdays at 7:30 pm, Sundays at 2 pm
Tickets for 12 Angry Men go on sale to donors Monday, September 23rd at 9:00 am. Tickets go on sale to the public Monday, September 30th, at 9:00 am.
Admission is $29 for adults, $12 for children 17 and under.
Box office hours beginning September 30th are Monday through Friday, 9:00 am through 1:00 pm Tickets can be purchased online at www.fredericksburgtheater.org or by calling the box office at 888-669-7114.