Jul. 12 - Jul. 27, 2019
Fridays-Sundays
We're in Mineola County, where the Community Theatre is producing Romeo and Juliet. Even though the cast members don't have their lines memorized, the set isn't finished, and a dog keeps barking offstage, they're gonna give it a go! There's just an awe-inspirin' performance given by Mildred Carson (who doesn't look fifty) as Juliet. And there's great chemistry between Mildred and Bubba Bedford, who is cast as Romeo. And lest we forget Naomi Farkle Carson, who provided the additional dialogue.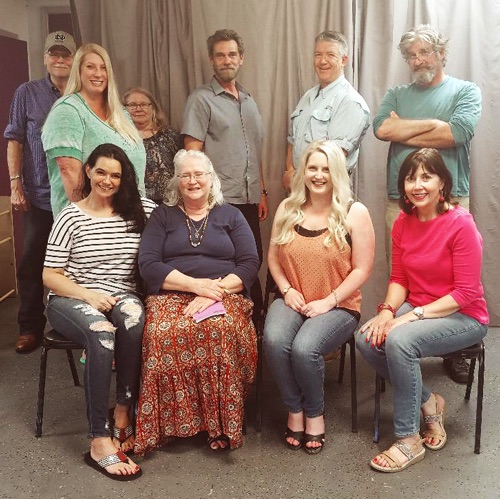 The show, by Mark Landon Smith, is a hilarious send-up of community theatre. Shown in back are director Jerry Watson, Dara Stringer, Keisha McFerrin, Colt Bray, Tim Stoner and Martin Vidal. Seated are Pam Sharkey, Kimberly Stoner, Taylor Walston and Sheree Stevens, assistant director.
Cast/Crew:
Mildred Carson Dara Stringer

Delbert Fink Timothy Stoner

Faye McFaye Taylor Walston

Ruthann Barns Kimberly Stoner

Naomi Farkle Carson Pamela Sharkey

Luther Carson Martin Vidal
Bubba Bedford Colt Bray
Violet Farkle Keisha McFerrin
Director

Jerry Watson

Ass't Director

Sheree Stevens
---
An Evening of Culture
by Mark Landon Smith
Boerne Community Theatre
Fridays-Sundays,
July 12 - July 27, 2019