Jun. 07 - Jul. 07, 2019
Fridays-Sundays
EVITA charts the young and ambitious Eva Peron's meteoric rise to sainthood. Set in Argentina between 1934 and 1952, the Tony-winning musical follows Eva Duarte on her journey from poor illegitimate child to ambitious actress to wife of military leader-turned-president Juan Peron. Once the most powerful woman in Latin America, Eva Peron died from cancer at age 33. The events in Evita's life are presented in song and commented on by the show's narrator, Che Guevara. Well-known numbers from Tim Rice and Andrew Lloyd Webber's musical masterpiece include "Don't Cry for Me Argentina," "Oh What a Circus," "Buenos Aires" and "Another Suitcase in Another Hall." The Palace is most appreciative of the generous sponsorship of EVITA by Joanne and Bill Harrah, longtime Palace supporters. Community Impact Newspaper is a 2018-2019 season sponsor, and will also be sponsoring our 2019-2020 season beginning in October!
Feature by Pete Dossing, Williamson County Sun, June 12, 2019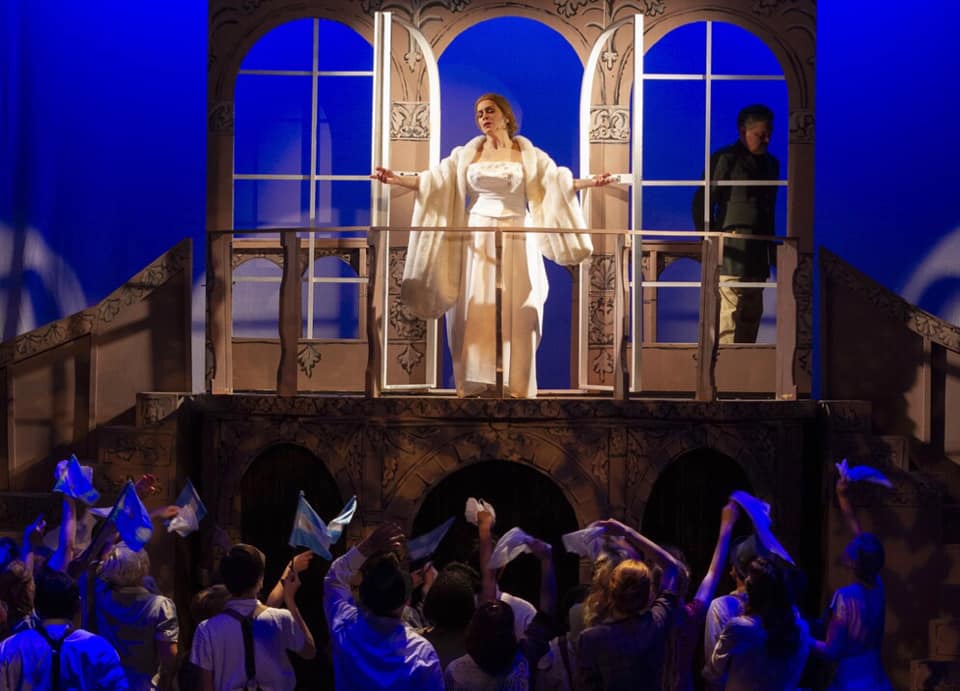 Michelle Haché plays the role of Eva Peron. Since arriving in Austin in 2009 following completion of her graduate degree from the Juilliard School in New York, Michelle has received seven B. Iden Payne Award nominations and four Payne Awards for both performance and directing. Jim Lindsay revives his role as Perón from the Palace's 2011 production of Evita, for which Jim garnered a Best Supporting Actor in a Musical accolade from Central Texas Live Theatre. Film credits for Jim Lindsay include Hate Crime, The Rookie, and Where the Heart Is. Steve Williams also recreates his role as Che Guevara from the Palace's former production of Evita. Other credits around Austin: Houdini in Ragtime (ZACH Theatre) and in Trinity Street Players' Sideshow; The Narrator, Blood Brothers (TSP); and Zangara in Assassins(Soubrette Productions). When not onstage, Steve has designed sets for Georgetown Palace productions Grease, Tarzan, Forum, and Wizard of Oz.
Clifford Butler directed EVITA for the Palace in 2011 and returns as both Director and Set Designer for this 2019 production. Cliff's insight and talent are exquisite gifts for Palace audiences. Austin Kimble delivers once again for all things musical; Jesee Smart's choreography is perfection; and Barb Jernigan's scenic artistry is picture-perfect.
But it truly does 'take a village' to produce the wonderful Palace productions that just seem to get better all the time! Don't miss this one!
Director: Clifford Butler
Choreographer: Jesee Smart
Music Director: Austin Kimble
Stage Manager: De Belardinelli
---
Evita
by Andrew Lloyd Webber
Georgetown Palace Theatre
Fridays-Sundays,
June 07 - July 07, 2019
5 Weekends: JUNE 7-9, 14-16, 21-23, 28-30, JULY 5-7, 2019
Get tickets for EVITA at www.georgetownpalace.com or by calling the Palace Office at 512-869-7469.
For Special Needs Seating (wheelchairs, walkers, no stairs, etc.) you must call the Box Office for reservations at (512) 869-7469.
Group rates are available for 20 or more. The Palace seats about 295, with reserved seating paid for in the ticket price.
The Palace office in the lobby of the theatre is open Monday through Friday from 10:00 a.m. until 4:00 p.m. (except for some holiday dates). Purchase tickets and select seating online at www.georgetownpalace.com or by calling 512-869-7469. (Please call ahead regarding special needs seating.) Visa, Master Card, Discover, and American Express are accepted.