Jun. 07 - Jun. 22
Wednesdays-Sundays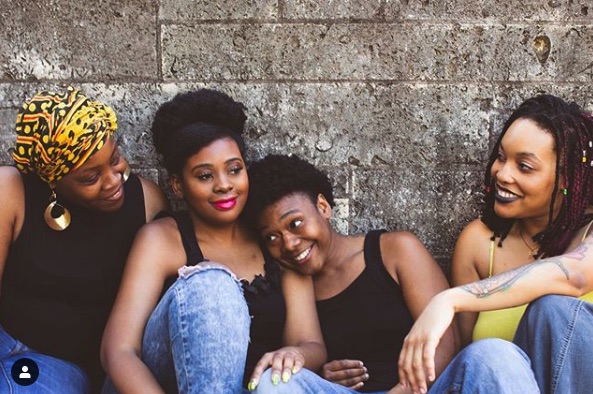 The VORTEX
and
The Generic Ensemble Company
present
black girl love:
an adaptation project
By Al(aina) L. Monts
adapted from the book black girl love
by Anondra "Kat" Williams
Directed by
kt shorb and Simone Raquel Alexander
Choreography by Michael J. Love
all black. all gay. all in love.
An adaptation of Anondra "Kat" Williams' book of short stories and poetry, black girl love looks at the everyday lives of black queer women and non-binary people. It's a play about our relationships to love, sex, and obsession. In the tradition of a choreo-poem, the show is non-linear and uses original poetry by Williams. black girl love captures the mundane and precious stories of black queer women and non-binary people who have been so long ignored in American theatre. The VORTEX and GenEnCo are pleased to produce this new play by Al(aina) L. Monts for three weeks only at The VORTEX.
Featuring Faith Anderson, g'beda, Allegra Jade Fox, and Oktavea L. Williams. Assistant Directing and Understudy by Deja Morgan. Dramaturgy by Chantaneice Kitt. Lighting Design by Rachel Atkinson. Costume Design by Delena Bradley. Scenic Design by Iman Corbani, Sound Design by Malyssa Quiles. Intimacy Consulting by Jess Shoemaker. Stage Management by Megan Kemp and Kiyanna Elliot. Production Management by Jennifer Rogers.
The Generic Ensemble Company (GenEnCo) makes the invisible visible through bold, socially relevant, body-centered theatre. www.genenco.org. GenEnCo's work has been was nominated for multiple B. Iden Payne Awards, receiving the Outstanding Performance by an Actor in a Featured Role (Musical Theatre) for The Mikado: Reclaimed.
kt shorb's work has won multiple FronteraFest "Best of Fest," and been shown at the Menil Collection, the Pulitzer Foundation, and in many venues across Texas. They are an invited member of the National Institute for Directing & Ensemble Creation.
"...As profound as it is heartrending."
--Orange Magazine on Generic Ensemble Company's The Mikado: Reclaimed
"…Ambitious, timely, and vitally important…"
—Austin American-Statesman on Generic Ensemble Company's Robin Hood: An Elegy
"I love what kt shorb does and how she does it, both onstage and off. Whatever she is up to is not to be missed."
–Anne Bogart, Artistic Director – SITI Company
Generic Ensemble Company and The VORTEX are funded and supported isfunded and supported in part by VORTEX Repertory Company and by the Cultural Arts Division of the City of Austin Economic Development Department.
The VORTEX conjures and navigates the storm of imagination with urgent, unashamed art that dares to dream the world in which we want to live. This magic emanates from our cultural harbor, embraces diverse communities, breaks down barriers, and opens channels for vital exchange.
Tickets and more information www.vortexrep.org
---
Black Girl Love: An Adaptation Project
by Alaina Morris, Anondra "Kat" Williams, ensemble
Generic Ensemble Company
Wednesdays-Sundays,
June 07 - June 22, 2019
When: June 7-22, 2019 8 pm
ASL-interpreted Saturday, June 15 8pm
"Industry Night" Wednesday, June 19 8pm
Live-stream on Howlround.tv Friday, June 21, 8pm CST
Where: The Eloise Brooks Cullum Stage @The VORTEX 2307 Manor Rd. Austin, TX 78722
Free Parking. Bus Route.
The Butterfly Bar @ The VORTEX opens nightly at 5pm with full bar, hand-crafted cocktails, and snacks.
Patrizi's @ The VORTEX opens nightly at 5pm with delicious homemade Italian food.
Tickets: $35-$15
$35 Priority Seating
$25 General Admission
$15 Discount/Artist/Student/Senior/Veteran
Advanced Reservations Recommended. Limited seating.
www.vortexrep.org or 512-478-5282
Blue Star Theatre: Discounts for Military, Veterans, and their families.
Radical Rush Free Tickets: Limited free tickets for each performance in the spirit of sustainability, accessibility, and the gift economy. Radical Rush tickets released at 7pm each night-in-person only.
2-for-1 admission Thursday and Sunday with donation of 2 cans for SafeAustin