May. 24 - Jun. 01, 2019
Thursdays-Sundays
Set in Pittsburgh, Chickens in the Yard explores three days in the life of a family as they grow, stumble, and fall into their future. The play explores what gay identity means for one couple, as they journey from the families that raised them to the family they choose to create together. Director Alice Stanley brings the world to life through innovative storytelling and poetic staging, blurring the line between choreography and theatre.
The VORTEX production stars Mindy Keenan, Mary Catherine, Judith Sloan, and Cat Palacios. Costume Design by Stephanie Fisher. Scenic Design by Ashton Murphy. Lighting Design by Patrick Anthony. Sound Design by David DeMaris. Movement Direction by Sarah Jack. Stage Management by Alexis K. Williams. Assistant Director, Devin Ramirez. Producing Artistic Director, Bonnie Cullum.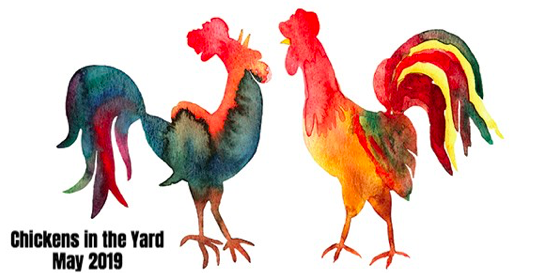 Chickens in the Yard has been previously produced at Hatch Arts Collective in Pittsburgh, PA; Quantum Theatre in Pittsburgh, PA; and Adjusted Realists in Brooklyn, NY. Chickens in the Yard is funded and supported in part by VORTEX Repertory Company, Bloomberg Philanthropies, and by the Cultural Arts Division of the City of Austin Economic Development Department.
About the Artists:
Paul William Kruse is a playwright, film/video maker, and teaching artist from western Wisconsin. His work flows from his queer identity, Catholic roots, and ever-evolving experience of family. Paul creates stories for and with the people he loves. He is a founding member and resident playwright of Hatch Arts Collective in Pittsburgh, Pennsylvania. Paul often writes collaboratively, drawing from his years of experience as a videographer and documentarian. He is currently a fellow at the Michener Center for Writers at the University of Texas at Austin, where he is pursuing an MFA.
Alice Stanley is a director, playwright, filmmaker, and producer, and a Founder of Cohesion Theatre Company in Baltimore, MD. Alice won Best Director from Baltimore City Paper's Best of Baltimore 2016, The Bad Oracle, and DC Metro Theatre Arts, and received the Mayor's Individual Artist Award. They have had plays produced by many theaters, including The Barter Theater, Kitchen Dog Theater, Cohesion Theatre Company, Fells Point Corner Theater, Interrobang Theatre Company, Strand Theater, Baltimore Shakespeare Factory, Gadfly Theatre Productions, and Rapid Lemon Productions. Most recently, their play The Tiny Banger was produced at Trinity Street Players. They are an MFA Directing Candidate at the University of Texas at Austin.
---
Chickens in the Yard
by Paul Kruse
Vortex Repertory Theatre
Thursdays-Sundays,
May 24 - June 01, 2019
When: May 24-June 2, 2019 8:30pm
May 24-26 (Fri-Sun) May 29-June 2 (Wed-Sun)
ASL-Interpreted Saturday, May 25 (Free to Deaf/Hard-of-Hearing)
Wednesday, May 29--Industry Night
Saturday, June 1 Live-Streaming on howlround.tv 8:30pm CST
Where: The Outdoor Stage@ The VORTEX
2307 Manor Rd. Austin, TX 78722
Free Parking. Bus Route.
The Butterfly Bar @ The VORTEX opens nightly at 5pm with full bar and hand-crafted cocktails.
Patrizi's @ The VORTEX opens nightly at 5pm with delicious homemade Italian food.
Tickets: $35-$15
Advanced purchase strongly recommended!!
$35 Priority Seating
$25 General Admission
$15 Discount/Artist/Student/Senior/Veteran
www.vortexrep.org 512-478-5282
Advanced Reservations Recommended. Limited seating.
Radical Rush Free Tickets: Limited free tickets for each performance in the spirit of sustainability, accessibility, and the gift economy. Radical Rush tickets released at 7pm each night-in-person only.
Blue Star Theatre: Discounts for Military, Veterans, and their families
2-for-1 admission: Thursdays and Sundays with donation of 2 cans for SAFE Austin.
[illustration: Vortex Repertory]