May. 16 - Jun. 01, 2019
Fridays-Sundays
Sean and Corey are at the beginning of a relationship, but each brings baggage to it: their dogs. The guys are in love. The dogs hate each other…and have all the best lines. A sweet, funny and moving tribute to the animal companions with whom we share our lives.
Directed by Robert Tolaro.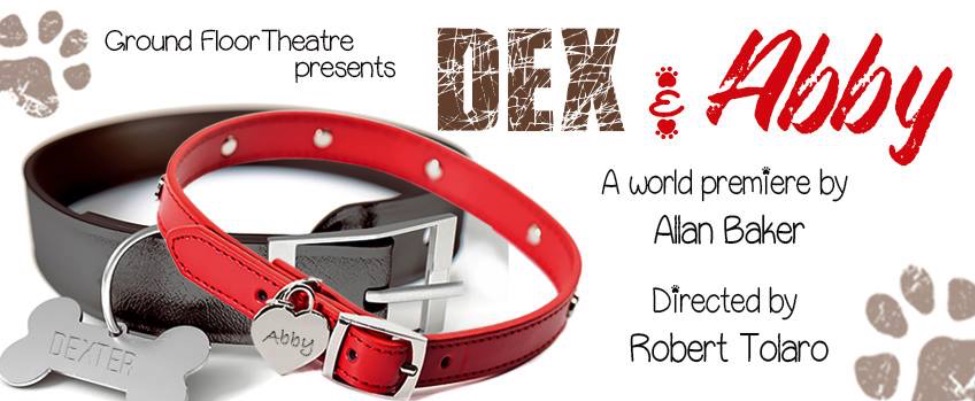 Ground Floor Theatre is proud to announce the world premiere of , running May 16 – June 1, 2019. Written by Allan Baker and directed by Robert Tolaro, Dex & Abby is a sweet, funny and moving tribute to the animal companions with whom we share our lives and the human relationships we realize are not so different.
Sean and Corey are enjoying the beginning of a relationship and their new home. Their dogs, Abby and Dex, are not. Abby, Sean's young, excitable and somewhat mischievous dog, must learn to deal with the much older and steadier Dex, who has long been Corey's companion and protector. There are conflicts to be resolved in the relationships of all four characters. Fortunately, all four are able to communicate in funny, lovely and unexpected ways.
The cast includes Cassidy Timms as Abby; Jason Graf as Dex; Jacob Bernelle as Corey; Will Douglas as Sean; and Danielle Grisko as Katy.
The production team includes Ia Ensterä as scenic designer; Miriam Alexander as lighting designer; Pam Fletcher-Friday as costume designer; Lowell Bartholomee as sound designer; and Kelsey Moringy as stage manager.
"When I first heard of the idea of this play, I was immediately intrigued," said director Robert Tolaro. "Not that actors playing dogs was a new idea, Albee already had done that, but it was the earnest situation of two dogs being able to voice their opinions about what was going on around them. I call it a "canine odd couple" as we meet Dex and Abby, whose relationship starts as earnest as oil and water. The themes of love and companionship that drive this new script especially drew my interest. There's so much humor, as well as very tender moments, that I thought it would be a more challenging world premiere to tackle. All of that in addition to being able to work with Ground Floor Theatre for the first time after their great success with Fun Home…I felt honored to be asked to direct. Dex & Abby is basically a love story – for those of us who love dogs, it is even more."
About Ground Floor Theatre:
Ground Floor Theatre concentrates on works by and for underrepresented communities. It serves as an incubator to foster and grow new and groundbreaking works that shine a light on groups that are often overlooked. It is also a home for the Austin theatre community to come together and learn from one another in order to help Austin continue to excel as a leader in the national theatre community. For more information visit www.groundfloortheatre.org.
---
Dex & Abby
by Allan Baker
Ground Floor Theatre
Fridays-Sundays,
May 16 - June 01, 2019
Ground Floor Theatre
979 Springdale Rd
Austin, TX, 78702
Performances run May 16 – June 1, 2019 at Ground Floor Theatre, 979 Springdale Road, Austin, TX at the corner of Springdale and Airport. Performances are Thursday through Saturday nights at 8:00 PM and Sundays at 5:00 PM. Suggested ticket price is $25; Ground Floor Theatre believes in "theatre for everyone" regardless of ability to pay, so tickets are always "Pay What You Can". Tickets can be purchased at groundfloortheatre.org
The "First Friday" performance on May 17 will be a benefit for Austin Pets Alive! (APA!) with a reception following the performance. 100% of ticket sales for this performance will go to APA!. One fully ASL-interpreted performance will be performed during the run. Performance details to be announced at a later date.
[poster design by Shannon Grounds]