Apr. 25 - Apr. 28
Thursday-Sunday
Whether you are part of a big family or a small one, neither goes without its hardships of dealing with illness, unemployment, death, or divorce.
Relationships are tested and tried and becomes the family's baggage. The Freeman Family takes you on the ride of your life. Laugh until it hurts (because you will) as they "try" to come together again under one roof. Drama is an understatement.
The story takes a gripping turn when the Matriarch, Rhonda Freeman lets the family in on a huge secret that she's been keeping for years. As the family comes home and unpack their baggage, is the Freeman family ready to unpack their Extra Baggage?
Featuring new original songs Written By: Robert King Jr. & Robyn Wright.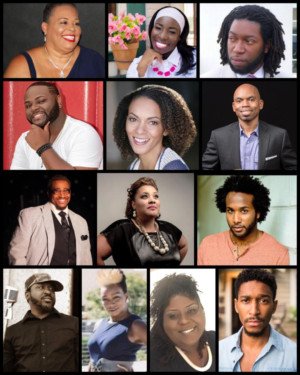 King Productions is excited to announce the cast of our next production
"Extra Baggage "
Written By: Robert King Jr.
Directed By: Glen Bird



Pops - Glen Towery
Aunt Edna - Toni Ringgold
Uncle Willie - Quinton Samuels
DeShawn - Dechard Freeman
Vanessa - Charlite Brooks
JD - Robert King Jr.
Janice - Hazel Asberry
Melony - Kayla Freeman
Frida - Timeca Seretti
Ervin- Brandon Edwards
Patricia - Ty Young
Dennis - Daniel Chigbu
---
Extra Baggage
by Robert King, Jr., Robyn Wright
Robert King, Jr.
Thursday-Sunday,
April 25 - April 28, 2019
Running April 25th-28th , 2019
evenings at 7:30 p.m., 2:30 matinees on Saturday and Sundaty
Mosaic Theatre, Austin
Tickets $15 - $20 plus service fees, available via