Mar. 29 - Apr. 27, 2019
Thursdays-Sundays
The VORTEX presents the World Premiere of
Last: An Extinction Comedy
Devised by the Ensemble
Directed by Rudy Ramirez
The VORTEX proudly presents the world premiere of Last: An Extinction Comedy, an extraordinary new devised play blending improv, comedy, and environmental activism premiering March 29, 2019 on The Eloise Stage @The VORTEX.
With the urgency of climate change and the mass extinction of species, Last: An Extinction Comedy takes on the future. Centuries from now, a troupe of tired and really hungry comedians roam the crumbling remains of human civilization performing sketches about extinction. Taking the names of surviving animal species like Trash Panda and Cockroach, they bring humor to a world on the gallows and remind us that a story of extinction is also a story of survival—Mad Max meets the Muppets!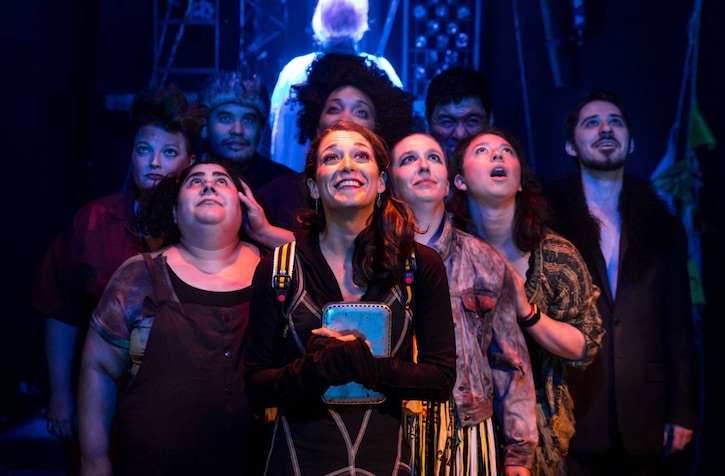 Rudy Ramirez, award-winning director and Associate Artistic Director of The VORTEX, teams up with Sarah Marie Curry, one of Austin's most lauded and recognized improvisers, to create a fresh new play of sketch comedy and improv as we address our environmental crisis. The cast includes Bonnie Cullum, VORTEX Producing Artistic Director, who returns to the stage after a 20-year hiatus, and VORTEX resident artists Trey Deason, Olivia Jimenez, Amelia Turner, Jesus I. Valles, and Melissa Vogt. Also starring Ben Bazan, Allegra Jade Fox, Eva McQuade, and Julie Moore.
Scenic Design by Ann Maire Gordon. Lighting Design by Patrick Anthony. Costume Design by Aaron Flynn. Prop Design by Jamie G. Vaught. Makeup Design by Amelia Turner.
Stage Management by Tamara L. Farley. Production Management by Jennifer Rogers. Assistant Production Manager, Celeste Bliss. Additional writing and coaching by Lilli Lopez and Jeremy Rashad Brown.
Last: An Extinction Comedy is funded and supported in part by Bloomberg Philanthropies, VORTEX Repertory Company, and by the Cultural Arts Division of the City of Austin Economic Development Department.

The VORTEX Mission Statement: We conjure and navigate the storm of imagination with urgent, unashamed art that dares to dream the world in which we want to live. This magic emanates from our cultural harbor, embraces diverse communities, breaks down barriers, and opens channels for vital exchange. www.vortexrep.org
---
Last: An Extinction Comedy
by Rudy Ramirez and ensemble
Vortex Repertory Theatre
Thursdays-Sundays,
March 29 - April 27, 2019
March 29 - April 27, 2019 8 pm
Saturday, April 6 --American Sign Language ASL-Interpreted Performance Free to Deaf and Hard of Hearing Audiences
Friday, April 12 --Live Streaming Howlround.com/tv
Wednesday, April 24 --Industry Night
The Eloise Stage @ The VORTEX2307 Manor Rd. Austin, TX 78722
Free Parking. Bus Route.
The Butterfly Bar @ The VORTEX opens nightly at 5 pm with full bar and hand-crafted cocktails.
Patrizi's @ The VORTEX opens nightly at 5 pm with delicious homemade Italian food.
Tickets: $35-$15$35 Priority Seating $25 General Admission $15 Discount/Artist/Student/Senior/Veteran
www.vortexrep.org 512-478-5282
Advance Reservations Recommended. Limited seating.
Radical Rush Free Tickets: Limited free tickets for each performance in the spirit of sustainability, accessibility, and the gift economy.
Radical Rush tickets released at 7 pm each night-in-person only.
Blue Star Theatre: Discounts for Military, Veterans, and their families
2-for-1 admission: Thursday and Sunday with donation of 2 cans for SAFE Austin.