Mar. 21 - Apr. 06, 2019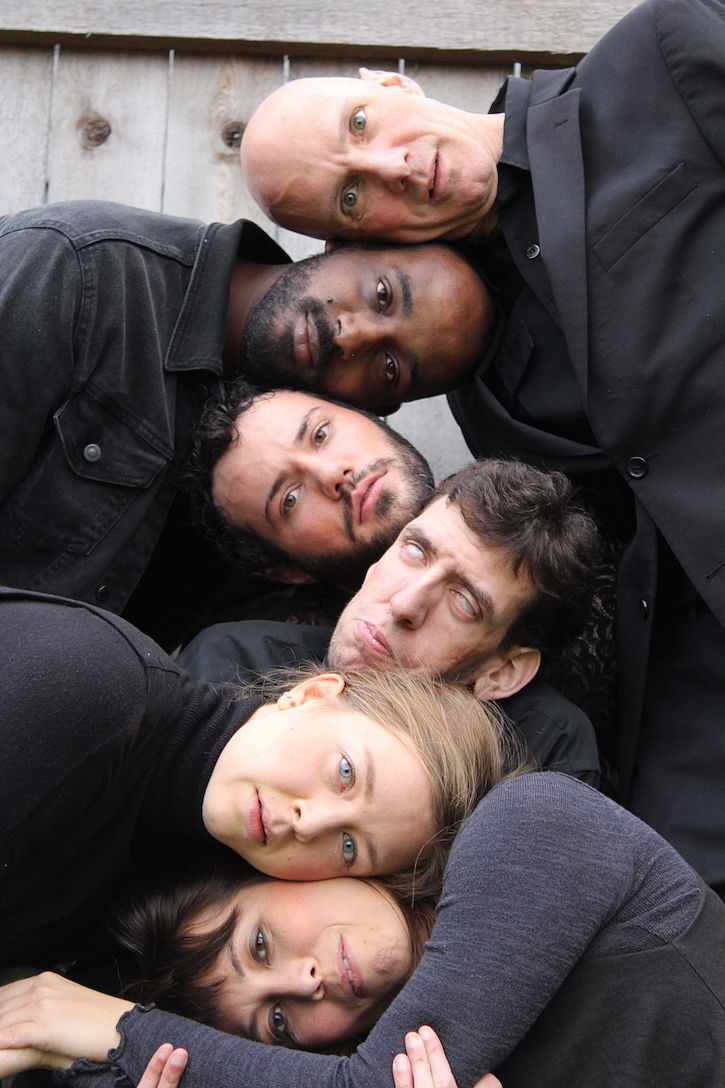 A contemporary translation of the classic Greek drama that asks, "How do we care for the dead and how we do grieve amidst crisis?" Translated and strangely reimagined by the inimitable Classics scholar and award-winning poet, Anne Carson. Directed by Salvage Vanguard's co-producing Artistic Director Diana Lynn Small, Antigonick stretches the boundaries of story in poetry and theater. Antigonick asks, "What can one woman do in the face of unjust laws?" What is she willing to sacrifice? In this timeless story, Carson points to the lessons we're meant to learn from our past yet somehow fail to remember.
Featuring local performers Megan Tabaque, Paige Tautz, Rachel Long, Jay Byrd, Tobias Al-Trabulsi, Travis Tate, and Vincent Tomasino.
Original music by Henna Chou and designs by Lisa Laratta, Paige Tautz, Natalie George, and Henna Chou.
Antigonick is a translation by Anne Carson of Sophocles' Antigone.
Directed by Diana Lynn Small.
Audio feature by Mike Lee, KUT-FM
how is a Greek chorus like a lawyer
they're both in the business of searching for a precedent
finding an analogy
locating a prior example
so as to be able to say
this terrible thing we're witnessing now is
not unique you know it happened before
or something much like it
we're not at a loss how to think about this
we're not without guidance
there is a pattern
we can find an historically parallel case
and file it away under
ANTIGONE BURIED ALIVE FRIDAY AFTERNOON
COMPARE CASE HISTORIES 7. 17 AND 49
ABOUT THE ARTISTS:
Anne Carson (playwright) Anne Carson is a poet, essayist, professor of Classics, and translator. "In the small world of people who keep up with contemporary poetry," wrote Daphne Merkin in the New York Times Book Review, Carson "has been cutting a large swath, inciting both envy and admiration." Carson has gained both critical accolades and a wide readership over the course of her "unclassifiable" publishing career. In addition to her many highly-regarded translations of classical writers such as Sappho and Euripides, and her triptych rendering of An Oresteia (2009), she has published poems, essays, libretti, prose criticism, and verse novels that often cross genres. Carson's recent collections include Nox (2010), Red Doc> (2013), and Float (2016). Her honors and awards are many, including fellowships from the Guggenheim Foundation, the MacArthur Foundation, and the American Academy in Berlin. She has also received the Lannan Literary Award, the Pushcart Prize, and the Griffin Poetry Prize.
Diana Small (director) Diana Small writes, acts, and directs for the stage. Diana earned her MFA in playwriting from the Michener Center for Writers at UT Austin. She directed the world premiere of Tryouts by Adara Meyers with Salvage Vanguard in October 2018. Diana's new play House Play was developed at Berkeley Rep's The Ground Floor in 2017. Mad & a Goat has toured to seven cities since it was developed in 2013. Her play Good Day was selected for the 2015 Great Plains Conference PlayLabs, Kitchen Dog Theatre's New Works Festival and was a finalist for the 2015 Play Penn Conference. Diana has worked with paper chairs theatre company in Austin having directed Elizabeth Doss's play Mast and performing/ dramaturging Doss's play Poor Herman and Catalina de Erauso and sharing the world-premiere of her play Hot Belly with The Syndicate in NYC (The Tank). She is a Jean Brown Fellow at Austin Presbyterian Theological Seminary pursuing a Master of Divinity.
---
Antigonick
by Sophocles, translated by Anne Carson
Salvage Vanguard Theater
March 21 - April 06, 2019
Thursdays - Saturdays at 8 p.m., March 21 to April 6, 2019
Dougherty Arts Center
TICKETS: $10-$20 online, sliding scale. Pay-What-You-Wish every night at the door.
Box office opens at 6:30pm
Reservations for each performance can be made atHERE
Every Friday night is FREE for Teens!
Antigonick JUBILEE: Join us for a special performance of Antigonick. Celebrating 25 years of bold, new work by Salvage Vanguard, the performance on Saturday March 23 will be followed by a party with delicious eats and specialty cocktails. Tickets to this performance-party are $25.
COMMUNITY DIALOGUE: Immediately following the performance on March 30, join us for a dialogue with Austin-based spiritual and religious leaders, discussing contemporary rituals around grief and death. Panel features speakers Chaplain Kye Flannery, Shaikh Mohamed-Umer Esmail, and Rabbi Neil Blumofe.
ASL Interpretation by Jen Borland and Dany Casey will be available at the March 30 performance. There will be an Audio Described performance by VSA Texas March 28.
ArtREACH: In collaboration with Austin Bat Cave, performer, playwright, and SVT artist Megan Tabaque will lead an Antigonick-inspired creative writing workshop for teens. Made possible by a generous grant from Applied Materials.