Feb. 28 - Mar. 03, 2019
Thursday-Sunday
The VORTEX is proud to present the Austin debut of international touring poet and published author, Jason Bayani with his critically-acclaimed Locus of Control, a compelling mix of poetry, storytelling, music, and media for 4 nights only, February 28-March 3. Directed by award-winning performing artist, Kat Evasco, the show explores the lives of Filipino immigrants in America. Bayani takes us through his hip-hop inspired youth, club-going college days, and turbulent adulthood. Locus of Control navigates his experience dealing with race, mental health, addiction, and his status as the first American-born child in his family. Drawing upon nearly twenty years of work, Bayani, pieces together the story of the latest and most robust wave of migrants to come from the Philippines and contemplates what this identity has become in America and what it will become in the future.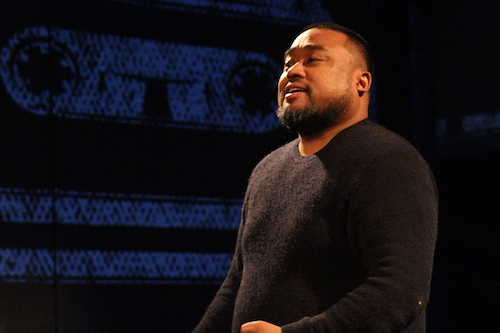 Pank Magazine raves, "Jason Bayani is an accomplished performer of his poetry and you can tell just by reading them that they cry out to be read aloud. The best poetry shines on both the page and the stage and Bayani's work certainly does just that.". And Hyphen Magazine writes, "In real life, as in his poetry, Jason Bayani's voice fills the room. He starts telling a story in a crowded restaurant, and the whole table, no matter how loud the surrounding noise may be, shuts up to listen."
About the Artists:
Jason Bayani is a graduate of Saint Mary's MFA program in Creative Writing. He is a Kundiman fellow and a veteran of the National Poetry Slam scene whose work has been published in World Literature Today, Fourteen Hills, BOAAT, and Muzzle Magazine. As a member of 7 National Poetry Slam teams, he's been a National Poetry Slam finalist and represented Oakland at the International World Poetry Slam. His first book, Amulet was published in 2013 through Write Bloody Press and his second book, Locus is forthcoming in 2019 from Omnidawn Publishing. He is currently the artistic director for San Francisco's Kearny Street Workshop (the oldest multi-disciplinary Asian Pacific American multi-disciplinary arts organization in the country). jasonbayani.com
Kat Evasco is a writer, stand-up comic, and performing artist living and working in San Francisco. She has performed at venues including the Haha Cafe, San Jose Improv, the Purple Onion, Napa Valley Opera House, Logan Center for the Arts, Annenberg Center for the Performing Arts, and FringeArts. Evasco is currently touring her autobiographical one­-woman show, Mommy Queerest. This new work chronicles the coming­ out process of a lesbian daughter and a closeted lesbian mother, illustrating how the reclaiming of their sexuality challenges and strengthens their relationship. Evasco currently serves as the Managing Director of Guerrilla Rep, an independent theater company that develops and produces new plays in San Francisco. Evasco is a recipient of the Creative Capacity Fund Quick Grant, NextGen Art Professional Development Grant, and the Zellerbach Family Foundation Grant. She holds a BA in Asian American Studies from San Francisco State University.
The VORTEX Mission Statement: We conjure and navigate the storm of imagination with urgent, unashamed art that dares to dream the world in which we want to live. This magic emanates from our cultural harbor, embraces diverse communities, breaks down barriers, and opens channels for vital exchange.
Locus of Control is funded and supported in part by Bloomberg Philanthropies, VORTEX Repertory Company, and by the Cultural Arts Division of the City of Austin Economic Development Department.
---
Locus of Control
by Jason Bayani
Vortex Repertory Theatre
Thursday-Sunday,
February 28 - March 03, 2019
February 28-March 3, 2019 8pm
4 nights only!!
at the Eloise Stage @ The VORTEX
2307 Manor Rd. Austin, TX 78722
Free Parking. Bus Route.
The Butterfly Bar @ The VORTEX opens nightly at 5pm with full bar and hand-crafted cocktails.
Patrizi's @ The VORTEX opens nightly at 5pm with delicious homemade Italian food.
Tickets: $35-$15
$35 Priority Seating
$25 General Admission
$15 Discount/Artist/Student/Senior/Veteran
www.vortexrep.org 512-478-5282
Advance Reservations Recommended. Limited seating.
Radical Rush Free Tickets: Limited free tickets for each performance in the spirit of sustainability, accessibility, and the gift economy. Radical Rush tickets released at 7pm each night-in-person only.
Blue Star Theatre: Discounts for Military, Veterans, and their families
2-for-1 admission: Thursday and Sunday with donation of 2 cans for SAFE Austin.