while our blood's still young
by touring company
Feb. 23 - Feb. 24, 2019
Saturday-Sunday
while our blood's still young​ is collaboratively conceived and performed by Amanda Dunne Acevedo and Lindsey Barlag Thornton, who create work together as Genesis.
The performance experiments with exhaustion as a creative tactic through high-impact physical workouts, feats, tests, and challenges—all watched over and regulated by a whistle-blowing referee (performed by McKenzie Gerber). Alongside a baby pool of spaghetti and a record player blaring the Jane Fonda's Workout, Amanda and Lindsey both authentically produce exhaustion and intentionally reproduce the "act" of exhaustion. It is a high-energy, high-impact messy romp of bright, aerobic aesthetics that knowingly makes fun of itself and sincerely, repetitively asks the question ​"how exhausted are we?"
In keeping with the show's aesthetics, ​while our blood's still young​ will be performed in Bellmont Hall—itself an athletic space connected to the Darrell K Royal–Texas Memorial Stadium, home of the Longhorns football team.
"Amanda Dunne Acevedo and Lindsey Barlag Thornton are absolutely in it to win it [...] the two use the concept of exhaustion as a jumping-off point for personal vignettes, endurance challenges, comedy bits, and absurdist snippets. Genesis isn't kidding when it calls the project a "messy romp"—by the end, the floor is littered with confetti and spaghetti, and both a mattress and a Slip 'N Slide have been pressed into service."
—Dan Jakes, ​Chicago Reader
"It's visceral. It's disorienting. It's also entertaining. And let me articulate this: the whole piece is remarkably fun. It gleefully celebrates the pain and limits of bodies. [...]Within the scope of the whole world, our exhaustions feel incredibly small. And this gets to a central rift at the center of the work — the word "exhaustion" is not especially particular. It encompasses absolute depletion, mild frustration, weariness, lethargy, complete and total burnout. And so the piece pushes its way around these many exhaustions and feels out what connects them all."—Corey Smith, ​Performance Response Journal Chicago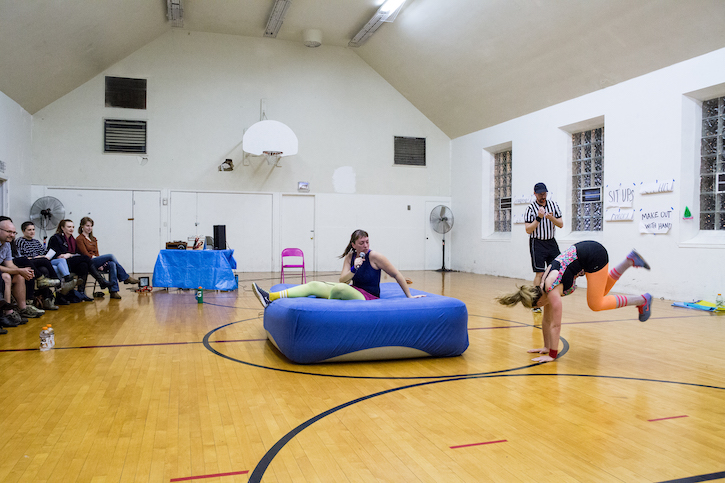 Hybridizing theatre, performance art, and dance, Genesis' work experiments with the boundaries of various live performance forms. ​while our blood's still young​ was developed through artist residencies at SWARM in Wisconsin and American Theatre Company in Chicago. It premiered at Unity Lutheran Gym (Chicago) in the fall of 2016, with a subsequent performance at Navy Pier with Links Hall. In the fall of 2017, Genesis toured the production to Pennsylvania State University with a residency at the Arts & Design Research Incubator.
PERFORMER BIOS

Genesis​ is an artistic partnership between Amanda Dunne Acevedo and Lindsey Barlag Thornton. Through collaborative and interdisciplinary experimentation, Genesis creates performance that intentionally considers space and audience. Genesis values curiosity, discovery and passion in our artistic practice and relationships. Genesis curates and produces the event, HybridSalon, an evening of interdisciplinary performance made in collaboration. Over the course of 6 salons Genesis has showcased 35 collaborations with 67 artists across disciplines of performance, visual arts, theatre, film, dance, puppetry, music/sound, participatory art-making, and more. ​genesismakesperformance.weebly.com
Lindsey Barlag Thornto​n is an interdisciplinary artist, curator and educator based in Chicago. Her artistic practice spans and intersects social practice, experimental theatre, performance art, video and installation. Lindsey is a 2014 MFA graduate from the School of the Art Institute of Chicago, where she is currently the Assistant Director of Exhibitions. Lindsey has taught with ChiArts, Chicago's only public high school for the arts, and with the Museum of Contemporary Art Chicago. Her work has been shown at at Defibrillator Gallery, Hyde Park Art Center, Links Hall, Mana Contemporary, the Museum of Contemporary Art, Roman Susan Gallery, Steppenwolf Theatre, Sullivan Galleries, and TriTriangle Galleries in Chicago; and with Kirsten Leenaars in an ongoing collaboration at the Haggerty Museum in Milwaukee. She recently was a Set Free Resident Artist at Links Hall where she directed the ensemble devised performanceWe Are A LightHouse​. ​lindseybarlagthornton.com
Amanda Dunne Acevedo​ is an artist, deviser, curator and arts educator. Her work has been seen at the Museum of Contemporary Art Chicago, Links Hall, Chicago Theatre Marathon, South Side Story Club, Chicago Artists Month and the Chicago Home Theatre Project. She has curated multidisciplinary arts events at Wedge Projects, Steep's The Boxcar, Harvard's Bok Center, Hairpin Arts Center, Collaboraction's The Vault, Co-Prosperity Sphere, The Foxhole, and Around the Coyote. Amanda served as the Director of Education at Northlight Theatre, a Lead Teaching Artist with Steppenwolf Theatre Company, and taught the 2016-17 Teaching Artist Seminar and Practicum course at University of Illinois at Chicago (UIC). She has developed and facilitated arts educator professional learning experiences for Harvard's Bok Center, Graduate School of Education, Education Portal, Kennedy School of Government, and Phillips Brooks House Association, and Ingenuity, Northwestern's Civic Education Project, and Chicago's Communities in Schools. Amanda graduated with a Ed.M in Arts in Education from the Harvard Graduate School of Education in 2018. ​amandadunneacevedo.weebly.com
---
while our blood's still young
by Amanda Dunne Acevedo, Lindsey Barlag Thornton
touring company
Saturday-Sunday,
February 23 - February 24, 2019
while our blood's still young
Saturday, February 23rd and Sunday, February 24th, 2019 at 3 p.m. (approximately 90 minutes)
Performed in Bellmont Hall, room 628, 2109 San Jacinto Blvd (at the corner of San Jacinto and 21st St.)(CLICK FOR MAP)
Click to reserve free ticket for Saturday, February 23