Feb. 08 - Mar. 03, 2019
Fridays-Sundays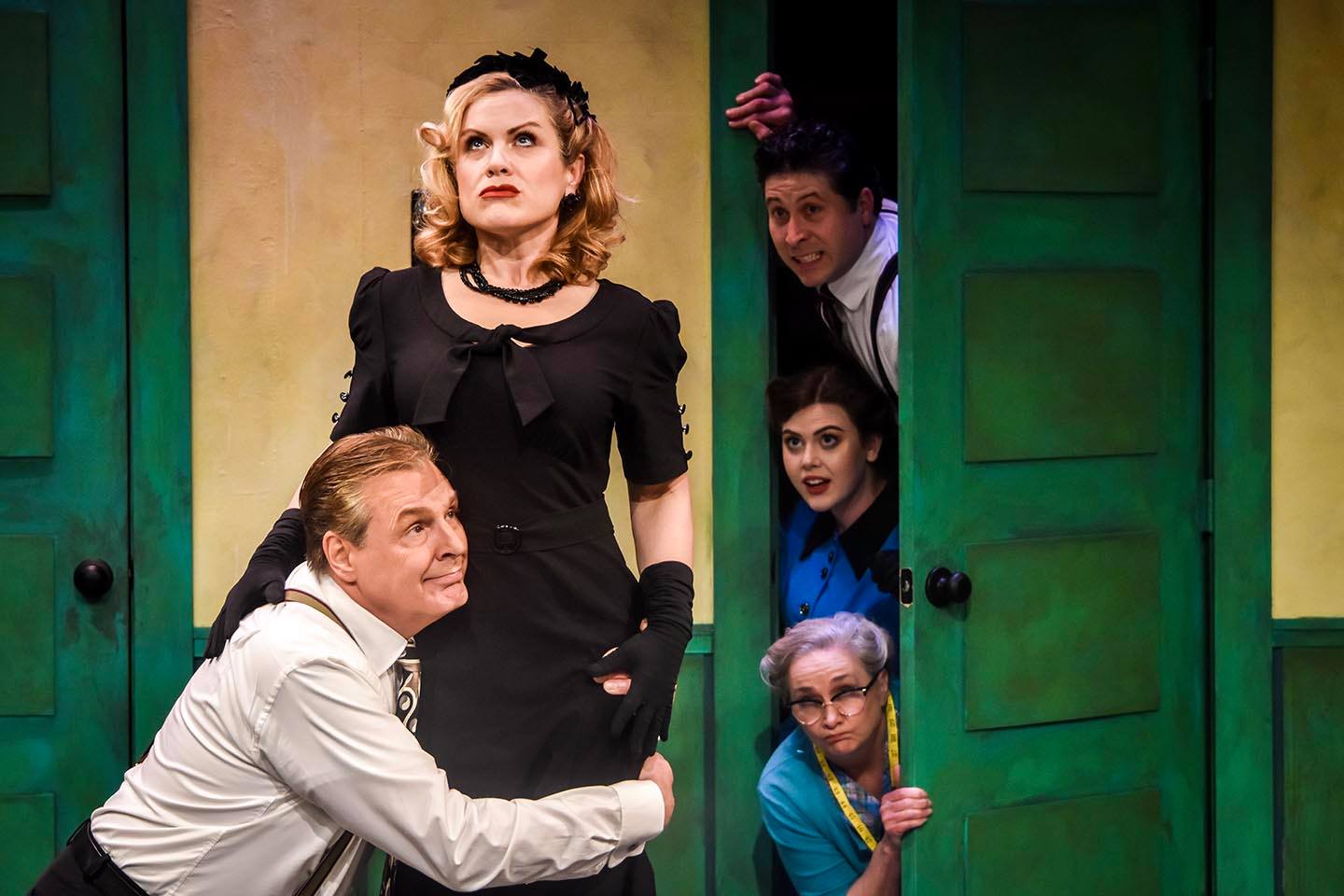 Ken Ludwig's screwball comedy Moon Over Buffalo opens on the Wimberley Players stage February 8 and runs through March 3.
It's 1953 and Charlotte and George Hay have taken their touring company to New York to perform Cyrano de Bergerac and Noel Coward's Private Lives for the good citizens of Buffalo. Once the toast of Broadway, the acting duo is on their way to being just toast. Their marriage is tanking over George's affair with the company ingenue and Charlotte is making plans to run off with their well-heeled lawyer, Richard. George is well into a drinking binge when out of the blue, amazing news arrives: they might have one last shot at stardom as Frank Capra is coming to town to scout their matinee.
Adding madness to the mayhem is a withering, deaf mother-in-law and an uber-uptight daughter with both her fiancé and an ex-boyfriend in tow. A hilarious, fast-paced farce with slamming doors, missed cues, and pratfalls, it is classic comedy at its best.
Opening on Broadway in 1995, Moon Over Buffalo ran for 309 performances. Both Philip Bosco and Carol Burnett were nominated for Tony awards for best actor and best actress. Ken Ludwig is a two-time Olivier Award-winning playwright who has written over 26 plays and musicals. His first Broadway play, Lend Me A Tenor, performed on the WP stage in 2016, has been called "one of the classic comedies of the 20th century."
The role of George Hay is played by Larry Anderson. Charlotte Hay is played by frequent WP performer, Elisabeth Steigelman, most recently seen in the role of Billie in Born Yesterday. Paul is played by Rob Huey, a WP veteran recently seen as the Barber in Little Shop of Horrors and Spike in Vanya and Sonia and Masha and Spike. Rosalind is played by Lauren Erskine, Howard by Brandon Douglas, and Eileen by Payton Russell. Richard is played by Bill Claussen, another WP alumnus recently seen on the WP stage as Edward in Death by Design and Eddie in the production of Lost in Yonkers. Ethel is played by longtime WP actor Whitney Marlett, known for her many roles including Jean in Good People and Polly Wyeth in Other Desert Cities.
Directed by Jason Kruger. Executive Producer is Adam Witko. Produced by special arrangement with Samuel French, Inc.
---
Moon Over Buffalo
by Ken Ludwig
Wimberley Players
Fridays-Sundays,
February 08 - March 03, 2019
February 8 – March 3, 2019
Fridays and Saturdays at 7:30 P.M., Sundays at 2:30 P.M.
Reserved seating $22; Student tickets $18 with ID. (Prices include fees)
Tickets are available at wimberleyplayers.org or by calling 512-847-0575. The Wimberley Players is located at 450 Old Kyle Road, Wimberley, Texas (78676)