When We Were Young and Unafraid
by Filigree Theatre
Feb. 07 - Feb. 23, 2019
Thursdays-Saturdays
WHEN WE WERE YOUNG AND UNAFRAID takes place in the early 1970s, before Roe v. Wade, and the Violence Against Women Act. Agnes has turned her quiet bed and breakfast into one of the few spots where victims of domestic violence can seek refuge. To Agnes' dismay, her latest runaway, Mary Anne, is beginning to influence Agnes' college-bound daughter Penny. Meanwhile, another woman, Hannah, keeps coming by the bed and breakfast on her way to Womynworld, a lesbian separatist community. As a feminist revolution grows louder outside of Agnes' tiny world, these four women find their strength and confront their fears together.
WHEN WE WERE YOUNG AND UNAFRAID marks the fifth production for The Filigree Theatre, after the company launched its second season slate with a well-touted production of August Strindberg's MISS JULIE in October. All productions in Filigree's 2018-19 slate center around the theme "At The Crossroads," with each play examining how, at crucial moments in our lives, we, as humans, find ourselves at the brink of change, faced with life and death decisions, confronted with a point of no return.
Starring Linda Bradshaw ​(Agnes), Ben Gibson (Paul), Allison Paranka​ (Penny), Laura Ray (Mary Anne) and Michelle Mary Schaefer​ (Hannah), directed by Jennifer Sturley​ and produced by Stephanie Moore and Elizabeth V. Newman.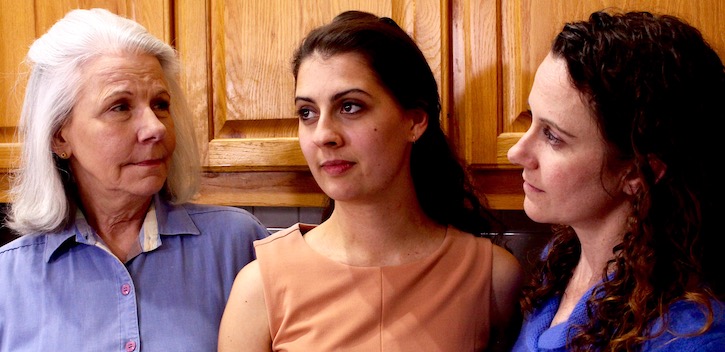 Written by Sarah Treem
Directed by Jennifer Sturley​
Produced by Stephanie Moore & Elizabeth V. Newman
Stage Managed by Andrea Hughes​
Lighting & Set Design by Chris Conard
Sound Design by Eliot Gray Fisher
Costume Design by Jennifer Rose Davis
ABOUT THE CREATIVES & CAST:

Sarah Treem (Playwright) is a celebrated television writer, producer, and playwright. She is the co-creator and showrunner of the Golden Globe-winning Showtime drama The Affair. The series has received four Golden Globe nominations during its run, including wins for Best Television Drama, Best Actress in a Television Drama, and Best Supporting Actress in a Television Drama. Additionally, the show has received a Writer's Guild nomination for Best New Series and was named a finalist for the 2016 Humanitas Prize. In addition to The Affair, she is currently working with Gal Gadot on a limited series for Showtime based on the life of actress and inventor Hedy Lamarr. Previously, Treem wrote for and co-executive produced the first season of David Fincher's hit Netflix series House of Cards. She also wrote on all three seasons of the acclaimed HBO series In Treatment. Treem wrote and produced How to Make It in America while under an overall deal at HBO. In addition to her Golden Globe win for Best Television Drama for The Affair, Treem's work has earned her nominations for the Humanitas Prize, Primetime Emmy Awards, and four Writers Guild Awards, including two wins for New Series for House of Cards and In Treatment. She began her career in the theater, most recently writing When We Were Young and Unafraid, which ran in the summer of 2014 starring Cherry Jones and directed by Pam McKinnon. Her previous plays included A Feminine Ending, The How and The Why, Empty Sky, Orphan Island, Human Voices, and Mirror Mirror. Treem holds a B.A. from Yale University and an M.F.A from the Yale School of Drama where she taught playwriting. She currently lives in Los Angeles with her children.
Jennifer Sturley​ (Director) is a director, filmmaker, stage manager, dramaturg, and educator. Born and raised in Austin, she earned her BA from Smith College in Theatre and Education. She has also trained at the Oregon Shakespeare Festival. By day, she teaches middle school at ACE Academy, and has previously taught at Trinity Episcopal School, St. Stephen's Episcopal School, and the Blanton Museum of Art. She believes arts education is the best way to ensure the arts continue to thrive in future generations. She has a passion for Shakespeare, and has co-directed, produced, and adapted for the screen an independent feature film adaptation of Shakespeare's ​Love's Labour's Lost set in a modern-day boarding school. Most recently, she conceived and directed Shakespeare in the Dark: Macbeth​ at the Driskill Hotel with Past is Prologue Productions in association with The Filigree Theatre. Upcoming projects include associate producing the world premiere production of ​100 Planes​ with The Filigree Theatre.
Elizabeth V. Newman (Filigree Theatre Artistic Director/Producer) is a native New Yorker who has directed and produced critically-acclaimed theatre and film in New York, Los Angeles, Toronto and Austin, TX. She graduated from Yale University with dual B.A. degrees in History of Art and Theater Studies. She earned her M.F.A. degree in Film Production at Boston University. Her theatrical producing credits include the World Premiere of Mocha by Eleanor Burgess (Austin); the World Premiere of Nights of Noir!by Casey Wilson (Los Angeles); the West Coast Premiere of Orange Lemon Egg Canary by Rinne Groff (Los Angeles); the American Premiere of Clocks and Whistles by Samuel Adamson (New York); Dutchman by Leroy Jones (New York). Her stage directing credits include: Miss Julie by August Strindberg (Austin); A Delicate Ship by Anna Ziegler (Austin Premiere), Trio by Sheila Cowley (World Premiere, Austin); Any Night by Daniel Arnold & Medina Hahn (Los Angeles Premiere & Austin Premiere - nominated for four B. Iden Payne Awards, including Outstanding Direction of a Drama); Body of Work by Christine Hoang, (World Premiere, Austin); Mocha by Eleanor Burgess (World Premiere, Austin); The Amenable Stage by C. M. Gill (World Premiere, Austin); The Sniper's Nest by Lisa Soland (Austin Premiere); Goodnight Children Everywhere by Richard Nelson, (London, ON, Canada); The Park Bench by Linda Lee Armstrong (World Premiere, London, ON, Canada); Fragments by Murray Schisgal (Los Angeles). Her film directing credits include the feature film Child of Light (post-production) as well as numerous short films. She is a member of DIRECTOR'S LAB: NORTH. She is the Artistic Director and co-Managing Director of The Filigree Theatre. For more info. on Elizabeth's work in film, please visit:http://elizabethvnewman.com/
Stephanie Moore​ (Filigree Theatre Managing Director/Producer) has been involved in the film and theatre industry for eight years. She has experience both as a producer and production assistant on web-series, feature films, music videos, and shorts. Her credits include producing roles on ​Love's Labour's Lost​, ​Child of Light​, ​Hard-ish Bodies​, and the trailer for ​Dead By Daylight- Nurses Calling​, and production assisting on ​Fugitive Dreams, Time Trap ​and ​#ATown​. Her passion for film and filmmakers comes from her work with festivals such as Austin Film Festival and South by Southwest, where she has worked directly with the filmmakers as a filmmaker liaison and theater manager for many years. She has also worked with such films as ​Winter in the Blood​, ​Black or White​, ​Beneath the Darkness​, ​Hunger​, and ​Burning Bodhi​ as a filmmaker liaison. She is also a festival consultant for The Golden Rut. Stephanie is currently Managing Director of The Filigree Theatre, where she has produced ​Any Night​ (Los Angeles), ​Betrayal​, ​A Delicate Ship​, ​Trio ​(World Premiere), Miss Julie and Shakespeare in the Dark: Macbeth.
Linda Bradshaw​ (Agnes) Theatre credits include ​The Foreigner​, ​Side by Side by Sondheim​, and ​White Christmas​ in Lakeway; ​Steel Magnolias at TexARTS; ​Lost Highway​ and ​Always Patsy Cline​ at the Georgetown Palace Theater; Merry Wives of Windsor​ at the Scottish Rite Theater, and ​The Verge at the Provincetown Theater, MA. She's filmed an independent film, commercials, music videos, Public Access Television shows, been hostess of the Austin Jaycees' Capital View, an Eye on Austin, the KLRU Pledge Drive in 2018, and emcee of the talent show, The Marci Lynne Variety Hour.
Ben Gibson​ (Paul) is originally from Marshfield, MA and currently residing in Austin, Texas. Ben has been seen onstage at various theaters in DC, Boston, Hong Kong, and Prague, CZ. This past season in Austin, Ben was most recently seen in ​The Mystery of Edwin Drood​ (Deputy) with Austin Playhouse, in the ensemble of ​All Shook Up​ at Zilker Theatre Productions, as well as originating the role of Tim in the world premiere production of ​Trio​ with The Filigree Theatre. He was also recognized by the B. Iden Payne Arts Council with a nomination for Outstanding Actor in a Youth Production for his performance as Cowboy in Pollyanna Theatre's production of ​Cowboy in the Kitchen​. Additional recent credits include: ​Les Miserables​, ​Spamalot​, ​Fiddler on the Roof​, ​Chicago​, Jerry Springer: the Opera​, ​Signs of Life​, ​25th Annual Putnam County Spelling Bee​, ​Titanic​, Grease​, and ​Footloose​. Ben received his BA in Music Theater and MAT in Theatre and Drama from American University. Ben recently served as a Guest Artist at Stephens College in Columbia, Missouri where he also performed as Moonface Martin in ​Anything Goes​.
Allison Paranka​ (Penny) is a recent transplant to the Austin area and is excited to be part of The Filigree Theatre's second season. Trained at Shakespeare and Company in Lenox, Massachusetts and with a degree in Literature and Translation from Smith College, she works as an actor, dramaturg, text coach, and translator. Recent theater projects include ​Romeo and Juliet​ at Voices Found Repertory in Milwaukee and Shakespeare in the Dark: Macbeth​ here in Austin.
Laura Ray​ (Mary Anne) Theatre credits include 'Sarah' in ​A Delicate Ship​ (The Filigree Theatre); 'Agnes' in ​​Agnes of God​ ​(​City Theatre​ Company); 'Clio, Muse of History' in ​Sing Muse​ (The Vortex); Puppeteer in ​Moby Dick and in The Bomb​ in ​Haymarket Square​ (Trouble Puppet Theatre Company); 'Megan Powers' in ​Changelings​ (The Vortex); and 'Dr. Emma Brookner' in ​The Normal Heart​ (​City Theatre​ Company.)
Poster photo shows Allison Pranka and Laura Ray.
Michelle Mary Schaefer​ (Hannah) is not new to the theatre world; she has performed all over the states in places such as Baltimore, MD; Rochester, NY; Jackson Hole, WY; Claremont, CA; Greeley, CO; Tampa, FL; and the Pacific Northwest—Seattle and Tacoma. Michelle Mary Schaefer is known as an actor who steps up to challenges: she was the first Deaf female actor to play 'Billy' in ​Tribes​ by Nina Raine—three times in 2016. Other roles include '​Sarah Norman' in Children of a Lesser God (five times), 'Puck' in ​A Midsummer Night's Dream​, 'Ash' in SKIN​. When not acting, she writes scripts (film/tv/stage) ​www.michellemaryschaefer.com
Andrea Hughes​ (Stage Manager, Associate Producer) is a producer and stage manager who worked as a co-producer, unit production manager, and second assistant director on the film adaptation of ​Love's Labour's Lost ​in Austin, TX. She was also a wildlife filmmaking intern at Africa Media Productions in Mossel Bay, South Africa. Recently, she stage managed and associate produced ​Shakespeare in the Dark: Macbeth ​for Past is Prologue Productions in association with The Filigree Theatre. Andrea graduated with a degree in Film and Media Studies from Smith College, where she was involved in numerous theatre productions.
---
When We Were Young and Unafraid
by Sarah Treem
Filigree Theatre
Thursdays-Saturdays,
February 07 - February 23, 2019
Thursdays – Saturdays: 8:00 p.m.
The production will run Thursdays through Saturdays at 8pm from February 7-23, 2018 at The Mastrogeorge Theatre (130 Pedernales St).
Tickets are available beginning January 11, 2018 online at FiligreeTheatre.com and in person at The Mastrogeorge Theatre Box Office for $30.00. Student, Senior and Group discounts will be available on the eventbrite ticketing site.
LOCATION
The Mastrogeorge Theatre,
130 Pedernales St. Suite 318
Austin, TX 78702