FronteraFest Short Fringe 2019
by FronteraFest
Jan. 30, 2019
Wednesday
SPINE SOUP, by Nina Di Leo. Spines in the streets, nothing in the fridge. An absurdist recipe for feeding strangers, making something out of nothing, and setting a new place at the table. Directed by Randy Wachtel. A: Mandy Heinold B: Sam Hankins C: Randy Pollard. Premiered August 10, 2018 at the Five Points Museum of Contemporary Art, Victoria, TX.

Jomo & The Possum Posse Present: Leave This Blank. We'll Fill It In Later, by Jes Clifford, Jomo Edwards, Chris Steakhouse and Brian Wolfe. The band brings its unique brand of comedy and music to the small stage. Well . . . to a different kind of small stage.

Swift Mercy, by Sandy Maranto. A young mother faces trial as the very driven Assistant District Attorney in charge of prosecuting her faces conflict from her peers, her mother, and even herself. Directed by Roy Stagg, this play is being performed by Yesica Betancourt, Karina Dominguez, Alex Maranto, and Cathie Sheridan.

The Posers, by Kyle John Schmidt (ScriptWorks Commission). A new play from the seven-time Best-of-Fest-winning team of director Elizabeth C. Lay and writer Kyle John Schmidt.

Jimmy's Last Supper, by Randy Wachtel. Jimmy and Bobby are good ole boys who decide to have one final meal together when Jimmy decides to call in his one last and fatal favor from Bobby. Directed by Mandy Heinhold, and featuring Randy Pollard as Jimmy and Randy Wachtel as Bobby.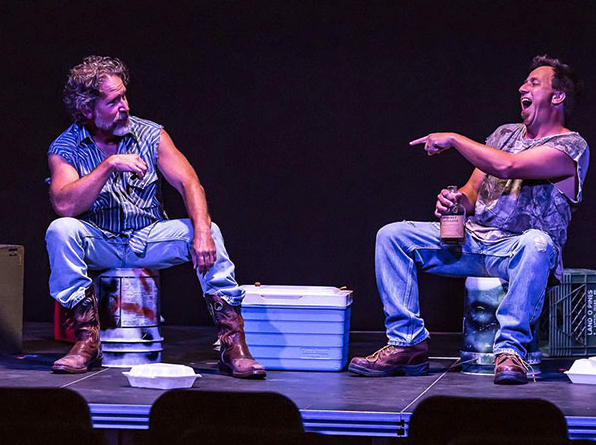 ---
FronteraFest Short Fringe 2019
by various
FronteraFest
Wednesday,
January 30, 2019
FronteraFest Short Fringe 2019 - Jan 30th at 8:00 pm
Performances at Hyde Park Theatre.
Map
Tickets $18 plus service fees, via BuyPlayTix -