Dec. 20 - Jan. 06, 2018

After her beloved doll Trudy breaks in an unfortunate accident involving Squirrel the dog, Clara lashes out at her friends. With some holiday magic and a little help from her Uncle Darren, his canine companions, and a talking macaw, Clara Marie discovers the true meaning of friendship on a magical journey to Doglandia.
This year's production once again stars five brilliant and talented rescue dogs (Mouse, Moose, Coyote, Squirrel, and Skeeter) and a talking scarlet macaw (Lauren MaCaw). Darren Peterson brings his masterful juggling and unicycling, as well his gifted dog training.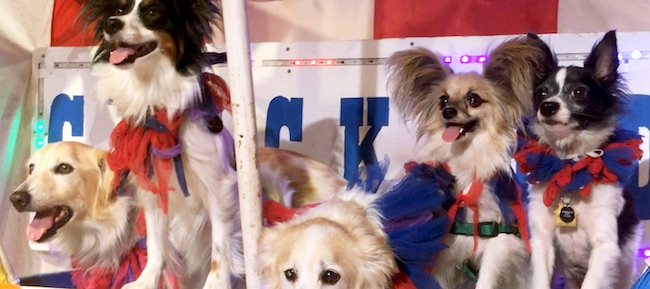 VORTEX artists return to support our canine friends. Directed by Dillon Yruegas. Melissa Vogt wrote the original script and is a featured performer, joined by Patricia Wappner, Trey Deason, Marliza Mendez, and Brooke Eden. Tyler Mabry's live original score also includes bits of Tchaikovsky's The Nutcracker Suite. Vikki Schwarz joins Tyler on piano.
---
The Mutt-Cracker (SWEET!)
by Darren Peterson and Circus Chickendog
Vortex Repertory Theatre
December 20 - January 06, 2018
December 20, 2018-January 6, 2019. Performances daily at 4:30/6:30pm.
No performances December 24-25 and January 2-3.