Dec. 07 - Dec. 08, 2018
Friday-Saturday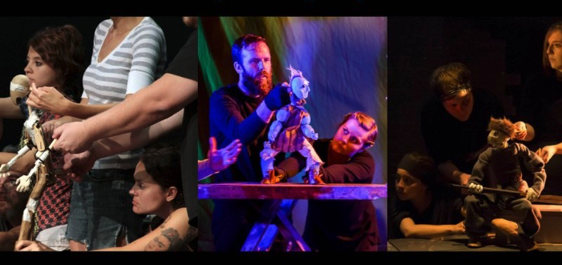 The Austin Puppet Incident is an annual puppet event featuring local and national puppet artists performing short, original puppet works for ADULT audiences. Funny, sweet, deep, enchanting: it's all here. Co-presented by Glass Half Full Theatre and Trouble Puppet Theater Company in coordination with The Dougherty Arts Center, and funded in part by The Puppet Slam Network, The Austin Puppet Incident has been an annual event since 2009.

The visiting artist for 2018 is Marsian De Lellis from Los Angeles. They are an interdisciplinary artist who combines sculpture, objects, installation, performance and handmade spectacles to memorialize obsessional lives. Their work celebrates stories of unconventional people whose private manias become public fodder for tabloids and reality television. Marsian De Lellis recently performed their original work at the Los Angeles Exchange [LAX] Festival. The show, Object of Her Affection, is an unconventional love story that explores the synesthetic relationship between objects and personalities, and ways that objects can occupy more than one meaning at any given time.

Local puppet artists include Connor Hopkins, Caroline Reck, Jess Bee, Gricelda Silva, Jesus Valles, Zac Crofford, Emily Weerts, Indigo Rael, Marina DeYoe-Pedraza, and Lori Navarrete.
---
Austin Puppet Incident
by Trouble Puppet Theatre Company
Glass Half Full Theatre
Friday-Saturday,
December 07 - December 08, 2018
8 p.m., Friday and Saturday.
Tickets for this event are $15 -- $16.52 on-line via