Nov. 08 - Nov. 18, 2018
Wednesdays-Sundays
Amber and Tom are two freshmen at Princeton struggling to find their way. They spend a night together that alters the course of their lives. They agree on the drinking, they agree on the attraction, but consent is foggy, and if unspoken, can it be called consent? Actually investigates gender and race politics, our crippling desire to fit in, and the three sides to every story.

For MATURE AUDIENCES


Director's Note:
This play is not a political soapbox. Ziegler doesn't just pay lip-service to the important issues of consent and the way our culture thrusts negative projections onto women and African-American men. The personal cost on these two people are measured moment by moment. This play is an antidote to the way we process events in the Internet age. Our social media (and such) has rigged a destructive form of dialogue around important issues which require a more sensitive, subtle, complex treatment to find progress and understanding. This progress requires a fuller, unguarded acknowledgment of the pain inside our fellow human beings. This takes practice. This play is a chance to practice this with a community.
Directed by Jeremy Lee Cudd
Featuring Lauren Jacobs and Kriston Woodreaux
Stage Manager: Kamyle Smith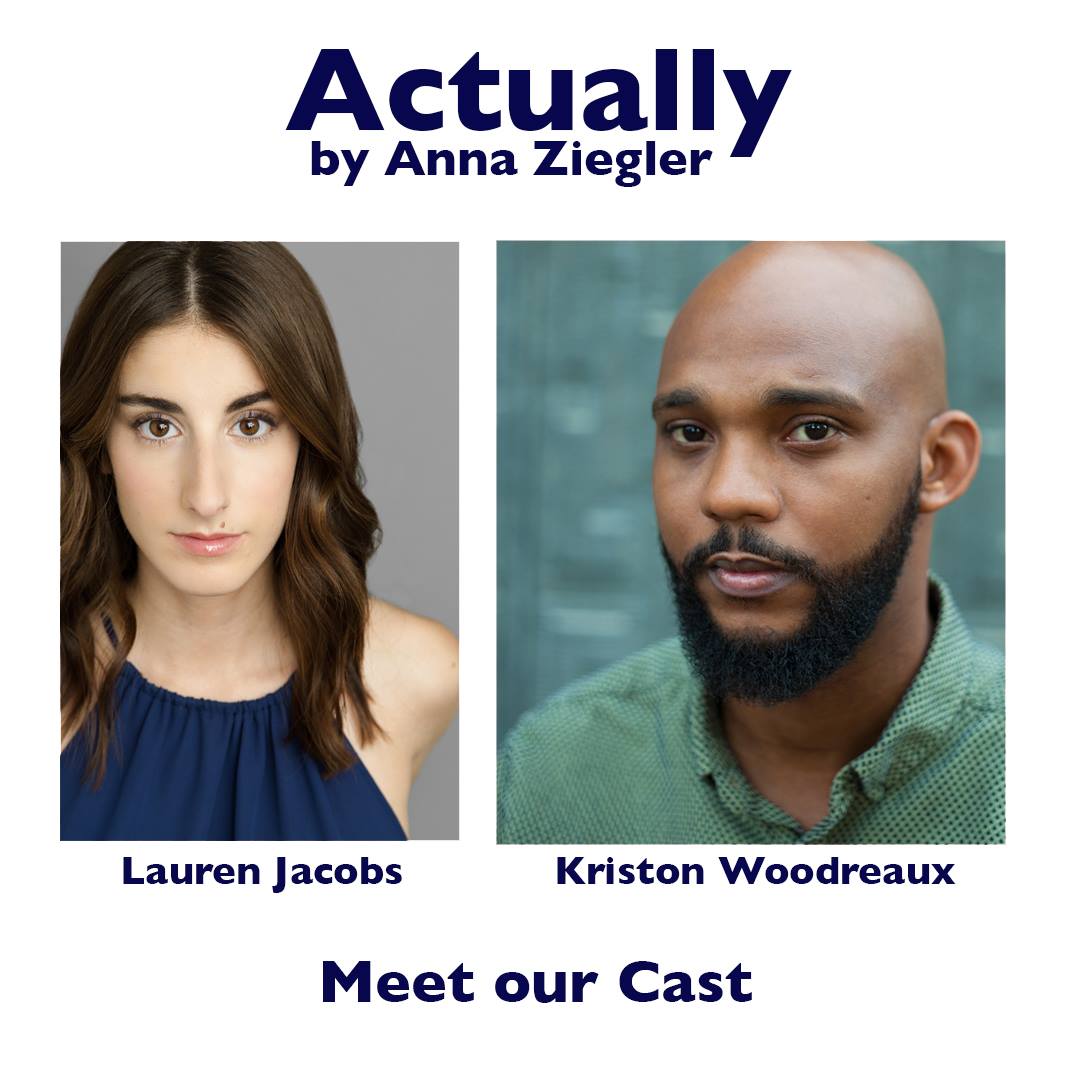 Lauren Jacobs (Amber) graduated from the Department of Theater & Dance in 2012, and then moved to Los Angeles for a few years before heading back to Austin. Credits from L.A. include "Much Ado About Nothing," "Gone Cat," "The Waiting Room," and appearances on "How I Met Your Mother," "The Mindy Project," and "The Wedding Ringer."
Kriston Woodreaux (Tom) recently starred in the short film "Sprites" which premiered at the 2018 Fantastic Fest film festival. He also appeared in "Monroe" (Austin Playhouse), "Henry IV" (The Hidden Room), "Neva" (Theatre en Bloc), "Salomé" (Gale Theatre Company), and "This Girl Laughs, This Girl Cries, This Girl Does Nothing" (UT Austin) which will be remounted in January as a part of ZACH Theatre's 2018-19 Family Series.
---
Actually
by Anna Ziegler
Workhound
Wednesdays-Sundays,
November 08 - November 18, 2018
Performances at 8 p.m. each day; 2 p.m. matinees on Saturday, November 10 and Sunday, November 18.
Finding Lecture Hall 2.112 in the Winship Drama Building, University of Texas at Austin - Walk through the main doors of the Winship Building, then go immediately left up the stairs (which wind to the right) to the second floor. The lecture hall will be directly in front of you. Elevator access is also available on the left as you enter Winship, just past the staircase.

Parking: There is pay parking at the San Jacinto Garage near the intersection of 24th and San Jacinto Blvd. There is also parking along Dean Keaton near the intersection of San Jacinto. The Winship Building has a traffic circle in front (23rd St) for dropping people off.
Tickets $10 general admission, $5 for students, plus service fees