Sep. 27 - Oct. 07, 2018
Thursdays-Sundays
Join Mary Moody Northen Theatre, the award-winning producing arm of the St. Edward's University Department of Performing Arts, as we open our 46th anniversary season with Will Eno's dramatic comedy Middletown.
Welcome to Middletown: population, stable. Mary Swanson has just arrived and is settling into her new community. Will Eno's eloquent, funny, and moving play takes us on a journey across the spectrum of humanity, from City Hall to the local library to the depths of outer space. Middletown reminds us that the nuances of life are what make us human, and every now and then we should take a moment to look around and appreciate the absurd beauty of it all. Winner of the 2010 Horton Foote Award for Most Promising New Play. Featuringguest artists Jacqui Cross and Ben Wolfe.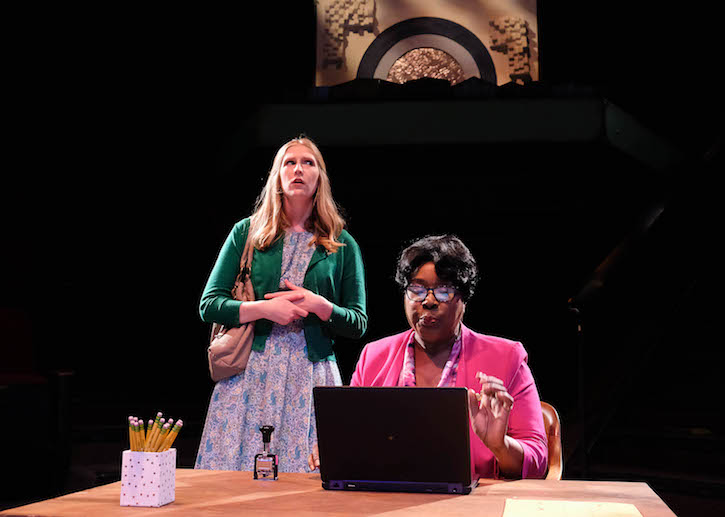 "Mr. Eno's gift may be unmatched among writers of his generation. Glimmers from start to finish." — The New York Times
---
Middletown
by Will Eno
Mary Moody Northen Theatre
Thursdays-Sundays,
September 27 - October 07, 2018
All performances are at 7:30 p.m. Thursdays to Saturdays and 2 p.m. Sunday.
Student discount nights: Saturday, September 28 and Thursday, October 4: $10 ticket with any Student ID.
SEU Alumni night October 4, $10 tickets for St. Edward's Alumni
Mary Moody Northen Theatre is located at St. Edward's University along Campus Drive. Campus map: http://www.stedwards.edu/map/maincampus.
Season passes go on sale Aug. 27, 20187 through the Mary Moody Northen Theatre box office at (512) 448-8484 and online at http://www.stedwards.edu/theatre. Single tickets for each production go on sale three weeks prior to opening and may be purchased through the MMNT box office or the website.
Box office hours are 1–5 p.m. Monday–Friday when classes are in session and one hour prior to curtain. Group rates for 10 people or more are available. Information: 512-448-8484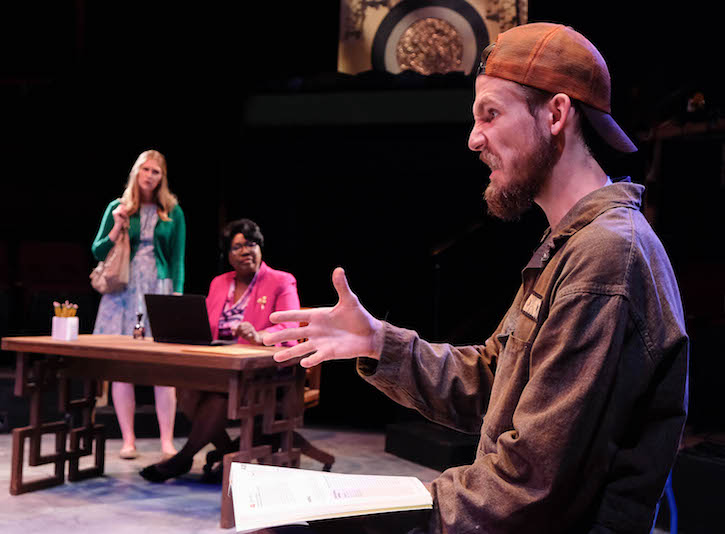 Mary Moody Northen Theatre operates on a professional model and stands at the center of the St. Edward's University theater training program. Through MMNT, students work alongside professional actors, directors and designers, explore all facets of theatrical production and earn points towards membership in Actors' Equity Association, the union of professional actors and stage managers in the United States. MMNT operates under an AEA U/RTA contract and is a member of Theatre Communications Group. Information: 512-448-8487 or www.stedwards.edu/theatre.
St. Edward's University is a private, liberal arts college in the Catholic Holy Cross Tradition with approximately 5,000 students. Located in Austin, Texas, it is one of the top universities in Texas and offers undergraduate and graduate programs, including MBA programs and a master's degree in counseling. With a network of partner universities around the world, St. Edward's is a diverse community with programs designed to inspire students with a global perspective. St. Edward's University has been recognized for 12 consecutive years as one of "America's Best Colleges" by U.S. News & World Report and ranks in the top 15 Best Regional Universities in the Western Region. Information: www.stedwards.edu/about.