Twelfth Night, or What You Will
by Emily Ann Theatre
Aug. 31 - Sep. 23, 2018
Fridays-Sundays
Directed by Bridget Farias Gates.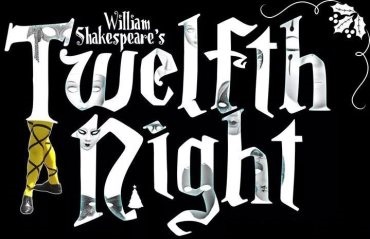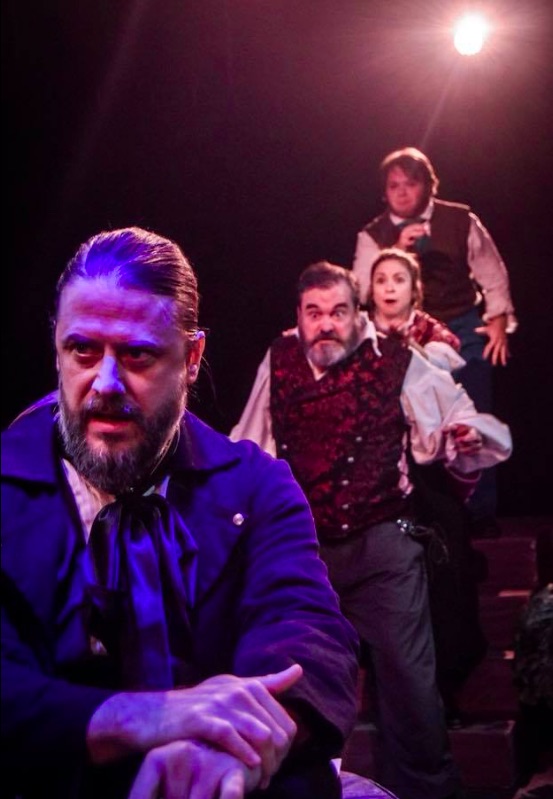 From Molly McKee:
Twelfth Night at the Emily Ann Theater is hilarious and heartwarming. Director Bridget Farias Gates and her talented cast prove why this is one of Shakespeare's funniest comedies, full of mistaken identities, drunken clowns, witty fools, cowards fighting, as well as romance, reunion, and a very memorable love triangle (you see, Viola loves Orsino, Orsino loves Olivia, Olivia loves Cesario, who is actually Viola disguised as a man).
When the audience walks into the intimate black box theater, they are greeted with beautiful acoustic guitar melodies, played by the talented Bill Perkens. The set is minimalistic, mostly comprising of a round marble fountain that stands center stage. The sound of the running water and the gentle guitar are perfect transitions from our busy everyday lives into the world of Illyria, where the play is set.
The play begins with a terrible storm causing a shipwreck. Tempest tossed orphan, Viola, sees her twin brother thrown from the ship, but she keeps hope that he is still alive. Now lost and without family in a foreign land, she needs to find a way to survive. With the help of the ship's captain, she disguises herself as a eunuch named Cesario and manages to get work in the court of Duke Orsino.
Orsino is an arrogant man of leisure, played with panache by Austin Cabler. He spends his time painting and listening to music while he pines over the unrequited love of Countess Olivia. When Cesario joins his court, he takes no time in sending "him" to woo Olivia on his behalf.
Countess Olivia is known to be beautiful throughout the land and Orsino is not the only man in love with her. She is used to being complimented and sought after, which is why she finds young Cesario so refreshing.
Viola/Cesario, played beautifully by Devyn Collie, is quick witted and wide eyed. Devyn's excellent command of the language lets us see Viola's intelligence even as she is off balance by the confusion that her disguise causes. Her puppy love toward Orsino is sweet and charming, as her fingers inch toward his, longing for the slightest touch.
Some of the best scenes in this production are the ones between Viola and Olivia, as wit and playfulness are on full display in the verbal volleys between these two wonderful actresses. Kristy Ragland's portrayal is honest and full of nuance as she takes us on Olivia's journey from cold and disinterested to softening, warming and finally becoming fiery and fierce.
The funniest moments of the play are provided by Olivia's Uncle, Sir Toby, and his companion Sir Andrew, who has plenty of money, but not much brains. These two clowns have a series of misadventures, often masterminded by Sir Toby. Scot Purkeypile is outstanding as Sir Toby, making him a lovable rascal. Purkeypile perfectly plays different levels of drunkenness in different scenes and his command of the text (even when intentionally slightly slurred) is impressive. Sir Toby is a con man who is using Sir Andrew for his money, while dangling the carrot of marriage to Olivia before him.
Mitchell Oden is side-splitting funny as Sir Andrew. Oden's physical comedy is wonderful and he plays the character's malapropisms with an open faced naivety that is both endearing and pathetic. Sir Andrew is easily led on by Sir Toby, often to Sir Toby's benefit.
Left with the unenviable job of keeping Sir Toby in line, is Olivia's right hand man, Malvolio, played expertly by Kevin Gates. Malvolio is stern, snobbish, and disdainful of the oft drunk Sir Toby and the rabble that he brings to Olivia's house and has made enemies not only with Sir Toby, but also Maria, a handmaid to Olivia, played with cunning and sass by Arielle Max Drisko, and Fabian a rowdy friend of Sir Toby's played by Kelly Martel, who brings vigor and mischief to the role.
Maria and Sir Toby decide that they need to knock Malvolio off his high horse and set about playing a trick on him. They leave a letter in Olivia's handwriting that leads Malvolio to believe that his Lady loves him. The ensuing scene of Malvolio following the letter's instructions is another hilarious highlight of this show. Gates turns a character that is often played as a villain into a relatable human who suffers heartbreaking treatment from his peers, including Feste, a fool by profession, who is as witty as anyone in the play. Nate Nelson plays the musical Feste with a light hearted air of detachment and his beautiful singing voice is a lovely thread running throughout the play.
Other stand out performances are Mary Rath as sea captain Antonia and Luke Jenkins as Viola's twin Sebastian. The lighting design by Chris McKnight is subtle and effective, especially the scene in Malvolio's cell. The costume design by Bridget Farias Gates is lovely, clearly denoting status and deminor.
This is a wonderful production of Twelfth Night, led by Farias Gates's clear direction and a excellently cast ensemble who let us all laugh at the follies of life and love and how some things haven't changed in the 416 years since this play was first performed.
---
Twelfth Night, or What You Will
by William Shakespeare
Emily Ann Theatre
Fridays-Sundays,
August 31 - September 23, 2018
Fridays and Saturdays at 7:30 p.m., Sundays at 2 p.m.
Burdine Johnson indoor studio theatre.
Tickets $19 general admission, $11 for children (fees included), available via the EmilyAnn website. (click HERE)