Jul. 06 - Aug. 05, 2018
Fridays-Sundays
A mother, a daughter, and three possible dads contribute to a trip down the aisle you'll never forget! The story-telling magic of ABBA's timeless songs propels this enchanting tale of love, laughter and friendship, creating an unforgettable show.
Mamma Mia! has been seen by 60 million people in 40 countries and has been translated into 23 different languages. After its premiere in the UK in April of 1999, the show has had a successful Broadway run, launched national and international tours, has seen countless regional productions, and has inspired not one- but two feature films.
So what is it about this show that makes it such a hit? Is it the fabulous ABBA songs that make up its score? Well, yes- but that is just part of it. What I believe is so special about this show is that it uses amazing music to tell a truly moving story. Mamma Mia! illuminates the power of family and its importance in the human condition.
My favorite line in the show comes from Harry: "There's all kinds of families, aren't there?". He's right. There are the families we are born with. There are the families we create. There are even families that fate creates for us. Sophie starts this show thinking "family" is one thing, and by the end realizes it means something completely different. It's a discovery she makes that ultimately liberates her.
-Ken Urso, Director
Feature by Kurt Gardner, ArtsSceneSA, July 4, 2018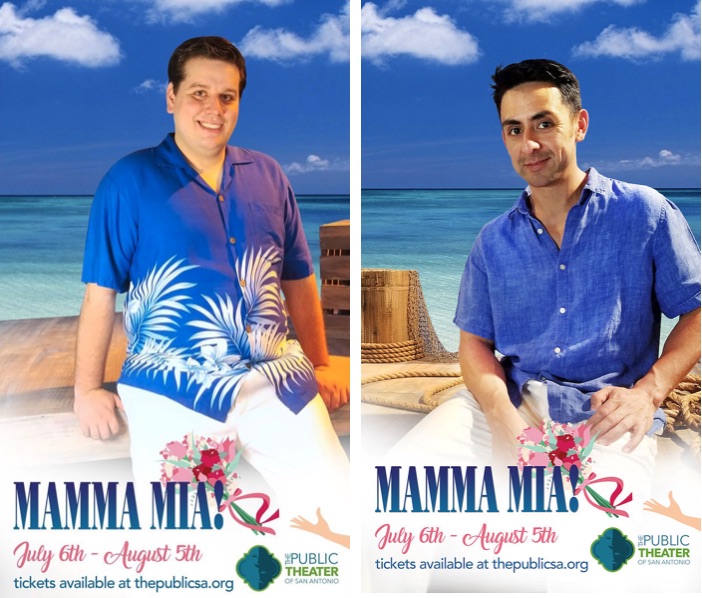 DONNA SHERIDAN - Megan DeYoung
SOPHIE SHERIDAN - Jessi Little
ROSIE MULLIGAN - Briane Green
TANYA CRESHAM-LEIGH - Beth Erwin
SAM CARMICHAEL - Miguel Ochoa
HARRY BRIGHT - James R. Welch
BILL AUSTIN - Aaron Ely
SKY - Nick Szoeke
ALI - Carrie Daniels
LISA - Melissa Zarb-Cousin
EDDIE - Chris Quiroz
PEPPER - Travis Trevino
FATHER ALEXANDRIOS - Shane Vickers
ENSEMBLE - Beverly Baker
ENSEMBLE - Ginger Gamble Martel
ENSEMBLE - Katerina Damm
ENSEMBLE - Gabe Carlton
ENSEMBLE - Olivia Barron
ENSEMBLE - Kyle Krambeck
ENSEMBLE - Matthew Leiber
ENSEMBLE - Alyssa Lopez
ENSEMBLE - Lorenzo Mireles IV
ENSEMBLE - Jay Gutierrez
Director- Ken Urso
Music Director- Andrew Hendley
Choreographer- Courtnie Mercer
Stage Manager- Sondra Gervasi
_____________
---
Mamma Mia!
by Björn Ulvaeus, Benny Anderson, Stig Anderson, Catherine Johnson
Playhouse San Antonio
Fridays-Sundays,
July 06 - August 05, 2018
Mamma Mia! runs July 6-August 5 in the Russell Hill Rogers Auditorium. For tickets and more information, visit our website at thepublicsa.org.
Click HERE to go to ticketing page.