Jun. 22 - Jul. 29, 2018
Thursdays-Sundays
Seymour Krelborn's life on Skid Row is simple. He has a job at Mr. Mushnik's Flower Shop and a secret love for his co-worker Audrey. When business at Mushnik's Flower Shop is failing, Seymour brings home an exotic plant which he names Audrey II that mysteriously appeared after a total eclipse of the sun. We soon learn that Audrey II has a diet that is more than Seymour bargained for when he pricks his finger and she feasts on his blood. Seymour is then faced with a dilemma: should he get rid of the plant that he loves or should he find flesh for her to feed on?
Based on the 1960s sci-fi comedy film, Little Shop of Horrors is written by Howard Ashman and composed by Alan Menken. With upbeat and playful songs such as "Closed for Renovation" and "Dentist!" and the famous love ballad "Suddenly Seymour", audiences of all ages can expect a uniquely imaginative, touching, and funny musical featuring finger-snapping doo-wop, rock-and-roll, and early Motown tunes.
After opening off-off Broadway in 1982, Little Shop of Horrors ran for five years off Broadway, with 2,209 performances, making it the third-longest running musical and the highest grossing production in off-Broadway history. In 1986, a feature film, directed by Frank Oz, was made starring Rick Moranis, Bill Murray, and Steve Martin.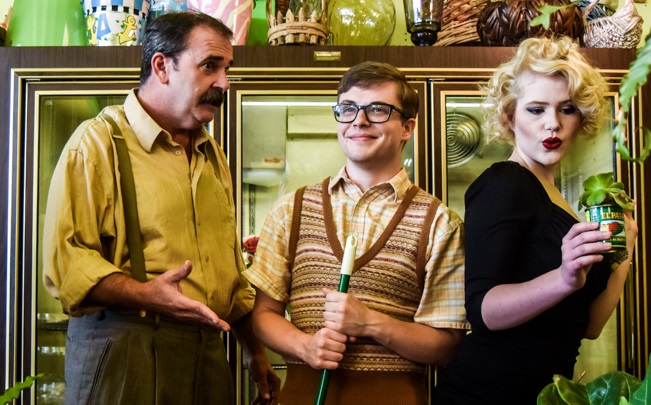 The role of Seymour is played by Tyler Livingston and Audrey is played by Amanda Blake, both newcomers to the Wimberley Players Stage. Mr. Mushnick is played by Danny Mosier and Orin is played by Rob Huey, both Wimberley Players veterans. The Doo-Wop girls are played by Katie Scott, Sydney Simpson and Charissa Memrick. Audrey II is voiced by Jackson Pritchett and the puppeteer is Chris Young. Members of the ensemble include Brandon Douglas, John Price, Krysta Price and Kristin Rice.
Directed by Jason Kruger. Executive Producer is Adam Witko. Musical Director is Megan Pritchett. Produced by Terri Burney-Bissett and Jana White. Produced by special arrangement with Music Theatre International. Note: Stage gun shots are fired.
---
Little Shop of Horrors
by Alan Menken and Howard Ashman
Wimberley Players
Thursdays-Sundays,
June 22 - July 29, 2018
June 29 – July 22, 2018
Fridays and Saturdays at 7:30 P.M. and Sundays at 2:30 P.M.
In addition, there are two Thursday performances on July 12 and 19 at 7:30 P.M.
Reserved seating $26; Student tickets $20 with ID. (Prices include fees)
Tickets are available at wimberleyplayers.org or by calling 512-847-0575. The Wimberley Players is located at 450 Old Kyle Road, Wimberley, Texas (78676)