Apr. 13 - May. 05, 2018
Fridays-Sundays
Al Lewis and Willie Clark were a successful vaudevillian comedy duo known as the Sunshine Boys. For 43 years, the pair delighted audiences with their iconic routines but, over time, the partnership staggered into animosity. By the time they called it quits, neither was speaking to the other. Al retired from show business, leaving Willie to try to make it as a solo act.
Now a forgetful old man living in his New York apartment, Willie reluctantly accepts an offer from his nephew Ben, a talent agent, to resurrect the act for a TV special. Can they put aside their ill will long enough to do the show? Or has the sun set on The Sunshine Boys?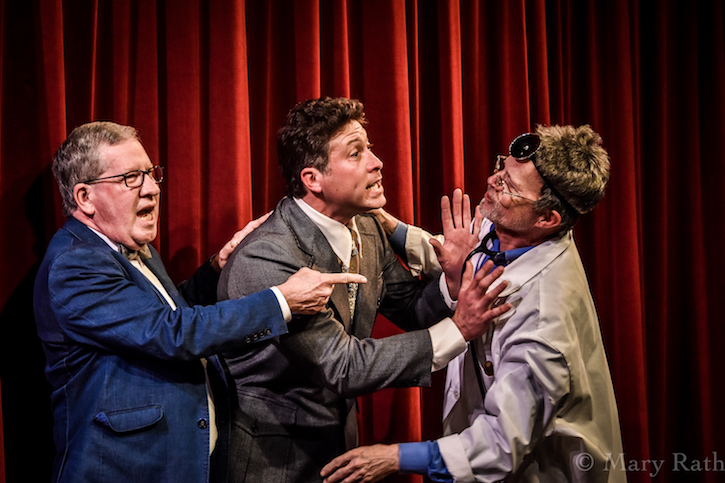 The role of Willie Clark is played by David Bisett, recently seen in Vanya and Sonia and Masha and Spike and Death of a Salesman; Al Lewis is played by Frank Follis, new to the Wimberley Players stage; Ben Silverman is played by Rob Huey, also recently seen in Vanya and Sonia and Masha and Spike; Eddy is played by Carelix Acousta, new to the WP stage; the Sketch Nurse is played by Katie Scott, one of the Kit Kat Girls in Cabaret; the Registered Nurse by Nina Bryant, recently seen in Good People and Lost in Yonkers; and the Patient/Announcer/Director is played by Gary Horthrup, new to the WP.
The Sunshine Boys premiered on Broadway in 1972 and ran for 538 performances. It was revived in 1997 and ran for another 230 performances. This was followed in 1975 by a feature film starring George Burns and Walter Matthau. Burns won the Best Supporting Actor Oscar for his performance. In addition to a TV movie in 1996 starring Woody Allen and Peter Falk,there have been three German television versions of The Sunshine Boys, all titled Sonny Boys, in 1982, 1995, and 2001. A Dutch stage adaptation ran in 2015–2016.
Directed by Milton Zoth and Produced by Karen Rudy. Executive Producer is Adam Witko.
The Sunshine Boys is presented by special arrangement with Samuel French, Inc.
Cast:
Willie Clark.....David Bisett
Al Lewis..........Frank Follis
Ben Silverman...Rob Huey
Patient, Announcer, Director....Gary Northrup
Eddie....Carelix Acosta
Sketch nurse....Katie Alice Scott
Registered Nurse....Nina Bryant
Production Team:
Director....Milton Zoth
Producer...Karen Rudy
Executive producer....Adam Witko
Artistic Director....Tracy Arnold
Lighting Design...Bill Peeler
Set Design....Scott Wade
Costume Design....Deborah Wilson
Sound Design....Jillian Whitehead
---
The Sunshine Boys
by Neil Simon
Wimberley Players
Fridays-Sundays,
April 13 - May 05, 2018
April 13th – May 6th, 2018
Fridays & Saturdays at 7:30 p.m., Sundays at 2:30 p.m.
Reserved Seating $22; Students $18 with ID. (Ticket prices include all fees.)
Tickets are available online at www.wimberleyplayers.org or by calling 512-847-0575. The Wimberley Playhouse is located on 450 Old Kyle Road, Wimberley, Texas, (78676).