Mar. 23 - Mar. 25, 2018
Friday-Sunday
One of the most enduring comedies of the seventeenth century. Delight with us in the duplicitous schemes of a master con artist and his cunning parasite (Volpone, the Fox and Mosca, the Fly), as they expose and exploit the ravenous cravings of a corrupt society. Directed by Dr. Brent Griffin, this "original practices" production focuses sharply on the biting satire and multifaceted irony that makes Jonson's play famous, underscoring Samuel Pepys' oft-repeated claim that it is "a most excellent play; the best I think I ever saw."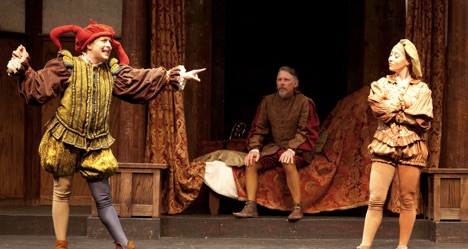 ---
Volpone
by Ben Jonson
touring company
Friday-Sunday,
March 23 - March 25, 2018
As the final stop on its Gulf Coast spring tour, Atlanta's Resurgens Theatre Company will stage Ben Jonson's Volpone at Garriott's Curtain Theatre, 7400 Coldwater Canyon Dr., on March 23-25, 2018.
Performances are Friday, March 23, 2018 at 5:30 pm; Saturday, March 24 at 2 pm AND at 5:30 pm; and Sunday, March 25 at 2 pm.
Tickets can be purchased at the door (no advance sales) for the price of $15 CASH ONLY. For further info please Email jf48@txstate.edu or call (704) 754-2321 (no texts please).