Goodnight, Moon, the musical
by Zach Theatre
Feb. 27 - May. 27, 2018
Tuesdays-Sundays
ZACH Theatre is proud to announce the cast for ZACH's Moody Families and School Theatre Series spring production of Goodnight Moon. Adapted from the book by Margaret Wise Brown and Clement Hurd, featuring book, music and lyrics by Chad Henry, Goodnight Moon plays on stage in ZACH's Kleberg Stage, March 2 – May 27, 2018 with direction and choreography by Associate Artistic Director Abe Reybold.
Step into the Great Green Room as one of the most iconic children's books of all time is brought to life. In this lively musical, Bunny's room magically comes alive with stunning puppetry, tap dancing bears, and even a trip through the night sky with a constellation light show.
Abe Reybold explains his excitement on bringing Goodnight Moon to audiences, "I am excited to direct and choreograph Goodnight Moon because with theatre for young people and families, the work is still exacting but there is a heightened sense of purpose, joy, and theatricality that fuels my creativity and my love for musical theatre storytelling."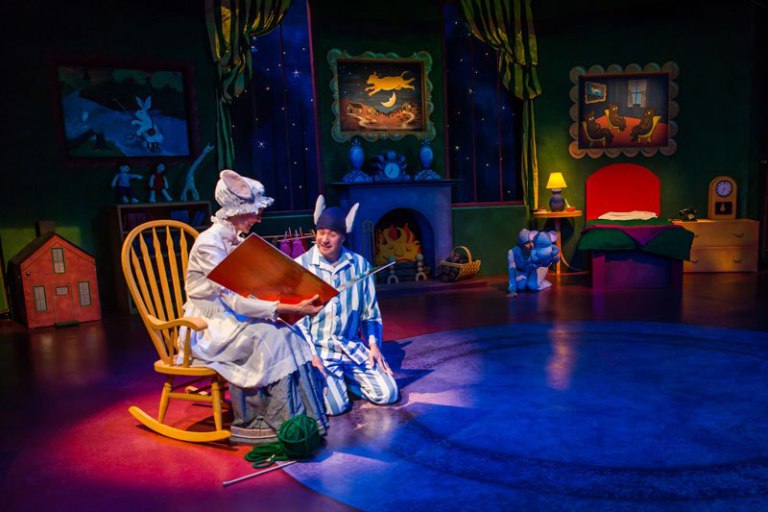 The cast includes NICHOLAS KIER as Bunny; LIA DENAH TREVIŇO as Mouse/Ensemble; PAUL SANCHEZ as Larry/Ensemble; JESSICA O'BRIEN as Old Lady/Ensemble; DAVID PEŇA as Male Understudy; EMILY VILLARREAL as Female Understudy; and ALLEN ROBERTSON as Musician/Ensemble. Ensemble characters include the Cat & The Fiddle, The Dish with the Spoon, Bears with Chairs, Kittens, Dogs, Tooth Fairies, Clarabelle the Cow, and all your favorites from the classic story.
Directed and Choreographed by ABE REYBOLD, the production team includes ALLEN ROBERTSON as Music Director, STEPHANIE BUSING as Scenic and Video Designer, CHRISTINA MONTGOMERY as Costume Designer, CRAIG BROCK as Sound Designer, ANDREW MCINTYRE as Lighting Designer, and MEGAN SMITH as Stage Manager.
ZACH's Director of Education Nat Miller says, "We are thrilled to bring this iconic story back on ZACH's stage with a beautiful design, charming music, physical comedy, and a great cast. It is a wonderful way to introduce young people to live theatre in a way that is visually stimulating and enchanting with a book that has been read by many generations."
Age Recommendation: Three and up
Run time: One hour including one ten-minute intermission
The Moody Foundation is Lead Sponsor of the Moody Families and School Theatre Series and of Goodnight Moon with the Austin Community Foundation, Dollar General Literacy Foundation, Rackspace, and Samsung as Season Sponsors, The Steam Team, and Texas Coffee Traders as a Supporting Sponsors, and with Mix 94.7 and PBS Kids as Media Sponsors.
CAST
Nicholas Kier – Bunny
Lia Denah Treviňo – Mouse/Ensemble
Paul Sanchez – Larry/Ensemble
Jessica O'Brien – Old Lady/Ensemble
David Peňa – Male Understudy
Emily Villarreal – Female Understudy
Allen Robertson – Musician/Ensemble
PRODUCTION TEAM
Abe Reybold – Director and Choreographer
Allen Robertson – Musical Director
Stephanie Busing – Scenic and Video Designer
Christina Montgomery – Costume Designer
Craig Brock – Sound Designer
Andrew McIntyre – Lighting Designer
Megan Smith – Stage Manager
Ryan Kenney – Assistant Stage Manager
---
Goodnight, Moon, the musical
by Book, music & lyrics by Chad Henry, from Margaret Wise Brown and Clement Hurd
Zach Theatre
Tuesdays-Sundays,
February 27 - May 27, 2018
Performances begin February 27th, 2018 and close on May 27th.
Performances will be Tuesdays through Fridays at 10:00 am & noon, and Saturdays and Sundays at 11:00 am & 2:00 pm.
Special Events in celebration of Goodnight Moon:
Opening Night –

Friday, March 2, 2018

Sensory Friendly and ASL Interpreted/Open Captioned Performance –

Saturday, March 3, 2018 at 11 a.m.

Pride Family Performance –

Saturday, March 24, 2018 at 2 p.m.
Tickets for Goodnight Moon are $18 (Youth) and $24 (Adult) and are available online at zachtheatre.org, by phone at 512-476-0541, or in person at the ZACH Theatre Box Office, in the Topfer Theatre, 202 South Lamar Boulevard (corner of Riverside Drive and South Lamar) Monday through Saturday, 12 – 5 p.m.
ZACH Theatre is wheelchair accessible. Discounts are available for groups of 20 or more.