Reveal All Fear Nothing: A Journey in Sex, Love, Porn, and Feminism
by Vortex Repertory Theatre
Feb. 22 - Feb. 25, 2018
Thursday-Sunday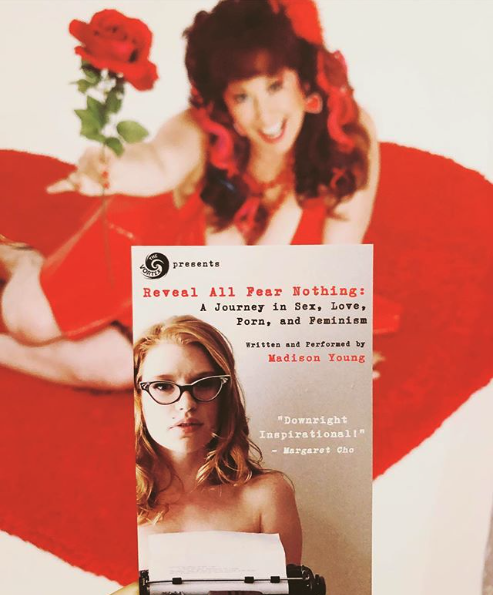 30 Years of Truth and Thunder at The VORTEX continues with the urgent, unashamed art of Madison Young for 4 nights only, February 22-25, 2018. The VORTEX presents this new, experimental multi-media performance: Reveal All Fear Nothing: A Journey in Sex, Love, Porn and Feminism, written and performed by Madison Young. Reveal All Fear Nothing cracks open the sexual underground worlds of BDSM, pornography, and kink, celebrating and demystifying these often misunderstood and misrepresented communities and movements. On tour nationally, Reveal All Fear Nothing has already received critical acclaim in New York, Portland, OR, and San Francisco, and now makes its Austin debut. For Mature Audiences only-- 21 and over.
Developed with the legendary Annie Sprinkle, a long-time friend of The VORTEX, Reveal All Fear Nothing is an adaptation of Sprinkle's one woman show, Post Porn Modernist, performed from 1989-2004. Annie Sprinkle first performed at The VORTEX in January 1994 to sold out crowds for Post Porn Modernist, the first of many collaborations with The VORTEX. Annie will be joining Producing Artistic Director Bonnie Cullum at The VORTEX for Madison Young's performances and additional events.
Academy Award winner Diablo Cody says of Young's work, "Young brings some universal truths to light"; actress and thought leader Margaret Cho adds "[Young is]…an incredible and singular force in the world of art…her individualism, innovation, insight and innate intelligence…is downright inspirational."
website for Reveal All Fear Nothing
Directed by Sophia LaPaglia. Dramaturgy by Annie Sprinkle. Lighting Design by Patrick Anthony. Stage Management by Tamara L. Farley. Photography by Errich Petersen. Videography by Jose Lozano. Bonnie Cullum, Producing Artistic Director.
Reveal All Fear Nothing is funded in part by VORTEX Repertory Company and by the Cultural Arts Division of the City of Austin Economic Development Department.
Promo Video by Magic Spoon Productions
About the Artists:
Madison Young (Writer/Performer) is a feminist porn icon and body-based performance artist dedicated to creating space for radical love. She grew up in the suburban landscape of Southern Ohio before moving to San Francisco in 2000. Young's work spans from documenting our sexual culture in her 44 Internationally screened and award-winning feminist erotic films to curating over 500 performance art and visual art exhibitions throughout the country in the past decade including exhibitions at San Francisco's Yerba Buena Center for the Arts, Highways Theater in Santa Monica, and The Body Archive in New York City. Young has exhibited Internationally with her performance art, video art installations, and photography. Her memoir, Daddy, was published in February 2014 through Rare Bird Lit, followed by the publication of Young's The DIY Porn Handbook: Documenting Our Sexual Revolution (Greenery Press) and The Ultimate Guide to Sex Through Pregnancy and Motherhood (Cleis Press) in 2016. Young has been featured for her expertise in sex-positive culture on such media outlets as BravoTV, Huffington Post, Salon.com, New York Times, and HBO.
Annie Sprinkle (Dramaturgy) is an internationally known performer whose ground-breaking work is studied in many University performance art, theater history, and gender studies courses. Starting in 1989, Sprinkle toured one-woman theater pieces about her life and work to nineteen countries for over twenty years. Post Porn Modernist, Annie Sprinkle's Herstory of Porn, MetamorphoSex, and Hardcore from the Heart were popular and controversial. She has performed at dozens of prestigious theaters, festivals, and major museums. She was a porn star and prostitute who became one of the pivotal players in the 80's "sex positive feminist movement." Annie Sprinkle is proud and honored that her "porn art daughter", Madison Young, will be doing her first one-woman theater piece using some of the elements of Post Porn Modernist. When Annie Sprinkle feel heels-over-head in love with artist and professor Elizabeth Stephens, they started creating and touring two-woman shows such as Exposed: Experiments in Love, Sex, Death and Art. Their Blue Wedding the Sea at Venice Biennale's Murcia Spain Pavilion, drew artists from many countries wanting to perform in the wedding with them. Their current theater piece, Here Come the Ecosexuals!, takes the form of an outdoors walking tour. They received the Legacy Award for Lifetime achievement from Outsider Fest in Austin. anniesprinkle.org and sexecology.org.
Sophia La Paglia (Director) is so excited to be directing this extraordinary piece. Raised in the traditional theater, Sophia studied on Broadway at Circle in the Square, with world renowned teacher Alan Langdon. She travels between the Bay Area and New York, creating works that blur the lines between performance art, theatre, and activism. Annie Sprinkle's work has been her number one inspiration over the years and to have the opportunity to expand on it with Madison has been life-changing and a true inspiration.
---
Reveal All Fear Nothing: A Journey in Sex, Love, Porn, and Feminism
by Madison Young, Annie Sprinkle
Vortex Repertory Theatre
Thursday-Sunday,
February 22 - February 25, 2018
February 22-25, 2018 8pm
4 Nights Only!!
VortexRep.org for tickets
Where: The Eloise Brooks Cullum Stage @ The VORTEX,
2307 Manor Rd. Austin, TX 78722
Free Parking. Bus Route.
The Butterfly Bar @ The VORTEX opens nightly at 5pm with full bar, hand-crafted cocktails, and snacks.
Patrizi's @ The VORTEX opens nightly at 5pm with delicious homemade Italian food.
Tickets: $35-$15
$35 Priority Seating
$25 General Admission
$15 Discount/Child/Artist/Student/Senior/Veteran
Advanced Reservations Recommended. Limited seating.
Warning: For Mature Audiences only--21 and over.
www.vortexrep.org or 512-478-5282
Radical Rush Free Tickets: Limited free tickets for each performance in the spirit of sustainability, accessibility, and the gift economy. Radical Rush tickets released at 7pm each night-in-person only.