Feb. 16 - Mar. 04, 2018
Fridays-Sundays
The show is based on a fictional household of characters created by cartoonist Charles Addams that originally appeared in New Yorker magazine from 1938 to 1988. Known for being "creepy and kooky" the family is an eccentric wealthy aristocratic clan who delight in the macabre and are seemingly unaware, or do not care, that other people find them bizarre or frightening. Besides the musical, the comic strip has been adapted into a television show starring John Astin and Carolyn Jones, and several popular movies starring Raúl Juliá and Anjelica Huston.
The musical features a new and original story. Wednesday Addams, the ultimate princess of darkness, has grown up and fallen in love with a sweet, smart young man from a respectable family – a man her parents have never met. She confides in her father Gomez and begs him not to tell her mother. Now, Gomez must do something he's never done before – keep a secret from his beloved wife, Morticia. Everything will change for the whole family on the fateful night they host a dinner for Wednesday's 'normal' boyfriend and his parents.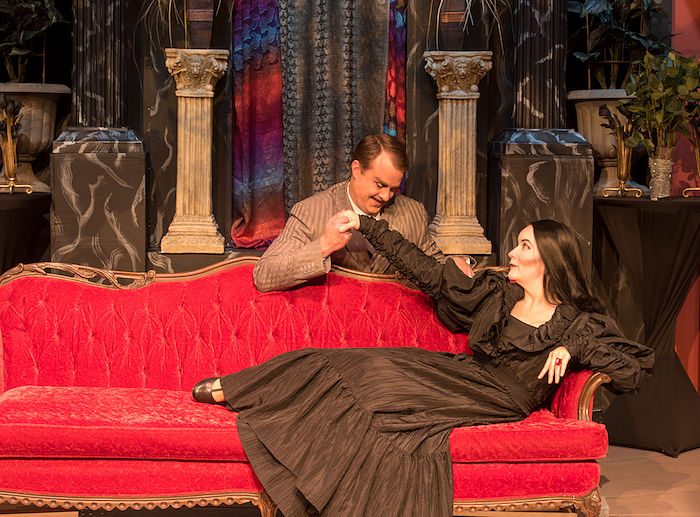 Cast in the production are Ryan Bailey as Gomez Addams, Tommie Bailey as Morticia Addams, Brittni Jackson as Wednesday Addams, Caedmon Palau as Pugsley Addams, Luke Cummings as Fester Addams, Mary Huerta as Grandmama, Daniel Hofmann as Lurch, Milton Buckelew as Mal Beineke, Helena McFarland as Alice Beineke, and Jeffery Hensel as Lucas Beineke.
Cast in the chorus, playing the roles of the "Addams Family Ancestors" are Lucinda Harvey, Heidi Melton, Liza Smith, Caleigh Wilson, Nancy Rickerhauser, Christy Brown, Richard Carroll, Ron Rickerhauser, Miles Fluitt and David Wilkinson.
The production will be directed by Jim Weisman with musical direction by Dawn Hahn and choreography by Regan Mann. Mr. Weisman also serves as the scenic designer. Ryan Bailey will execute the lighting design. Tommie Bailey will serve as Costume Designer.
The hit Broadway musical ran for two years with over 400 performances and starred theatre stalwarts Nathan Lane (star of the films The Producers, The Birdcage) and Bebe Neuwirth (Cheers). The script was written by Marshall Brickman and Rick Elice, who together also wrote the Tony award winner Jersey Boys.
---
The Addams Family
by Lippa, Brickman, and Elice
Fredericksburg Theater Company
Fridays-Sundays,
February 16 - March 04, 2018
Opens Friday, Feb. 16, 2018. The production will have nine performances at the Steve W. Shepherd Theater, 1668 Hwy 87 South, Fredericksburg, TX, 78624.
(Rated PG - Adult $29/ 17 & under $12)
Tickets for The Addams Family Musical go on sale to donors Monday, January 29th at 9:00 a.m. Tickets go on sale to the public Monday, February 5th, at 9:00. Performances are February 19th through March the 4th, Fridays and Saturdays at 7:30 p.m., and Sundays at 2:00 pm. Admission is $29 for adults, $12 for children 17 and under. Box office hours beginning January 29th are Monday through Friday, 9:00 a.m. through 1:00 p.m. Tickets can be purchased online at www.fredericksburgtheater.org or by calling the box office at 888-669-7114. For more info or directions, visit at www.fredericksburgtheater.org