Feb. 09 - Mar. 04, 2018
Fridays-Sundays
Murder, mayhem, and deadly wit in an English country manor sets the stage for this fatally funny farce. Laced with puns, pratfalls, and one-liners so sharp they could slice an artery, it should be called Death by Laughter. Meet Edward Bennett, a playwright, and his actress wife, Sorel. They've just had a disastrous opening night and they've bolted London to escape the slings and arrows of the critics. Hoping to hunker down in their country digs, they find their peace is shattered by the arrival of one unexpected guest after another. A stodgy politician, rabid socialist, myopic starlet, and screwball dancer all show up, each harboring a long-held secret. When one of them is murdered, the manor's maid must get to the bottom of it all.
Intentionally written in the Noël Coward style, Urbinati's script expertly melds Coward's over-the-top characters, comic repartee, and sharp social commentary with Christie's element: a country estate filled with mysterious guests. The result is a smart, extremely entertaining play that lobs a healthy dose of snark at both archetypes of the British class system and the weird ways of the theater.
The role of Bridgit is played by Celeste Coburn, a WP veteran seen most recently in Vanya and Sonia and Masha and Spike. Edward Bennett is played by Bill Claussen, another veteran WP actor most recently cast in Lost in Yonkers. Jack is played by Bobby DiPasquale, a WP alum of Lend Me a Tenor. Newcomers to the WP stage include Ashleigh Pedersen who plays the role of Sorel Bennett; Craig Higdon who plays Walter Pearce; Manual Duran who plays Eric; Emma Lee Brian who plays Victoria Van Roth; and Kelly Martel who plays Alice.
Directed by Laura Haygood. Executive Producer is Adam Witko. Producer is Robin Wood.
Produced by special arrangement with Samuel French, Inc. Note: Stage gun shots are fired.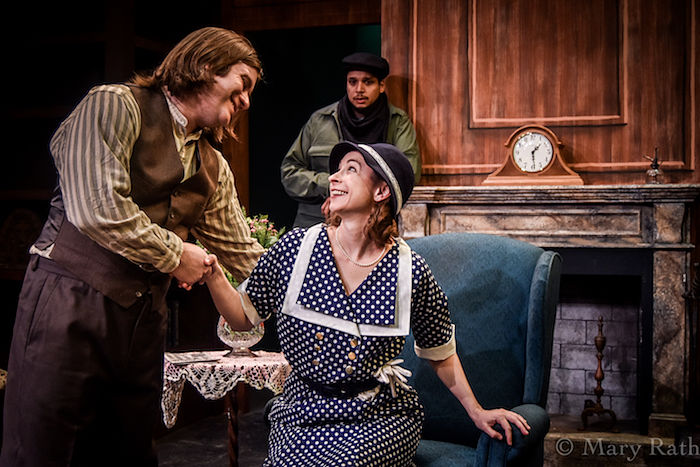 CAST:
Bridgit - Celeste Coburn
Jack - Bobby DiPasquale
Edward - Bill Clausen
Sorel - Ashleigh Pedersen
Walter - Craig Higdon
Eric - Manuel Duran
Victoria - Emma Lee Brian
Alice - Kelly Martel

CREW:
Producer - Robin Wood
Asst. Director/Dramaturge - Rodger Marion
Set Designer - Carroll Dolezal
Costume Designer - Deborah Wilson
Props Mistress - Vicki Hartin

Death by Design was originally produced at Houston Family Arts Center, Houston, Texas (Bob Clark, Executive Director; Teri Clark, Artistic Director; Mario Garza, Producing Director) September 9 - 11, 2011, under the direction of Lisa Garza.

Produced by special arrangement with Samuel French, Inc
---
Death by Design
by Rob Urbinati
Wimberley Players
Fridays-Sundays,
February 09 - March 04, 2018
Fridays & Saturdays at 7:30 p.m., Sundays at 2:30 p.m.
Reserved Seating $22; Students $18 with ID. (Ticket prices include all fees.)
Tickets are available online at www.wimberleyplayers.org or by calling 512-847-0575. The Wimberley Playhouse is located on 450 Old Kyle Road, Wimberley, Texas, (78676).
Appropriate for all audiences, age 14 and up.