A Christmas Carol (Zach Theatre)
by Zach Theatre
Nov. 22 - Dec. 31, 2017
Wednesdays-Sundays
Austin's most rockin' holiday tradition is back by popular demand for the fourth year in a row. A Christmas Carol plays on stage in the Topfer Theatre November 22 – December 31, 2017 with HARVEY GUION returning to the role of Ebenezer Scrooge. ZACH Theatre's A Christmas Carol combines new hit songs and reimagined carols with traditional Victorian setting and costumes.
Returning to the cast are CHANEL as the Ghost of Christmas Present; RODERICK SANFORD as Ghost of Jacob Marley; KENNY WILLIAMS as the Ghost of Christmas Past; MICHELLE ALEXANDER as Mrs. Fezziwig and Mrs. Cratchit; CK ANDERSON as the Charitable Gentleman Two; JORDAN BARRON as Apprentice Scrooge; KELLY PETLIN as Gwendolyn; and PAUL SANCHEZ as Bob Cratchit. New to this year's production is TRAVIS GAUDIN as Fred; GRAY RANDOLPH as Richard Wilkins; STEFANIE RENEE SALYERS as Shopkeeper Stiltz; SIDNEY SCOTT as Belle; and KHALI SYKES in the Ensemble.
The youth ensemble includes MERCY BOVIK; SCARLET CRAIG; LYDIA ENT; STELLA BLUE FRYE-GINSBERG; ALEXA GOODWIN; LANEY GOODRUM; ELLIE GRACE HODGES; SLOANE JOHNSON; BLAKENEY MAHLSTEDT; LOGAN MARCUM; WILLIAM MAY; THOMAS MORELLI; GEORGIA ORCHID; ALYSA SPIRO; CECILE WILLIAMS; CARLI VINCIGUERRA; LUKE WEAVER; CHARLIE WELLAND; and CLAIRE WILCOX.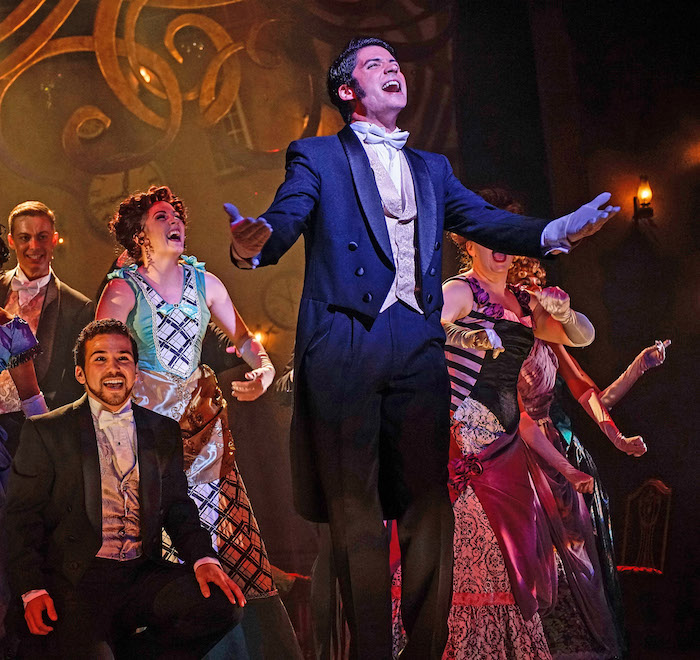 A Christmas Carol is adapted by ZACH Theatre Producing Artistic Director DAVE STEAKLEYand Directed by BRYAN BRADFORD with Musical Direction by ALLEN ROBERTSON. CHRISTA OLIVER is the Choreographer with BOB LAVALLEE as Scenic Designer, SUSAN BRANCH TOWNE as Costume Designer, and SERRET JENSEN as Hair and Makeup Designer. SARAH EC MAINES is the Lighting Designer with CRAIG BROCK as the Sound Designer, STEVE BAGLIO as the Properties Designer, and CATHERINE ANNE TUCKER as the Stage Manager.
CAST
Harvey Guion – Scrooge
CHANEL – Ghost of Christmas Present/Mrs. Gilchrist
Roderick Sanford – Jacob Marley/Mr. Fezziwig/Ghost of Christmas Future/Ensemble
Kenny Williams –Ghost of Christmas Past/ Charitable Gentleman One/Ensemble
Michelle Alexander – Mrs. Fezziwig/ Mrs. Cratchit/Ensemble
CK Anderson –Charitable Gentlemen Two/Topper/Ensemble
Jordan Barron – Apprentice Scrooge/Ensemble
Travis Gaudin – Fred/Ensemble
Kelly Petlin – Gwendolyn/Ensemble
Gray Randolph – Richard Wilkins/Ensemble
Stefanie Renee Salyers – Shopkeeper Stiltz/Ghost Backup/Ensemble
Paul Sanchez – Bob Cratchit/Ensemble
Sidney Scott – Belle/Ensemble
Khali Sykes – Ensemble
Adi Dahl – Tiny Tim
Colin White – Tiny Tim
Logan Marcum – Beggar Boy/Student Scrooge/Ignorance/Ensemble
Thomas Morelli – Beggar Boy/Ensemble
Scarlet Craig – Fan/Ensemble
Blakeney Mahlstedt – Fan/Want/Ensemble
Charlie Welland – Student Scrooge/Ensemble
Luke Weaver – Peter Cratchit/Ensemble
Mercy Bovik – Martha Cratchit/Ensemble
Sloane Johnson – Belinda Cratchit/Ensemble
Georgia Orchid – Belinda Cratchit/Ensemble
Stella Blue Frye-Ginsberg – Cratchit Family/Ensemble
Ella Grace Hodges – Cratchit Family/Ensemble
Alysa Spiro – Cratchit Family/Want/Ensemble
William May – Ignorance/Ensemble
Claire Wilcox – Ensemble
PRODUCTION TEAM
Bryan Bradford – Director
Allen Robertson – Music Director
Christa Oliver – Choreographer
Bob Lavallee – Scenic Designer
Susan Branch Towne – Costume Designer
Serret Jensen – Hair and Makeup Designer
Sarah EC Maines – Lighting Designer
Craig Brock – Sound Designer
Steve Baglio – Properties Designer
Catherine Anne Tucker – Stage Manager
Megan Barrett – Assistant Stage Manager
Megan Smith – Assistant Stage Manager
Anne-Marie Kolb – Stage Management Intern
Kelly Petlin – Dance Captain
---
A Christmas Carol (Zach Theatre)
by Dave Steakley, adapting Charles DIckens
Zach Theatre
Wednesdays-Sundays,
November 22 - December 31, 2017
Special Events in celebration of A Christmas Carol:
Wednesday Post-Show Discussion – Wednesday, November 29, 2017
ASL Interpreted, Open Captioned, and Audio Described – November 29, 2017
Tickets start at $25 and are available online at zachtheatre.org, by phone at 512-476-0541, or in person at the ZACH Theatre Box Office, in the Topfer Theatre, 202 South Lamar Boulevard (corner of Riverside Drive and South Lamar) Monday through Saturday, 12–5p.m. ZACH Theatre is wheelchair accessible. Discounts are available for groups of 8 or more. Student Rush Tickets are $20 one hour before show time (with valid ID).
Age Recommendation: Six and up.
Run time: Two hours and twenty minutes including one twenty-minute intermission.
Heritage Title Company of Austin is Presenting Sponsor of A Christmas Carol with Pamela and Scott Reichardt as Executive Producer Plus, and A&F Drum Company, Frost Bank, and KMFA as a Supporting Sponsors.