Nov. 16 - Dec. 09, 2017
Thursdays-Sundays
I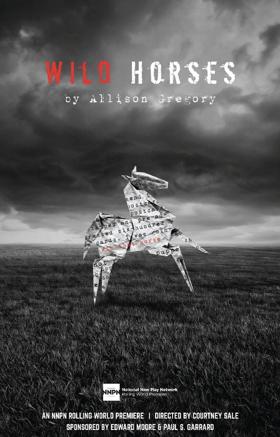 t's the 70's, there's music and make-outs, and freedom is just out of reach. A savagely-funny play about a threshold summer that forever alters an adolescent girl, as portrayed by her grown-up self. Complex and timeless, this is a coming-of-age story for all generations. The pathos and hubris of her teenage years, the struggle for identity, independence, and authenticity, and the desire to find her place in a complicated world - it all come rushing at us as she takes us on the ride of her life.
Featuring Jennifer Coy Jennings. Directed by Rudy Ramirez. Scenic Design by Ann Marie Gordon. Lighting Design by Patrick Anthony. Sound Design by Valerie Johnson. Stage Management by Tamara L. Farley. Photography by Errich Petersen.
National New Play Network, the country's alliance of nonprofit theaters that champions the development, production, and continued life of new plays, announces Wild Horses by Allison Gregory as its 72nd Rolling World Premiere. The play will receive four productions, kicking off at NNPN Core Member Contemporary American Theater Festival (Shepherdstown, WV, July 7-30, 2017), and followed by Associate Members JCC CenterStage (Rochester, NY, September 9-23, 2017), The VORTEX (Austin, TX, November 16-December 9, 2017), and finishing up at Core Member New Jersey Repertory Company (Long Branch, February 22-March 25, 2017).
NNPN provides production support to the playwright and the partnering theaters, including assistance with the creation and the contracting of the premiere agreement, collaborative interactions between the theaters, and funds for the playwright's residency in each city to further develop the play.
ABOUT ALLISON GREGORY
Allison Gregory is a playwright and theatre collaborator. Her plays have been produced all over the country, and she has received commissions, grants, and development from Oregon Shakespeare Festival, South Coast Repertory, The Kennedy Center, Indiana Repertory Theatre, the Skirball-Kenis Foundation, ACT Theatre, Seattle Repertory Theatre, Orlando Shakespeare, The New Harmony Project, The Empty Space, Hedgebrook, Seattle's Arts and Cultural Affairs, LATC, Northwest Playwright's Alliance, Amphibian Stage Productions, National New Play Network (NNPN), Theatre Lab@FAU, and Austin Scriptworks. Her work has been the recipient of the Julie Harris Playwriting Award & South Coast Repertory's Playwright's Award, Garland & Dramalogue Awards, Seattle Times Best New Play Awards, Carbonell nominations, as well as finalists for the O'Neill, Bay Area Playwright's Festival, Great Plains, and American Blues Blue Ink Award. Her play Not Medea received National New Play Network (NNPN) Rolling World Premieres at B Street Theatre, Contemporary American Theater Festival, and Perseverance Theatre in 2016. Motherland was selected for the 2016 NNPN Showcase Conference in Austin. Her plays are published by Playscripts, Smith & Krauss, Dramatic Publishing, and Rain City Press. Allison will be a Core Writer with The Playwright's Center beginning July 2017. She grew up in California, and now splits her time between Austin and Seattle. allisongregoryplays.com

ABOUT CONTEMPORARY AMERICAN THEATER FESTIVAL
The Contemporary American Theater Festival, founded by Producing Director Ed Herendeen in 1991, is dedicated to producing and developing new American theater. It is hosted on the campus of Shepherd University, a state liberal arts institution located in Shepherdstown, West Virginia. CATF intersperses established voices with emerging ones and is committed to telling diverse stories. To date, it has produced 115 new plays, including 43 world premieres, and 10 commissions. CATF is a well-respected playwrights' forum, with a bent toward championing challenging, culturally relevant work. catf.org
---
Wild Horses
by Allison Gregory
Vortex Repertory Theatre
Thursdays-Sundays,
November 16 - December 09, 2017
November 16--December 9, 2017 8:30 pm
Thursdays-Sundays, No show Thanksgiving Day.
Live-Streaming Friday, December 1 8:30 pm CST howlround.com/tv
ASL-Interpreted Saturday, December 2, 8:30 pm (Free to deaf and hard-of-hearing audiences)
"Industry Night" Wednesday, November 29, 8:30pm
Visit vortexrep.org for tickets
Where: The Pony Shed @ The VORTEX, 2307 Manor Rd. Austin, TX 78722
Free Parking. Bus Route.
The Butterfly Bar @ The VORTEX opens nightly at 5pm
with full bar, hand-crafted cocktails, and snacks.
Patrizi's @ The VORTEX opens nightly at 5pm
with delicious homemade Italian food.
Tickets: $35-$15
$35 Priority Seating
$25 General Admission
$15 Discount/Child/Artist/Student/Senior/Veteran
Advanced Reservations Recommended. Limited seating.
www.vortexrep.org or 512-478-5282
Radical Rush Free Tickets: Limited free tickets for each performance in the spirit of sustainability, accessibility, and the gift economy. Radical Rush tickets released at 7pm each night-in-person only.
2-for-1 admission Thursday and Sunday with donation of 2 cans for SafePlace