Sep. 21 - Oct. 15, 2017
Thursdays-Sundays
This is the tale of a boy from the Bronx who suddenly finds himself in a private Catholic boys school in New Hampshire. The boy is violent, gifted, alienated, and on fire with a ferocious loneliness. Is the kid a star or a disaster? A passionate portrait of a young man on the verge of salvation or destruction.
Jarrott Productions is pleased to announce the cast of Prodigal Son, the first production in its 2017-2018 season. Prodigal Son is the latest from John Patrick Shanley, the Oscar, Tony and Pulitzer Prize winning writer of Doubt and Moonstruck. It is the autobiographical and passionate portrait of a young man on the verge of either salvation or destruction.
Starring as Jim Quinn is Sam Domino, a recent UT graduate who was featured in Southwest Theatre Productions Cagesand Exit 27. Also featured are: Kelly Koonce (Alan Hoffman), who was most recently seen in Terence Malick's film Tree of Life; David R. Jarrott (Carl Schmitt), seen earlier this year in the award-winning production of The Herd; Tucker Martin (Austin Schmitt), a UT theatre student who spent most of the summer performing with the Arkansas Shakespeare Festival; and Holly Shupp Salas (Louise Schmitt), who recently returned to Central Texas after many years in New York City where she studied at Vassar and the Gately-Poole Conservatory.
Prodigal Son is directed by Bryan Bradford, whose credits range from Broadway (Newsies, Rock of Ages, Kinky Boots), to Off-Broadway and beyond, including a long-time relationship with ZACH (In The Next Room, 33 Variations, Crowns) here in Austin, where he will also be directing this year's production of A Christmas Carol.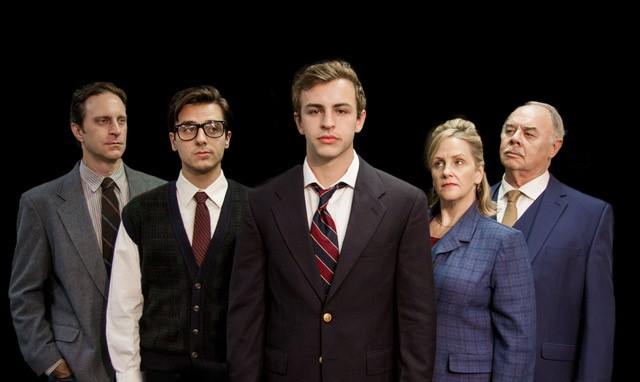 Other members of the creative team include: Scene and Lighting Designer Chris Conard; Costumer Glenda Wolfe; Original Music Composer/Graphic Designer Michael Jarrott; Sound Designer Craig Brock; Dialect Coach Amanda Cooley Davis; Company Manager Lisa Goering; Production Stage Manager Tyler Osgood; House Manager Denise Hodgson; and Production Assistant Melina Gary.
---
Prodigal Son
by John Patrick Shanley
Jarrott Productions
Thursdays-Sundays,
September 21 - October 15, 2017
Trinity Street Players
Black Box Theatre, 4th floor, First Baptist Church
901 Trinity Street
Austin, TX, 78701
Prodigal Son plays September 21-October 15, 2017 at the Trinity Street Theatre, 901 Trinity Street in the First Baptist Church in downtown Austin.
Performances are Thursday-Saturday evenings at 7:30pm; Sunday afternoons at 2:30pm; with an Industry Night performance on Monday, September 25th at 7:30pm. The play runs approximately 90-minutes with no intermission.
Ticket prices range from $15-$30 and reservations may be made at www.jarrottproductions.com.
Plenty of well-lighted street and garage parking.