Sep. 07 - Sep. 16, 2017
Thursdays-Saturdays
In Trump's America, minority communities everywhere are under attack.
In the one-man comedy "Barrio Daze," the 'hood strikes back.
Following the sold-out success of "Gentrif*cked," the Latino Comedy Project presents Artistic Director Adrian Villegas' critically-acclaimed solo comedy "Barrio Daze."
Set against the backdrop of a tumultuous national election, "Barrio Daze" is a sprawling and irreverent one-man tour through a single day in the barrio.
In its God's-eye-view of barrio life, Villegas brings to vivid life a gallery of nine unforgettable characters ranging from a hopeless panhandling borrachón (drunk) to an unlikely Chicano U.S. Senate hopeful.
On a fateful Election Day, the diverse lives of "Barrio Daze"'s characters overlap and collide in surprising ways, culminating with the outcome of a heated Senatorial race between a well-funded, rabidly conservative good-'ol boy politician and the inspiring grass-roots campaign of a humble Chicano school teacher.
Other "Barrio Daze" characters include a sage yet amusingly quick-tempered Tex-Mex bus driver; a clueless burger-flipping high-school drop-out; a hard-working undocumented immigrant; and a culturally conflicted Hispanic "coconut" in the employ of a prominent right-wing politician.
"Barrio Daze" mixes cultural humor and pointed social commentary for a fast-paced, laugh-out-loud funny portrait of Latino life in America, offering a message of defiance and uplift to a community under siege.
In "Barrio Daze," hope comes to the 'hood.
Feature by Nancy Flores in the Austin Statesman's 'Cultura' blog, September 12, 2017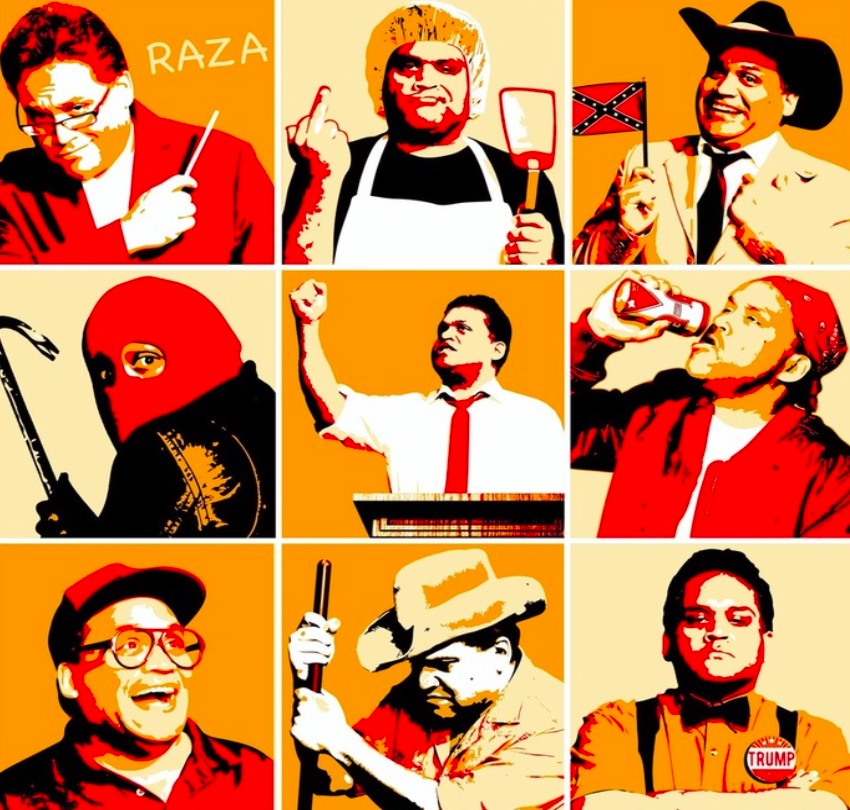 ABOUT ADRIAN VILLEGAS
In addition to his solo work, Villegas is also a writer, performer, and Artistic Director of The Latino Comedy Project (LCP), an Emmy-nominated multimedia sketch troupe whose most recent show "Gentrif*cked" recently closed a sold-out Austin run.
The LCP's YouTube comedy videos have received over fourteen million views worldwide and a comedy ad campaign they created for MTVTres was nominated for an Emmy Award.
CRITICAL PRAISE FOR "BARRIO DAZE"
"'Barrio Daze' is both absurdly funny and dead-on insightful…A series of damn funny and poignant sketches…The characters expand beyond their caricatures, becoming well-drawn, multifaceted individuals with thought-provoking stories. This is laugh-out-loud material. Adrian Villegas is truly a gem."
--The Austin Chronicle
"Barrio Daze's writing is very witty, but most importantly it is perceptive...Villegas takes on the shapes and physical idiosyncrasies of his characters, providing a depth that doesn't rely on text alone, and manages to present them with an engaging sense of humanity...Adrian Villegas is an intelligent playwright and an exciting performer."
--The Austin-American Statesman
"Barrio Daze is a free-for-all of social satire, profane barbs at Anglos, and wicked self-mockery. The only answer is helpless laughter. Mr. Villegas' gift is in making we, the different people, laugh together."
--The Dallas Morning News
---
Barrio Daze
by Adrian Villegas
Latino Comedy Project
Thursdays-Saturdays,
September 07 - September 16, 2017
Online advance ticketing is $11 and $13 at the door. Advanced reservations recommended. Limited seating available. Click for online sales via Eventbrite.
DOOR TIMES: House doors usually open 60 minutes prior to an event.
SEATING: Seating is limited (first come, first served). If seating is important to you, our best suggestion is to have a member of your party arrive when doors open. Or if you have health issues that require special arrangements, email us far in advance and we will do our best to help reserve seating.
CANCELLATIONS: All tickets are non-refundable as per the policy of the ticketing vendor.
NO-SHOWS: In the event of a sold-out show, tickets are held until showtime. After that time, space is released to wait-listed patrons.