Aug. 25 - Sep. 04, 2017
Thursdays-Mondays
"Mother. Ocean. Home".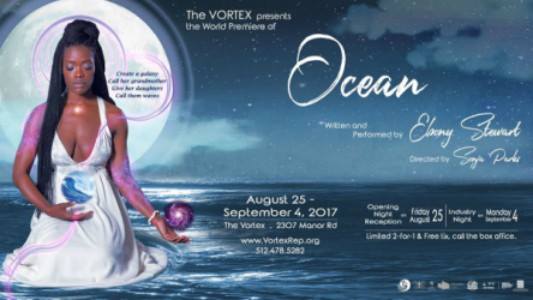 Ebony Stewart returns to The VORTEX with the world premiere of her new play, Ocean, August 25-September 4, 2017. Weaving her evocative poetry, brilliant storytelling, feminist aesthetic, and spiritual depth, Ebony brings this new work to life with her unique and powerful performance. Ebony Stewart dazzled Austin audiences with her original play, Hunger in 2015. With a run of sold-out performances and critical acclaim, she received the B. Iden Payne Award for Outstanding Lead Actress in a Drama and the Austin Critics' Table David Mark Cohen New Play Award for the script. Ocean is an entirely new work, drawing upon Ebony's strengths as a writer and performer (see bio below).
"Her tongue is a story".
Internationally renowned, award-winning theatre artist, Sonja Parks (see bio below) returns to Austin to direct the debut of Ocean. Long ago, Sonja worked with VORTEX Producing Artistic Director Bonnie Cullum at The University of Texas and in the inaugural season of The VORTEX.
The exquisite production is created by the magic of the VORTEX design team. Scenic Design by Ann Marie Gordon. Lighting Design by Patrick Anthony. Projection Design by Eliot Fisher. Costume Design by Shannon Mott. Sound Design by Valerie Johnson. Technical Direction by Brandi Alexander. Stage Management by Lindsey Ervi. Managing Director, Melissa Vogt. Producing Artistic Director, Bonnie Cullum.
Ocean is funded in part by VORTEX Repertory Company, The John L. Warfield Center for African and African American Studies at the University of Texas, a grant from the Texas Commission on the Arts and by the Cultural Arts Division of the City of Austin Economic Development Department.
Tickets and more information www.vortexrep.org
About the Artists:
Ebony Stewart is a touring performance artist, spoken word artist, and poet. She recently won the Championship of the Women of the World Poetry Slam. She has coached Austin Neo Soul and Austin Poetry Slam, finishing 1st and 5th at the National Poetry Slam and They Speak Youth Slam finishing 8th in the world at Brave New Voices. The only adult female three-time Slam Champion in Austin has shared stages with many brilliant artists including the late Amiri Baraka. Featured in the Texas Observer, For Harriet, and The Agenda: working for LGBT economic equality, Ebony has published The Queen's Glory & the Pussy's Box and Love Letters To Balled Fists. In 2015, Ebony Stewart debuted her first one-woman show, Hunger at The VORTEX. She won the B. Iden Payne Award for Outstanding Lead Actress in a Drama. She was also nominated for a Payne Award for Outstanding Original Script and won the Austin Critics' Table David Mark Cohen New Play Award. The former Sexual Health Educator with the resting bitch face, sometimes known as The Gully Princess, writes because she has to and eats cupcakes for fun. #storyoftheblackgirlwinning
Sonja Parks: An accomplished actor, Sonja has been a featured performer with many notable venues including: The Public Theatre, The Royal Shakespeare Company-London, The Kennedy Center, Playwrights' Horizon, The Boston Center for the Arts, The Guthrie Theatre, Penumbra Theatre, The Wallis Annenberg Center/Beverly Hills, & Links Hall-Chicago. She trained at UT-Austin, The Dance Theater of Harlem & The National Black Theater with the late Dr. Barbara Ann Teer. An original member of Doris Duke Fellow Sharon Bridgforth's root wy'mn theatre company, she originated 2 one-woman shows, one of which garnered an Osborn Award nomination by the American Theatre Critics Association. A respected professional in her field, she's served on many national panels with other distinguished artists and newsmakers including: Kerry Kennedy of The Kennedy Center, journalists Nicholas Kristof & Ann Curry; film producer Julius Tennon of JuVee Productions (a joint venture with his wife, Viola Davis); Swedish actor/director Josette Bushell-Mingo; British Theatre Historian, Nike Jonah & noted American Theatre Historian, Todd London. Her commitment to Arts Activism has led her to many parts of the world including: Lagos, Nigeria; Accra, Ghana; Berlin, Germany; Havana, Cuba and the Movement for Black Lives in Ferguson, MO.
---
Ocean
by Ebony Stewart
Vortex Repertory Theatre
Thursdays-Mondays,
August 25 - September 04, 2017
August 25-27 (Fri-Sun) and August 31- September 4 (Thursday-Monday)
"Industry Night" Monday, September 4 8pm
Live-Streaming TBA
VORTEX Connects Post Show Discussions TBA
ASL-Interpreted TBA (Free to deaf and hard-of-hearing audiences)
Visit vortexrep.org for tickets
The VORTEX, 2307 Manor Rd. Austin, TX 78722
Free Parking. Bus Route.
The Butterfly Bar @ The VORTEX opens nightly at 5pm with full bar, hand-crafted cocktails, and snacks.
Patrizi's @ The VORTEX opens nightly at 5pm with delicious homemade Italian food.
Tickets: $35-$15
$35 Priority Seating
$25 General Admission
$15 Discount/Artist/Student/Senior
Advance Reservations Recommended. Limited seating.
www.vortexrep.org or 512-478-5282
Radical Rush Free Tickets: Limited free tickets for each performance in the spirit of sustainability, accessibility, and the gift economy. Radical Rush tickets released at 7pm each night-in-person only.
2-for-1 admission Thursday and Sundays with donation of 2 cans for SafePlace