Aug. 18 - Sep. 03, 2017
Fridays-Sundays
Follow one family's trip across four decades to confirm the old adage – "We Plan, God Laughs!"
There are many sayings about "the best laid plans" – among the truest is Woody Allen's observation, "if you want to make God laugh, tell him your plans."
Ruthie and Bill have plans for their little family; a son in the priesthood, an actress daughter, and a middle son who keeps up with the times. Over the course of 40 years and four holidays, we get to watch the comic – and sometimes poignant-outcomes they didn't prepare for as the modern world takes its toll.
Enjoy their forays into a future they could not predict in this brand new play the Chicago Sun Times called "a gem of comic relief…a heartwarming new comedy."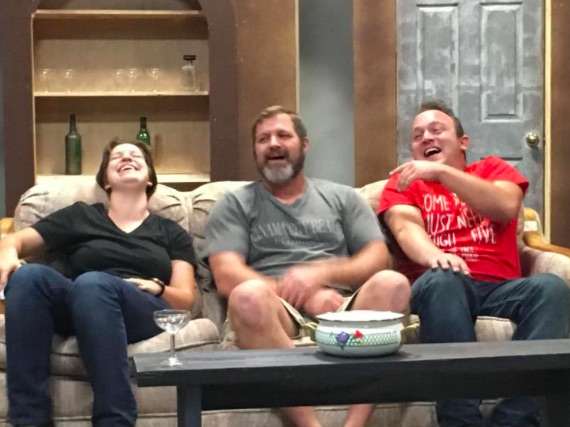 CAST
Ruthie - Barbara French
Bill - Michael Stanard
Richard - Derek Meier
Maddie - Katie Bishop
Thomas - Brandon Cunningham
Directed by Amy Goodyear and Susan Neely Balentine
The Stage Manager is Kerri Sparkman.
---
Making God Laugh
by Sean Grennan
Playhouse 2000
Fridays-Sundays,
August 18 - September 03, 2017
August 18 through September 3, 2017, The VK Garage Theater, Kerrville
Fridays and Saturdays at 7:30 p.m., Sundays August 27 aand September 3 at 2:30 p.m.
Tickets $20 plus fees via Vendini; click HERE to purchase.