Jun. 15 - Jun. 17, 2017
Thursday-Saturday
We fight for the lost. We will take Earth back.
Picking up twelve years after the events of Advance Man, Blast Radius follows a sister and a brother at mortal odds in an Earth radically changed by an alien occupation. Ronnie leads a desperate human insurgency that may have finally found the weapon that will turn the tide - at a terrible cost. Abbie, who has allied himself with the conquering alien race, may have found a chilling solution that will end human resistance for good. Action-packed and emotionally charged, Blast Radius is the story of a family and a world at war with itself.
Blast Radius is the second installment of the Honeycomb Trilogy. Three standalone plays that chronicle the story of one family and the fate of our world. If you missed Advance Man don't worry. Each play functions as a self-contained story, much like the Marvel films, they can be viewed independently, while they are richer together.
Blast Radius contains violence and adult situations and language. Viewer discretion is advised.
---
Blast Radius
by Mac Rogers
Yellow Lab Productions
Thursday-Saturday,
June 15 - June 17, 2017
VK Garage Theatre
at Cailloux Cultural Center
305 Washington Street
Kerrville, TX, 78028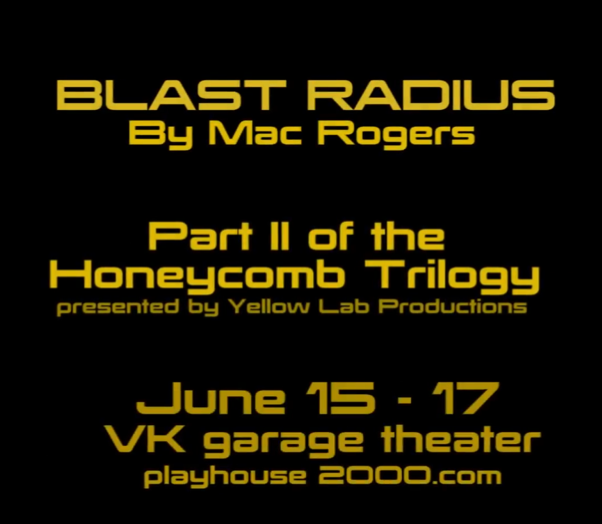 June 15-17, 2017
7:30 PM
VK Garage Theater
305 Washington St.
Kerrville, TX
78028
Tickets available at:
$10