Apr. 28 - May. 14, 2017
Fridays-Sundays
Tony Wendice married Margot for her money and now plans to murder her for the same reason. He arranges the perfect crime. Tony blackmails a scoundrel he used to know into doing the deed for a fee, and arranges a brilliant alibi for himself. But, the murder doesn't go as planned and the victim survives. This doesn't baffle the husband for he sees his hireling's death as an opportunity. What is Tony's next move? Will his plot to frame his wife be discovered before it's too late? The play unfolds in a scene of almost unbearable suspense. Earlene Rainey directs.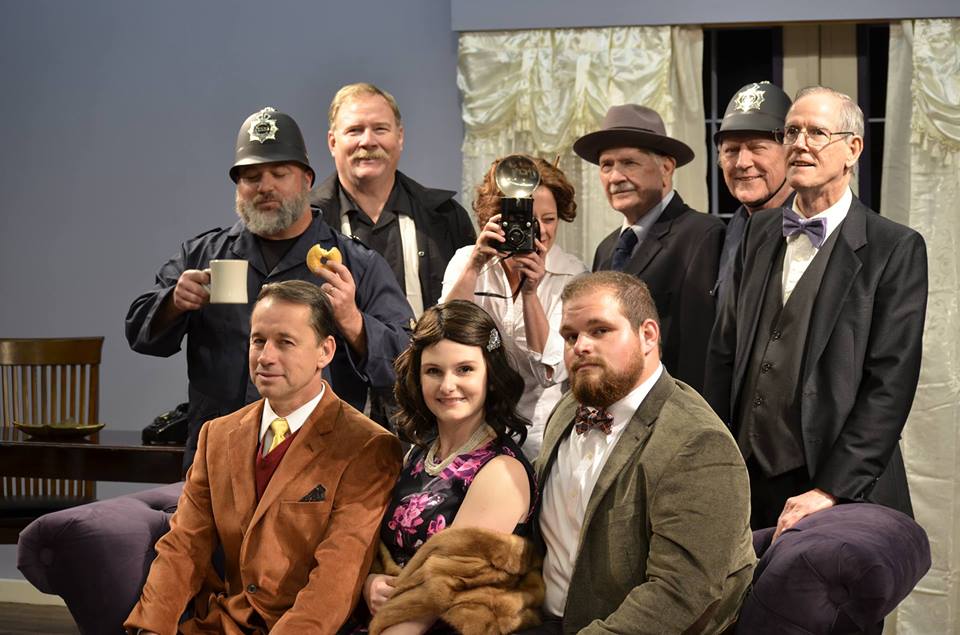 David Brown as former tennis star Tony Wendice
Taylor Smith as his wealthy and charming wife Margo Wendice
Scott McDuffie as the American mystery writer Max Halliday
Steve Watkins as the shady Captain Lesgate
Gary Anderson as the eccentric yet thorough Inspector Hubbard

These amazing lead actors are supported by:
Sheryl Brown as Reporter Maggie Pendleton
Myron "Mickey" Gross as Police Officer Thompson
Gary Leinhart as Attorney Roger
Tim Mershonas Police Officer O'Brien and Detective Williams;

This classic crime mystery, written by English playwright Frederick Knott and brought to film in 1952 by Alfred Hitchcock, is being directed by Earlene Rainey.

Dial "M" for Murder is sponsored by a leadership gift from Cissy Smith, the Arts Council and The City of Navasota, and Gessner Heating and Air Conditioning.
Presented in arrangement with Dramatists Play Service.

Made possible in part through the Hotel Tax Revenue funded from the City of Navasota through The Art Council. Sponsored by a leadership gift from Cissy Smith.
---
Dial M for Murder
by Frederick Knott
Navasota Theatre Alliance
Fridays-Sundays,
April 28 - May 14, 2017
Fridays and Saturdays at 7 p.m., Sundays at 2 p.m.
One Thursday performance on May 12 at 7 p.m.
Dinner theatre option Saturday, May 6 from 5:45 p.m.